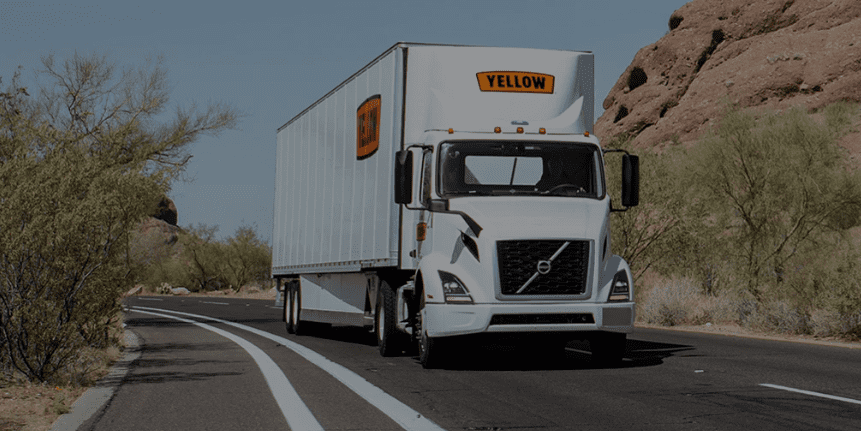 "'We faced nine months of union intransigence, bullying and deliberately destructive tactics. A company has the right to manage its own operations, but as we have experienced, [International Brother of Teamsters] leadership was able to halt our business plan, literally driving our company out of business, despite every effort to work with them.'"
— Yellow Corp. Chief Executive Darren Hawkins
Yellow, the Nashville, Tenn.-based trucking company announced late Sunday that it had filed for bankruptcy, and pulled no punches in putting the blame squarely on the Teamsters union, saying the union drove the nearly 100-year-old company out of business, causing 30,000 Americans to lose their jobs.
The IBT did not immediately respond to a MarketWatch request for comment.
Shares of the less-than-truckload trucker YELL, -0.83% — which means it provides relatively small freight shipping services that doesn't require a full truckload — plunged 55.2% in premarket trading. The company disclosed it expects to receive a delisting notice from the New York Stock Exchange.
In the week leading up to the anticipated bankruptcy filing, the stock had rocketed 403%.
Don't miss: Yellow's stock quadruples in 2 days even after reports that bankruptcy is coming.
Also read: Tupperware and Yellow have skyrocketed, but don't confuse them with meme stocks.
Yellow said in its bankruptcy announcement that after recognizing several years ago the need to modernize, it had implemented a "One Yellow" plan that required IBT approval.
In August 2022, IBT leadership approved the first phase of the One Yellow reorganization, which Yellow said was a "success" as it reduced redundancies and led to earlier freight departures and improved customer service.
Yellow claimed that IBT then implemented a "nine-month blockade" that halted the rest of the One Yellow plan. The company alleged that the delay in implementing the reorganization led to growing losses by this summer.
In mid-July, the Teamsters issued a strike notice, with the union saying two of Yellow's operating companies missed a $50 million payment to health care and pension funds that could lead to benefit suspensions.
The strike was called off about a week later after the benefit payment deadline was extended.
On July 31, the IBT said it was served legal notice that Yellow was "ceasing operations and filing for bankruptcy," which by that time was widely expected.
On Monday, Yellow said it expects to enter into a debtor-in-possession (DIP) financing agreement, pending bankruptcy court approval, which will help support its business through the sale process.
Meanwhile, as Yellow was heading toward a bankruptcy filing, MFN Partners LP was buying up a large stake in Yellow, as the hedge-fund manager disclosed last week that it owned 22.07 million Yellow shares, or 42.5% of the shares outstanding.
"It is with profound disappointment that Yellow announces that it is closing after nearly 100 years in business," said CEO Hawkins.
Among Yellow's LTL rivals, shares of XPO Inc. XPO, +4.16% rose 1.1% in Monday's premarket.
Citi analyst Christian Wetherbee said he saw "the most potential upside in a successful post-Yellow market share scenario for XPO."
Other LTL rivals that stood to benefit included SAIA Inc. SAIA, -0.34%, Old Dominion Freight Line Inc. ODFL, -1.44% and ArcBest Corp. ARCB, -1.81% The shares of those companies were still inactive in Monday's premarket.
This article was originally published by Marketwatch.com. Read the original article here.