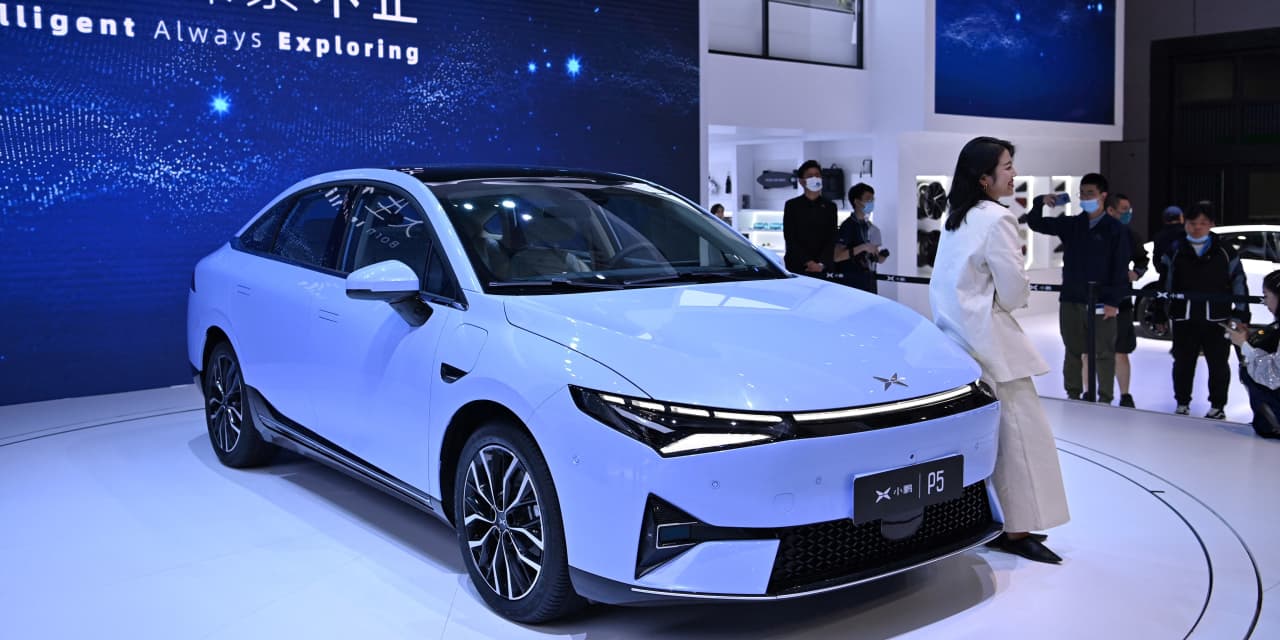 XPeng Inc.'s stock fell 6% Friday after the Chinese electric-vehicle maker posted weaker-than-expected second-quarter earnings, with the miss weighing on other Chinese EV makers, as well.
XPeng XPEV, -4.28% had a net loss of RMB2.80 billion (equivalent to $390 million), or RMB3.25 per American depositary share, for the quarter, wider than the loss of RMB2.70 billion, or RMB1.63 per ADS, posted in the year-earlier period.
Adjusted per-ADS loss was RMB3.10, while FactSet was expecting a loss of RMB2.41 per ADS.
See also: EV startup VinFast may be worth more than Ford and GM, but there's a catch
Revenue came to RMB5.06 billion, down 32% from a year ago and below the RMB5.54 billion FactSet consensus. Total deliveries came to 23,205 for the quarter, down 27% from a year ago.
Challenges for XPeng in the second half of the year include Tesla Inc. TSLA, -1.70% "potentially making further price reductions, and equipping their new cars with [Full Self-Driving] chips," Third Bridge analyst Rosalie Chen said, referring to Tesla's advanced driving-assistance system that can automate driving tasks on city streets as well as highways.
Don't miss: Tesla launches cheaper, shorter-range Model X, Model S EVs
"XPeng's development focus is now on advancing its autonomous driving capabilities and developing new affordable vehicle models," Chen said.
XPeng last month inked a deal with Volkswagen AG VOW, -0.33% in which the German carmaker said it is investing $700 million in XPeng, taking a 4.99% stake in the company.
"With the help of Volkswagen's brand power, XPeng will be well supported in terms of market performance and financial health," Chen said.
XPeng said it expects third-quarter deliveries of 39,000 to 41,000 vehicles, for an increase of 31.9% to 38.7%. It expects revenue to range from RMB8.5 billion to RMB9.0 billion.
Nio Inc.'s NIO, -7.22% and Li Auto's LI, -4.88% U.S.-listed shares dropped 6% and 5%, respectively, in sympathy. XPeng's U.S.-listed stock has gained 62% in the year to date, while the S&P 500 SPX has gained around 14%.
This article was originally published by Marketwatch.com. Read the original article here.