Worried that Jerome Powell might smash stocks lower on Friday when he steps up to the microphone in Jackson Hole, Wyo.? Good news: Last year's market-crushing speech was an outlier, according to an analysis by Bespoke Investment Group.
Usually, market reactions to Fed chiefs' speeches at the Kansas City Fed's annual Jackson Hole Economic Symposium are much more muted than the washout that stocks experienced on Aug. 26, 2022, the date of last year's Jackson Hole speech.
On that day, the S&P 500 SPX fell 3.4% as Powell dashed investors' hopes for a swift end to the Federal Reserve's interest-rate hiking campaign during a taut speech that lasted for just under 10 minutes, one of the shortest Jackson Hole speeches delivered by a Fed chief in recent memory.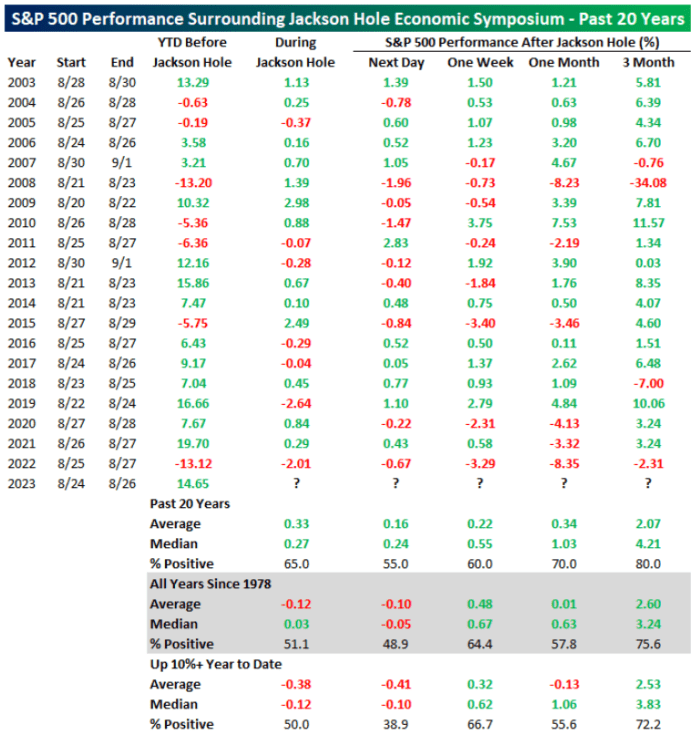 Bespoke measured the size of the index's move during the first two days of the symposium. The S&P 500 fell 2.01% during this period last year, according to its data. Typically, Jackson Hole begins on a Thursday during the last full week in August, with the Fed chair delivering keynote remarks on Friday, usually around 10 a.m.
See: Why this abstract concept could rattle stocks when Powell speaks at Jackson Hole
One exception was 2020, when Powell delivered his remarks remotely, shortly before the U.S. stock market opened.
Over the past 20 years, the S&P 500 has recorded an average gain of 0.3% during the symposium, according to Bespoke. Since 1978, the year the Kansas City Fed held its first Jackson Hole symposium, the index has fallen by 0.1%, on average, during the two days of the event.
Bespoke also found that during the following three months, stock returns are reliably strong, with the index rising 2.6% on average since 1978.
If there's one period of reliable weakness surrounding Jackson Hole, it's the Monday after the event. The S&P 500 has fallen 0.1% on average since 1978 during these trading sessions, but that figure swells to a 0.4% average drop if one only includes years where the S&P 500 has risen 10% year to date ahead of the speech.
The S&P 500 has risen 15.5% year to date through Wednesday's close. But stocks have pared these gains since the beginning of August, and the index has fallen 3.3% month to date.
Prior to 2022, the only other major pullback for the S&P 500 during Jackson Hole occurred during the 2019 symposium. However, that jolt of weakness had little to do with Powell's policy pronouncements. Instead, investors were reacting to then-President Donald Trump's threats to escalate a trade war with China.
Shortly after Powell wrapped up his speech, Trump tweeted that "Our great American companies are hereby ordered to immediately start looking for an alternative to China." The S&P 500 quickly wiped out its early gains and plummeted lower.
U.S. stocks finished higher on Wednesday, with the S&P 500 SPX recording its first daily gain of 1% or more since the start of the third quarter, snapping a streak of 36 trading days without one. The index gained 48.46 points, or 1.1%, to 4,436.01, while the Nasdaq Composite COMP gained 215.16 points, or 1.6%, to 13,721.03, and the Dow Jones Industrial Average DJIA gained 184.15 points, or 0.5%, to 34,472.98.
This article was originally published by Marketwatch.com. Read the original article here.