Economists don't much like presidential-campaign seasons. For them, it's a bit like seeing their manicured gardens getting trampled by schoolchildren having a water-balloon fight.
Robert Brusca, the president of consulting firm FAO Economics, predicted that the political discussion of the U.S. economy in the 2024 campaign would be "a farce."
Talk of inflation is likely to dominate the Aug. 23 Republican debate, for example.
Republicans, eager to lay the blame for higher prices at the feet of President Joe Biden, are going to make the strongest case they can for that. For them, it is a happy coincidence that inflation started to pick up right when Biden was sworn into office.
Larry Kudlow, a former top economic adviser to President Donald Trump, put it succinctly. "I have numbers. The consumer-price index is up 16% since February 2021. Groceries are up 19%. Meat and poultry up 19%. New cars up 20%. Used cars up 34%," Kudlow said in an interview on the Fox Business Network.
From last month: Mike Pence says inflation is 16%, but CPI is 3%. This is his logic.
Unlike Kudlow, the Federal Reserve doesn't usually measure inflation over 29 months. Instead, the central bank favors using inflation data that looks at the past 12 months.
By that year-over-year measure, CPI is up 3.2%. Groceries are up 3.6%. Meat and poultry prices are up 0.5%. New-vehicle prices are up 3.5%, but prices of used cars and trucks are actually down 5.6%.
Economists, meanwhile, tend to like even shorter measures, such as the three-month annualized rate. They think the 12-month rate says more about the rate a year ago than it does about what is happening today.
"Looking at year-over-year [data], the only new piece of information is the current month. You are looking at 11 months that you already know," said Omair Sharif, president and founder of research company Inflation Insights.
Using the shorter metric, headline CPI for the three months ending in July is up 1.9%, while food at home rose 1.1% and meat and poultry is down 4.5%, he said.
Trends have been favorable in recent months, but that might not last. "It's been a good summer," Sharif said. "But unfortunately, the winter data won't be as pleasant."
What caused the spike in inflation?
Economists tend not to blame one political party or the other for spikes in inflation.
In the 1970s, for example, the culprit was increases in oil prices by the Organization of Petroleum Exporting Countries.
This time, there was no one single factor. While the debate is not yet over, economists tend to focus on the pandemic, the war in Ukraine and the move to end reliance on fossil fuels in order to combat climate change.
Brian Bethune, an economics professor at Boston College, said prices started to rise when the healthcare industry had to adjust to a new, unforeseen risk. There were steep costs to dealing with the deadly coronavirus and developing vaccines.
People working in frontline industries were able to command higher wages. And demand outstripped supply for many things, as shelves were emptied by consumers and supply chains were strained.
Bethune also stressed recent moves toward renewable energy. The best way to explain inflation to your grandmother, he said, is to look at a chart of electricity prices.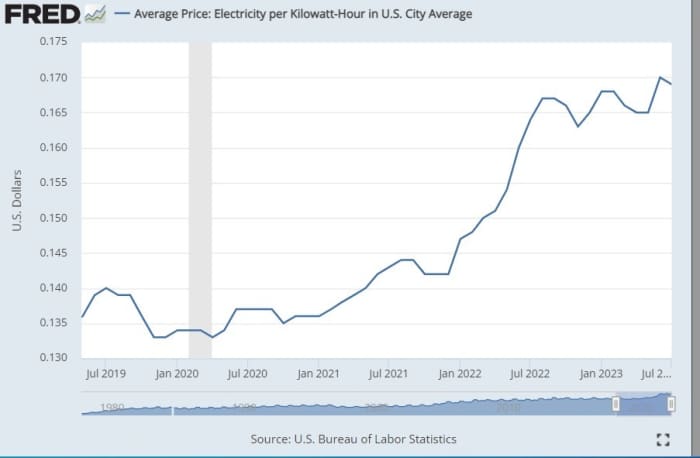 The steady increase stems from efforts to move closer to a carbon-free economy, Bethune said. And those prices get passed along "right through the whole cost pressure of the economy," including the price of refrigerated foods.
Inflation boomed and is now coming off its peak, said Brusca of FAO Economics. Prices are still rising, but not at the same rapid clip. And they won't roll back to prepandemic levels.
"Consumers are caught in a trap," he said. "If prices are going to come down, you have got to have deflation."
Deflation comes with its own unique set of woes. It can make the cost of borrowed money, like mortgages, much more expensive. And it can lead to serious economic weakness.
"All of this is why the Fed targets price stability," Brusca said.
This article was originally published by Marketwatch.com. Read the original article here.