It's a catchy pop tune powered by a killer brass solo. So catchy, in fact, that it's been dubbed the song of this summer after being streamed some 367 million times on Spotify.
But listeners who only understand English may not follow the song's storyline, which is about two young men admiring a beautiful woman dancing alone at a party. After all, "Ella Baila Sola," or "she dances alone," the hit collaboration from Mexican artist Peso Pluma and the Mexican-American group Eslabon Armado, is entirely in Spanish.
These days, it has become increasingly common for non-English songs — mainly from Spanish-speaking artists, but also from Korean-speaking K-pop stars — to crack the pop charts. A recent analysis by Billboard, the music-industry trade publication, found that 2023 has already seen six non-English songs make the top 10 of the Billboard Hot 100 U.S.-based chart, setting an annual record. And we still have a few months left in the year.
"It's really unprecedented," said Xander Zellner, Billboard's senior charts and data analyst.
Those six top-10 hits include not only "Ella Baila Sola" (which reached the No. 4 spot), but also Spanish songs from Bizzarap & Shakira ("Bzrp Music Sessions, Vol. 53"), Karol G & Shakira ("TQG"), Grupo Frontera X Bad Bunny ("Un x100to") and Bad Bunny as a solo artist ("Where She Goes").
For Bad Bunny, cracking the top 10 is old news, of course. He's done it nine times with Spanish songs that have caught the ears of plenty of non-Spanish-speaking Americans.
"They all love Bad Bunny and they don't understand a word," said Bruno Del Granado, who heads the Latin music touring division for Creative Artists Agency (CAA), a leading entertainment company.
Then there's the one Korean top-10 tune on the 2023 list — Jimin's "Like Crazy" — which also happens to be the rare non-English song to make it to No. 1. Jimin isn't a stranger to the hit circle in his other musical life, as a member of the dominant K-pop group BTS, which has had five top-10 hits.
The trend of non-English chart toppers in the U.S. has been some years in the making. Music-industry experts point to a few major moments that have led to the current wave, including the arrival of Korean rapper Psy, whose breakthrough 2012 hit "Gangnam Style" climbed to No. 2, and the runaway success — 16 weeks at No. 1 — of the 2017 Spanish hit "Despacito" from Luis Fonsi and Daddy Yankee, with Justin Bieber.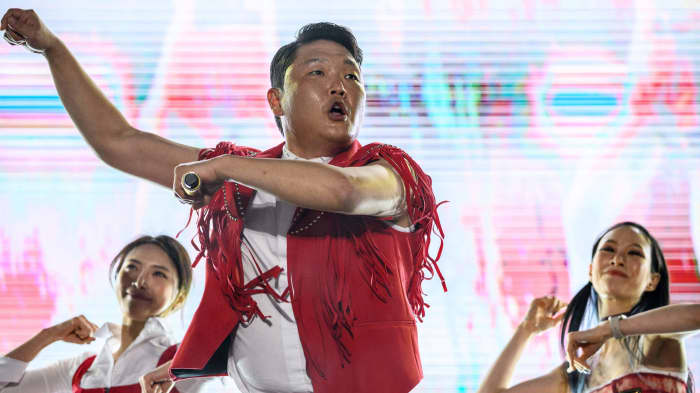 Not that there haven't been examples of non-English songs breaking through in the past — think of the Italian hit "Volare" in 1958, or the Japanese chart topper "Sukiyaki" in 1963. And let's not forget the sensation that was "Macarena," which spent 14 weeks at No. 1 in 1996.
But industry experts say those older songs were often of an oddball nature, as in novelty songs that became all the more novel because they weren't in English. By contrast, the non-English hits of the current era are songs that translate, if you will, as ones of genuine global appeal.
"'They all love Bad Bunny and they don't understand a word.'"
— Bruno Del Granado, head of the Latin music touring division for Creative Artists Agency (CAA)
So what's behind this shift? Lots of factors, experts say — but one that inevitably tops the list is the fact we've fully entered the era of streaming, TikTok and YouTube GOOG, +0.21%, which means the old-school channels of distributing music, such as radio and record stores, hold little to no sway. Those traditional channels served as gatekeepers of sorts, meaning they decided what music made its way to the broader public.
By contrast, listeners these days find music on their own via Spotify SPOT, +1.08%, TikTok or other sources.
"These [non-English] records are being heard in nontraditional ways in massive numbers," said Holly Gleason, a Nashville-based veteran music journalist and editor of the forthcoming "Prine on Prine," a book about the singer-songwriter John Prine.
Of course, the audience for these non-English songs encompasses plenty of U.S. listeners who speak the language of the lyrics, Gleason and others note.
That's especially true of Spanish songs, given the growing Latino population in this country: In 2000, Latinos accounted for 13% of the U.S. population; by 2021, that share had increased to 19%, or 62.5 million people. By 2060, it's expected to increase to 28%, or 111.2 million people.
But even listeners who don't speak a word of Spanish — or Korean, for that matter — can still relate to the music. Experts say that's the nature of music itself: A good tune can go a long way in getting one's attention. And Del Granado makes the point that the production quality of recordings from outside the U.S. has vastly improved over the past few decades. In a previous era, the songs often came off as cheesy, but now they sound cutting-edge, he says.
That's especially the case when it comes to K-pop and the all-male groups, including BTS, that helped the genre become a global sensation, Del Granado adds.
"They took the American model of the boy band to the nth degree," he said.
If there's a twist to this wave of non-English songs catching on in the U.S., it's that they may be inspiring some people to learn another language in order to understand the lyrics and gain broader insight into the culture and people behind the songs they like. At least that's what executives at Duolingo, the language-learning app, have discovered.
The company tracks why users come to its platform, be it for school, business or something else. And it has found that the "other" category is a growing one, especially for those learning Korean. Duolingo dug deeper and discovered that many of those learners were K-pop fans — and specifically BTS fans.
Cindy Blanco, Duolingo's manager of learning content, says it all makes sense: At some point, it helps to know the meaning of the songs without having to look up whatever translations you can find. Otherwise, "it feels frustrating," she said.
This article was originally published by Marketwatch.com. Read the original article here.