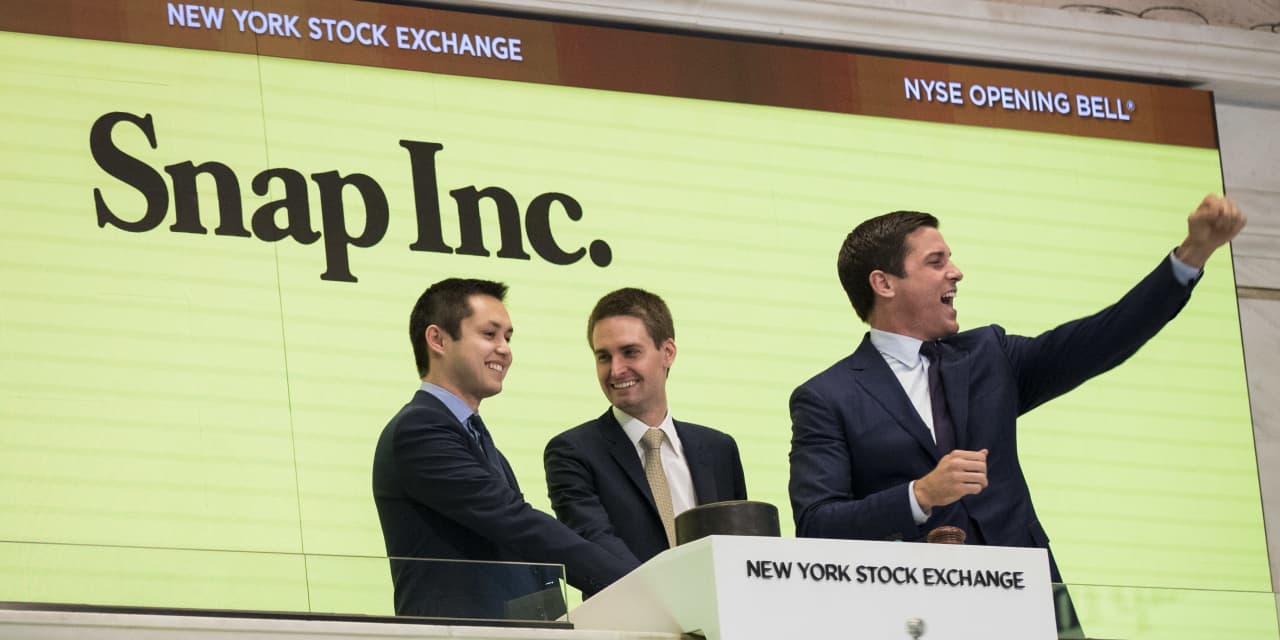 Snap Inc.'s initial public offering led to changes that barred the company and others like it from joining major stock indexes, but at least one major index provider has decided to drop those limitations after less than six years.
S&P Dow Jones Indices announced Monday afternoon that a 2017 rule barring companies with multiple share classes from joining indexes such as the S&P 500 SPX, +0.33% has been dropped. The move comes after the index manager consulted with "market participants" at the end of last year to discuss several potential changes to the policy.
Snap SNAP, +1.78% was the poster child for the initial change, after the parent company of the Snapchat mobile app went public in 2017 by selling a class of shares with no voting rights. That unprecedented move ensured that co-founders Evan Spiegel and Bobby Murphy would retain absolute power over their company even while selling shares to the public.
Snap's move was an acceleration of an approach used by a generation of Silicon Valley tech companies to ensure that founders retained control of their companies even while selling shares to the public. Companies such as Facebook parent Meta Platforms Inc. META, -1.19% and Google parent Alphabet Inc. GOOGL, -2.66% GOOG, -2.78% used similar structures that provided their leaders with special shares that included increased voting rights, which Snap took further by offering no voting rights.
From 2017: Snap backlash, Facebook capitulation won't stop founder-friendly stock structures
In response, FTSE Russell established rules about putting votes in the public's hands while selling stock, and S&P Dow Jones Indices completely barred all companies that had multiple classes of stock from joining its core indexes. While FTSE Russell's rule — which requires that at least 5% of votes rest in the hands of public investors — remains, S&P Dow Jones Indices will now drop its rule entirely, after roughly 80% of respondents voted in favor of a change in 2017.
There were other options besides completely dropping the rule. Participants in the consultation process were given several options and asked to rank them, including barring companies that only offer nonvoting stock to the public — such as Snap — or allowing companies that establish "sunset" provisions that would eventually revert all shares to equal voting rights.
Related: Investors want change, but founders like Mark Zuckerberg hold them off
Snap declined to comment Monday afternoon.
The change to allow all companies with multiple share classes to join the S&P Composite 1500 and its multiple component indexes is effective as of Monday, S&P Dow Jones Indices announced, though no changes were immediately made to any index. Tracking stocks will still not be eligible for inclusion, according to the announcement.
For more: As Snap melts down, its founders make sure to protect the people who matter — themselves
This article was originally published by Marketwatch.com. Read the original article here.