Japanese stocks are primed to outpace global peers this year, with the Nikkei 225 Stock Average reaching its highest level in nearly 33 years last week and up 17.6% year-to-date.
However, most of the Japan's stock outperformance is a direct result of renewed weakness in Japanese yen, and it could tell us little about domestic policy or economic performance in Japan, argued Adam Cole, chief currency strategist at RBC Capital Markets.
Unsurprisingly, Japan's outperformance is attracting attention. Investors have cited a number of drivers besides a weak yen, including corporate governance reforms, a push to return cash to shareholders, and cheaper valuations and lower volatility relative to much of the U.S. market.
Billionaire investor Warren Buffett is also feeding the excitement. Berkshire Hathaway Inc. BRK.A, +0.62% BRK.B, +0.58% has boosted its stake in five Japanese trading conglomerates and now has more equity exposure in Japan than any other country outside the U.S.
The Nikkei NIK, +0.37%, the best performing major market index of 2023, has solidly outperformed the S&P 500 SPX, +1.18%, which is up around 7% so far this year. The iShares MSCI Japan ETF EWJ, +0.28%, which tracks the MSCI Japan Index, is up 9.7% in the year to date, versus a gain of 7.5% for the S&P 500-tracking SPDR S&P 500 ETF Trust SPY, +1.18%.
See: Japan's stock market is smoking the S&P 500. Is it too late to jump in?
Cole, in a note, pointed to the chart below highlighting the relative performance of Japanese equities, which has recently followed the dollar/yen currency pair USDJPY, +0.34% closely. It "should not be surprising given the prominence of exporters in listed Japanese companies," he said in a Wednesday note.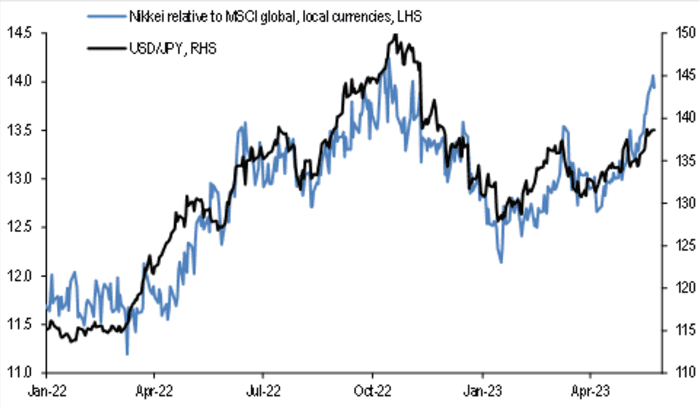 The U.S. dollar fetched 139.45 yen Wednesday, its strongest level versus the Japanese currency since last November, amid broad strength for the greenback. The ICE U.S. Dollar index DXY, +0.02%, which measures the currency's strength against a basket of six major rivals, advanced 0.4% to 103.90 on Wednesday, according to FactSet data.
Cole thinks there is strong evidence that economic activity in advanced economies has become less sensitive to exchange-rate movements over the last 30 years as moves in foreign exchange tend to be "fully passed through to trade prices and hence export margins."
As a result, internationally-exposed equity markets have become more sensitive to exchange-rate movements.
When comparing the Nikkei 225's performance relative to the MSCI World Index 990100, +0.29%, which represents large and midcap equity performance across all 23 developed markets, Cole said Japanese equities are almost "exactly in the middle of the last 30 years' range, rather than being at a 30 year high."
If RBC's expectation of further yen weakness is correct, Japanese stocks may still have the potential to continue their outperformance, said Cole.
He warned, however, that investors should be aware that the causality should run from the currency to the equity market, instead of the other way. That means the rally in the equity market tells us "little about domestic policy or economic performance in Japan," Cole said.
This article was originally published by Marketwatch.com. Read the original article here.