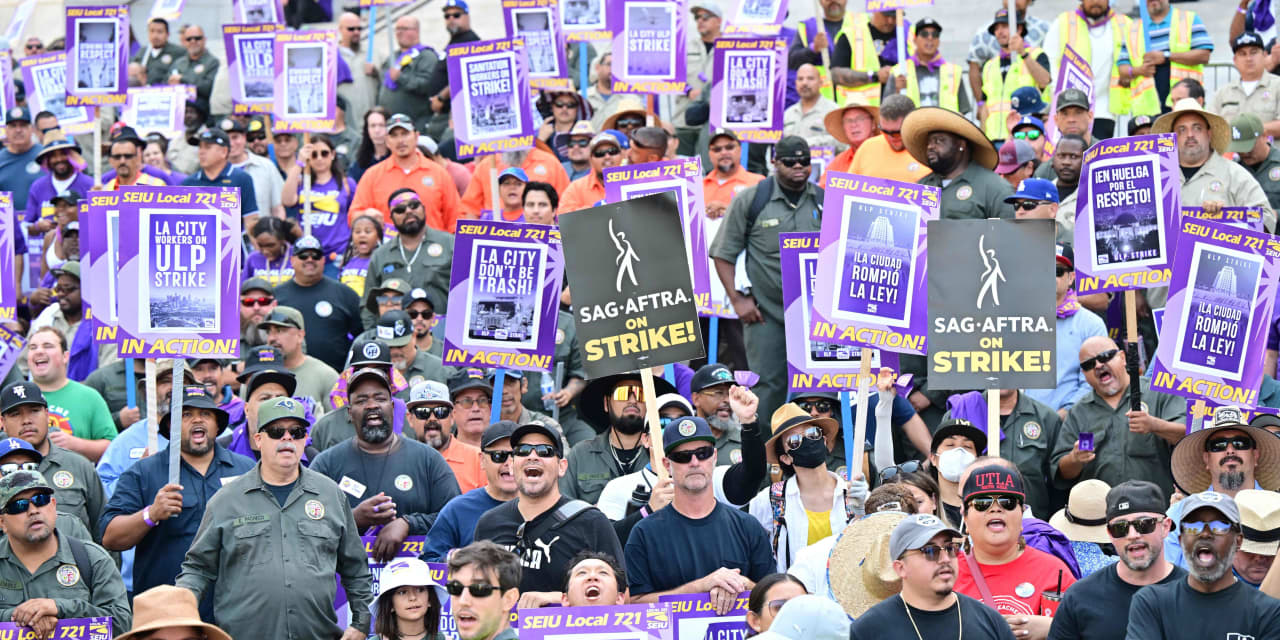 This summer of labor solidarity isn't just limited to private-sector employees — workers in the public sector are taking action, too, continuing a years-long trend.
Striking Hollywood writers and actors joined 11,000 striking Los Angeles city employees on the picket lines during the public workers' one-day strike this week. About 4,000 city employees in San Jose, Calif., in the heart of Silicon Valley, are set to strike for three days next week.
Some high-profile public-sector strikes from earlier this year include teacher and school-staff strikes in California, in the cities of Los Angeles and Oakland. There have been at least a couple of dozen education-related strikes this year in the U.S., many of them at public schools, according to the Labor Action Tracker report from Cornell University's School of Industrial and Labor Relations. In West Virginia, where teachers have been striking for years, the legislature passed an anti-strike bill in 2021.
Many of the issues facing public-sector workers are similar to those of private-sector workers, including stagnant wages that haven't kept up with rising costs of goods, services and housing. But historians and labor experts say the battles public-sector workers are fighting have a bit of a different context.
Read more: Actors, writers, hotel housekeepers and grad-student workers are all striking for the same reason
Why it's harder for public-sector workers to strike
For one thing, these workers don't have collective-bargaining and striking rights under federal labor laws, and only some state laws guarantee them those rights. Their unions aren't negotiating with big, multinational companies — they're talking with elected officials who are beholden to both workers and unions. And in many cases, the services public workers provide directly affect people they know and live around, so they might have more public support.
"Public-sector unions these days are very interested in the 'bargaining for the common good' approach — tying their demands to the quality of city services in a way that the public will support," said John Logan, a professor and director of the labor and employment-studies department at San Francisco State University.
William Jones, a history professor at the University of Minnesota, told MarketWatch in an interview that "the current strike stems from a long history of unionization and strike activity in the public sector."
"It's certainly bolstered by the private-sector strikes, but reflects a particular history of devaluing essential workers that has shaped the public sector since the early 20th century," said Jones, who is currently writing about the history of race and inequality in public employment.
Many jobs that are considered service work in cities — and elsewhere — are done by people of color and women, he added. Wages for these jobs, many of which offer tough working conditions, have historically been low.
From the archives (March 2023): Women are overrepresented in lower-paying jobs. It's costing them billions of dollars.
"It stems from the history of treating service jobs — caring, cooking and cleaning jobs — as jobs that people should do out of a sense of duty," Jones said. The labor of women and people of color has been devalued for a long time, going back to the days of slavery, he added, and their overrepresentation in service jobs is part of the reason public-sector jobs were excluded from federal labor laws.
The coronavirus pandemic brought these issues to the fore. Essential workers who couldn't work from home because they had to keep the city running are now fighting for higher wages and "respect and dignity that is so overdue," said David Green, the president of SEIU Local 721, the largest public-sector union in Southern California.
'The national psyche after the pandemic has changed'
This past Tuesday, thousands of Los Angeles city workers — including workers at Los Angeles International Airport, street-service workers and lifeguards — "really shut down L.A. for a day," Green said. "It really sent a message that city employees are vital to our services."
Green said "the mayor's office reached out immediately," and that he's cautiously optimistic about the union's negotiations with the city.
Los Angeles Mayor Karen Bass issued a public statement the day of the strike. "As Mayor, my job is to ensure the people of Los Angeles are served and safe, that the city finances are protected and that city workers — the backbone of our economy — are respected and treated fairly." Her office would not provide additional comment this week.
In San Jose, where a three-day strike is scheduled for next week, the city is "facing a severe recruitment and retention crisis, leading to worse service outcomes for residents," Jean Cohen, the executive director for the South Bay Labor Council, told MarketWatch.
"City workers are preparing to strike to defend public services — they cannot all keep doing the job of one or more," she said.
Among the entities and services affected will be libraries, community centers, permits and the airport, Cohen added.
A spokesperson for the city of San Jose said Friday that "we are currently in mediation with the unions" and that "the City realizes the potential impacts to our community."
"'Both public- and private-sector workers have experienced inflation and the pandemic in similar ways.'"
— Melissa Lyon, a public-policy professor at the University at Albany
Kent Wong, the director of the UCLA Labor Center and vice president of the California Federation of Teachers, said in an interview that public-sector workers in a labor-friendly state have some political advantages. He pointed out that Bass, the first Black mayor of Los Angeles, "is a former community organizer who understands the challenges of working people."
More than in the private sector, he added, the needs of employees in the public sector and the leaders with whom they're negotiating are more aligned. "Public workers are there to serve the public, and the government is there to address the needs of the public," Wong said. "They're united in their concern to provide education, public services, health and public safety."
Melissa Lyon, a public-policy professor at the University at Albany, State University of New York, agreed. "Public-sector workers are making an appeal to officials who are essentially accountable to the broader public, and to the voters," Lyon told MarketWatch.
Meanwhile, in the private sector, "you have a very intense profit motive, and you have globalization," Wong said. "Hollywood workers are dealing with corporations that reach across the globe. Hotel workers are negotiating with multinational corporations." He said it can be a "bigger lift" for those workers to stand up to the big corporations.
Related: How jobbing actors are surviving the strike — and what we can all learn from them
Despite differing circumstances and negotiating positions, most workers in the public and private sectors have plenty in common.
"Both public- and private-sector workers have experienced inflation and the pandemic in similar ways," Lyon said. "The internal conflicts in the heart of individual workers you have to convince to go on strike have changed. The national psyche after the pandemic has changed. Workers have a different view on work — and what work should and should not ask of them."
This article was originally published by Marketwatch.com. Read the original article here.