WeWork Inc.'s corporate bonds fell more sharply than its stock price on Wednesday after the hourly office-rental company said it has substantial doubt about its solvency as it moves to address its money-losing business.
WeWork's roughly $165 million of 7.875% notes that mature on May 1, 2025, were trading at about 12.55 cents on the dollar, down about 63% from 34.13 cents on the dollar, as the following chart from data-as-a-service company BondCliQ Media Services shows.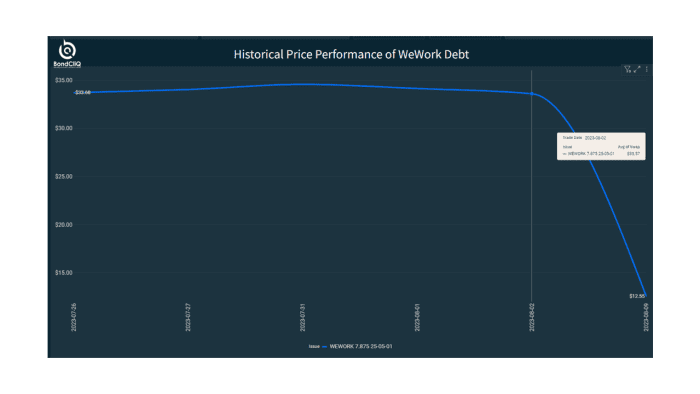 Some spot prices on Wednesday for WeWork bonds have fallen as low as 10.5 cents on the dollar, according to a bond-market insider.
The latest drop comes on the heels of 10 days of selling as bond investors grew more bearish on the company's three bond series leading up to its quarterly update on Tuesday.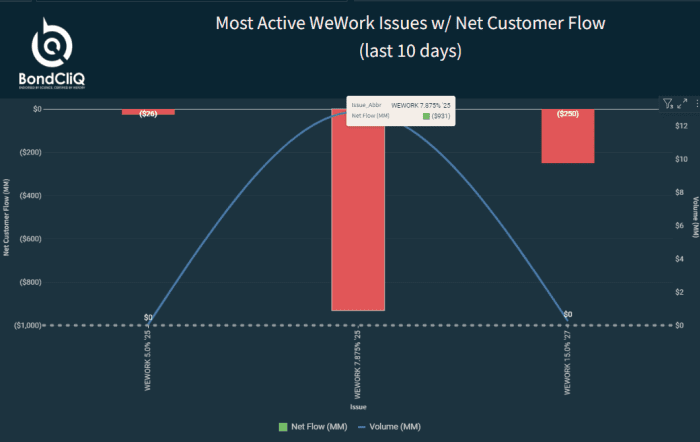 WeWork has not defaulted on its debt, but the bonds are signaling that market expectations are downbeat.
Meanwhile, WeWork's WE, -38.56% stock price was down about 40% on Wednesday, to 12.6 cents a share, after the company said it has substantial doubts about its ability to continue operating.
The company said its survival hinges on the successful execution of its plan to improve liquidity and profitability over the next 12 months.
The stock has been below $1 a share since February.
WeWork narrowed its second-quarter loss to $397 million, or 21 cents a share, from $577 million, or 76 cents a share, in the year-ago period. Revenue rose to $844 million from $815 million during the same period.
The company's loss of 21 cents a share missed the FactSet analyst estimate for a loss of 12 cents a share, and its revenue of $844 million also fell short of the analyst view by $6.2 million.
The bonds started the year at 55 cents on the dollar and fell to as low as 42 cents in April, before fighting their way back up to 55 cents on May 30. They have not traded above that level since then.
While stock prices reflect investor sentiment, bond prices often behave differently given that bond investors will get paid back part of their principal in a bankruptcy, while equity investors get zero.
WeWork has been late paying 72% of its bills in the last year, for a total of 402 late-paid bills, according to data from Creditsafe, a credit-reporting company.
WeWork currently has about $799,000 in late bills and is 67 days beyond terms, which is nearly 10 times the industry average of seven days beyond terms.
In June, WeWork shareholders approved a reverse split in a range of between 1-for-10 and 1-for-40, with the board still deciding the final ratio. A stock typically gets a delisting notice if its share price remains below $1 for 30 days. It then has 180 days to regain compliance.
Moody's analytics real-estate industry practice lead Jeffrey Havsy said that while WeWork's plight has raised questions over the viability of the market for flexible office space, the company's fate was shaped by past mistakes.
"Many of the issues associated with WeWork are self-inflicted," Havsy said. "WeWork has struggled for many years with leadership turnover, cash-flow issues and an overexuberance of growth. These issues are firm related and distinct from the broader [flexible] office space market."
Also read: WeQuit: WeWork bonds sink after top executives resign from cash-burning company
This article was originally published by Marketwatch.com. Read the original article here.