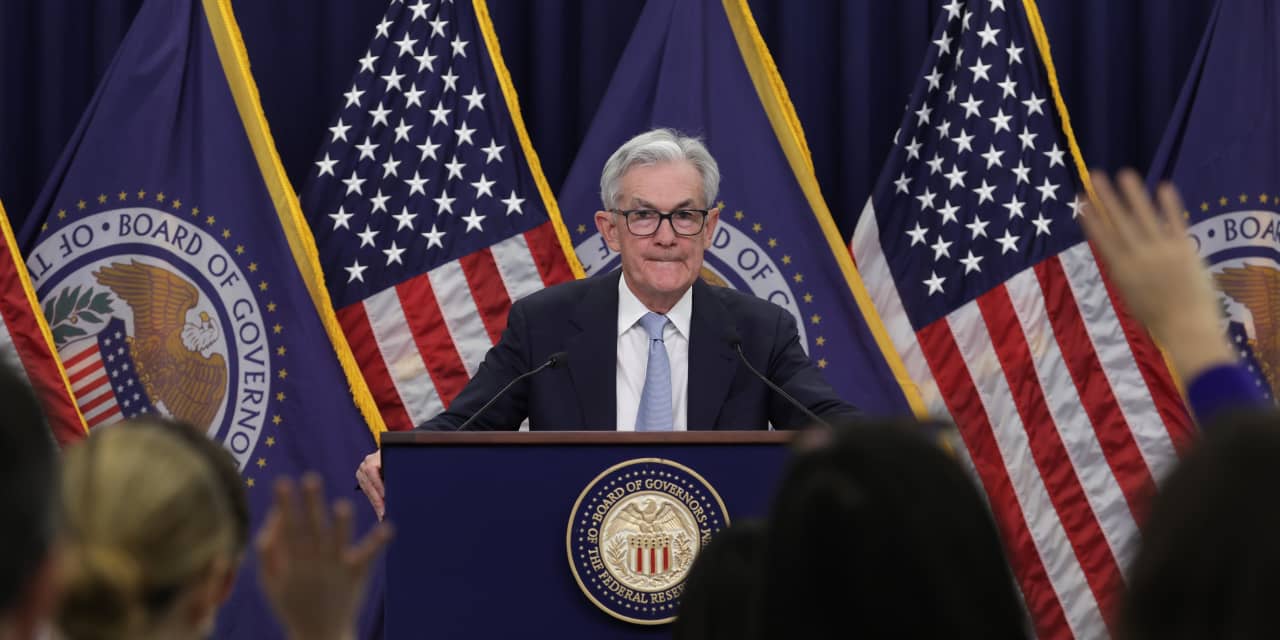 U.S. stocks finished sharply lower in volatile trade on Wednesday after the Federal Reserve raised interest rates by another 25 basis points, while noting that policymakers weren't penciling in rate cuts this year. The decisions came despite recent stress in the banking industry following the collapse of two U.S. regional banks.
How stock indexes traded
The S&P 500 SPX, -1.65% closed 65.90 points, or 1.7%, lower to end at 3,936.97
The Dow Jones Industrial Average DJIA, -1.63% dropped 530.49 points, or 1.6%, to finish at 32,030.11
The Nasdaq Composite COMP, -1.60% lost 190.15 points, or 1.6%, ending at 11,669.96
The S&P 500 and Dow booked their biggest daily drop since March 9, while the Nasdaq has its largest daily slump since March 10, according to Dow Jones Market Data.
Stocks rose solidly on Tuesday, with the S&P 500 posting its highest close since March 6.
What drove markets
U.S. stock indexes initially rose on Wednesday afternoon after the central bank announced its decision to increase its benchmark interest rate by another 25 basis points to a range of 4.75% to 5%, the highest since October 2007.
But the market reversed course and turned sharply lower in the final hour of trade after Fed Chair Jerome Powell said in a press conference that there won't be a case for rate cuts later this year, contrary to what investors in financial markets expect. He also acknowledged the central bank will raise rates even higher if they "need to."
See: Fed hikes interest rates again, pencils in only one more increase
The Summary of Economic Projections released along with the rate decision pointed to a peak rate in a range of 5%-5.25%, the same as projected back in December. It indicates only one more rate hike ahead this year.
"You can call it a dovish hike," said Kathy Jones, the managing director and chief fixed income strategist for the Schwab Center for Financial Research.
"The implication is they want to go ahead and tighten, as expected. But they are giving themselves a lot of wiggle room because the Fed is so unclear of how the tightening at banks will play out," Jones told MarketWatch via phone.
The central bank was planning to "continue with ongoing rate hikes" before the failure of Silicon Valley Bank two weeks ago, but the collapse and ensuing stress in the financial system had them briefly considering a pause in interest-rate increases, Powell said.
Luke Bartholomew, senior economist at abrdn, thinks Wednesday's 25-basis-point hike signals that policymakers have been "somewhat" affected by recent stress at some banks.
"I also think the fact that the dots didn't increase also implies that these events have had some effect on their thinking," he said, adding that the economic and inflation data, "probably would be pointing toward a higher terminal rate."
Powell said the U.S. banking system remains sound and resilient, with strong capital and liquidity, with Fed actions in recent weeks demonstrating "that all depositor savings in the banking system are safe."
However, away from the briefing, Treasury Secretary Janet Yellen said at a congressional hearing on Wednesday that she's not considering a broad increase in deposit insurance.
Yellen was asked about reports that officials are studying ways to expand FDIC coverage to all deposits. "This not something we have looked at, it's not something that we're considering," she said.
Companies in focus
— Joy Wiltermuth and Jamie Chisholm contributed to this article
This article was originally published by Marketwatch.com. Read the original article here.