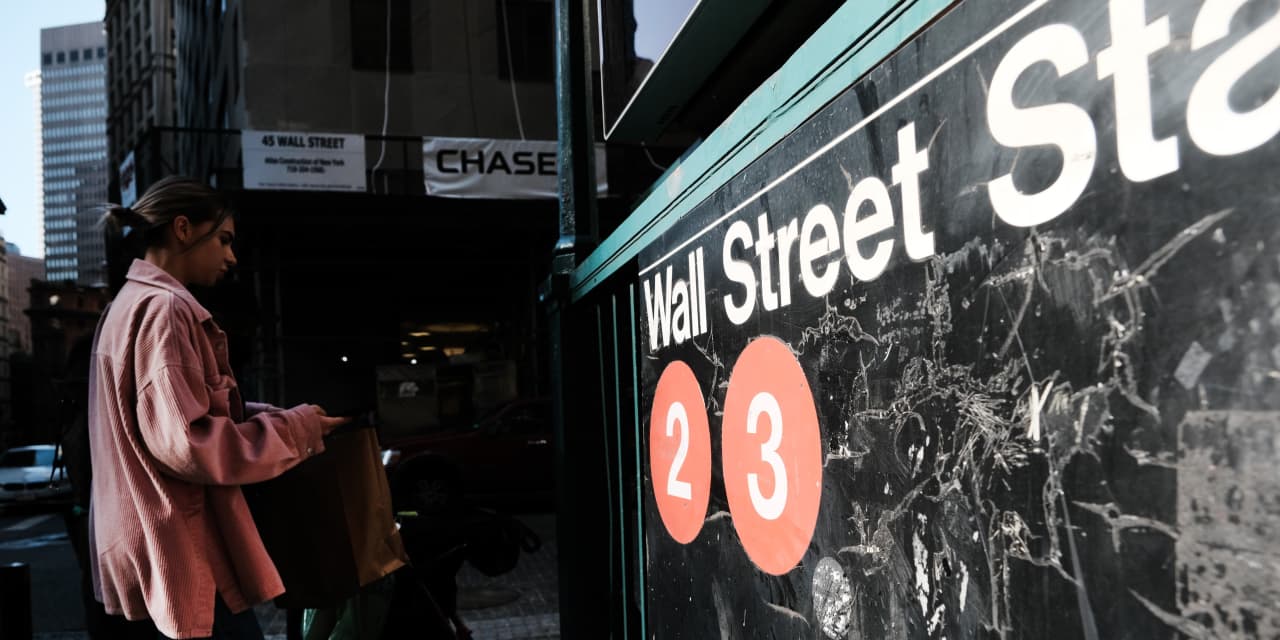 All three U.S. major stock-market indexes closed at records on Monday amid a strong third-quarters earning season for many companies, ahead of this week's pivotal Federal Reserve meeting.
How did major indexes perform?
The Dow Jones Industrial Average DJIA, +0.26% finished higher by 94.28 points, or 0.3%, at 35,913.84. The blue-chip gauge traded as high as 36,009.74, topping the 36,000 milestone for the first time.
The S&P 500 SPX, +0.18% ended with a gain of 8.29 points or 0.2%, at 4,613.67 after trading at a record intraday peak of 4,620.34.
The Nasdaq Composite COMP, +0.63% closed up by 97.53 points, or 0.6%, at 15,595.92 after also hitting an intraday record.
What drove markets?
The backdrop for the stock market's gains have been impressive earnings. According to Credit Suisse, earnings by S&P 500 companies have beaten estimates by 10% in the third quarter.
Though earnings have been positive, the "upside is clearly less than the prior three quarters," Tavis C. McCourt, a strategist at Raymond James, wrote in a note. In the three previous quarters, 2021 consensus earnings per share for the S&P 500 was boosted by around $10 each earnings season, he says. This season is on track for a rise of around $3 to $4, taking it from roughly $199 to $203 a share — a reflection of the "meaningful sting" from supply-chain shortages, according to McCourt.
See: Dow 36,000: Industrials briefly top milestone, putting spotlight on 1999 book
As the New York morning wore on, "enthusiasm started to wane," aided by "some disappointing economic data released after the opening bell," said Michael Reinking, a senior market strategist for the New York Stock Exchange.
A closely-followed gauge of U.S.-based manufacturing activity inched lower to 60.8% in October from 61.1% in the prior month, with a reading above 50% still indicating an expansion in activity. And the IHS Markit final purchasing managers index reading for October fell to 58.4 versus an initial estimate of 59.2.
UBS Global Wealth Management is one of the firms sticking by its expectations for a favorable outlook and earnings that drive further market gains.
"We remain comfortable with our expectation for S&P 500 profit growth of 45% this year," said Solita Marcelli, chief investment officer for the Americas at UBS Global Wealth. "Our outlook for continued earnings growth in 2022 is a key driver [of] our expectations for further equity market gains. Our S&P 500 target for December 2022 is 5,000."
Investors will have plenty of results to sift through again this week, with 167 S&P 500 companies expected to report, a similar number to last week as the peak of earnings season continues. Among the highlights will be results from drugmakers Pfizer Inc. PFE, -0.23% and Moderna Inc. MRNA, -2.33%.
Earnings Watch: How much is Big Pharma making from COVID-19 vaccines? We're about to find out
The Fed will announce its latest monetary policy decision on Wednesday, with expectations it will finally announce the tapering of asset purchases. Traders will be closely scrutinizing the commentary around its latest actions.
Read: What Federal Reserve tapering means for markets
"A gradual, well-communicated tapering of the Fed's bond purchases is unlikely to be the factor that derails markets," said Jason Pride, Glenmede's chief investment officer of private wealth, and Michael Reynolds, vice president of investment strategy.
Fed Chairman Jerome Powell "has gone out of his way lately to specifically emphasize that the coming reduction in asset purchases should not be linked to the timing of interest rate hikes," Pride and Reynolds wrote in a note Monday. "Despite that messaging, some investors are perhaps mistakenly placing bets that the FOMC will need to raise rates sooner and more forcefully than the central bank's own projections."
See: Fed seen announcing start of a 'taper' of bond purchases next week
Contributing to an upbeat tone in early Monday's trading was a weekend deal on steel and aluminum tariffs from the U.S. and European Union, as well as a convincing win for the ruling Liberal Democratic Party in Japan that sent the Nikkei 225 NIK, -0.26% up 2.6%
Read: Japan's Kishida wins electoral mandate, though economic agenda unclear
Which companies were in focus?
What were other markets doing?
Steve Goldstein contributed to this article.
This article was originally published by Marketwatch.com. Read the original article here.