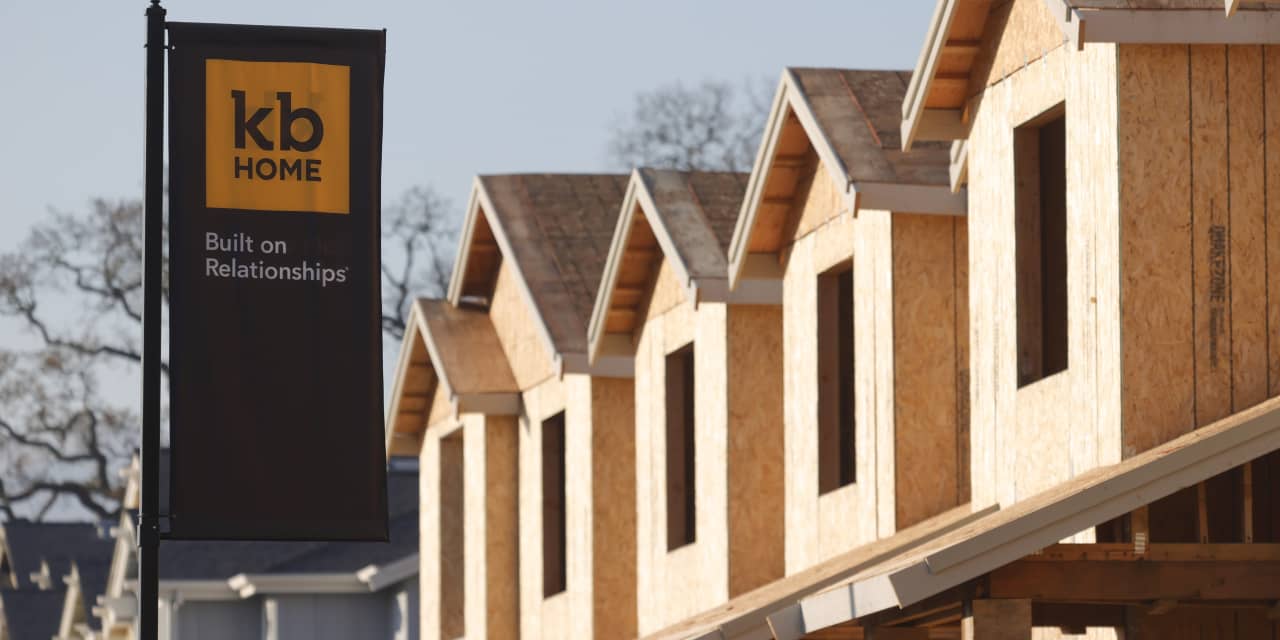 The numbers: Construction of new homes fell 0.8% in March due to slowing construction of apartment buildings, dropping to 1.42 million from 1.43 million the previous month, the government said on Tuesday.
That's the number of homes that would be built over an entire year if construction took place at the same rate in every month as it did in March.
Economists polled by the Wall Street Journal had forecast housing starts to fall in March to a 1.4 million annual clip. The numbers are seasonally adjusted.
Despite the drop in apartment-building construction, there was a 2.7% rise in construction of single-family homes. The strength in new construction is supported by strong demand from buyers, who are running out of options on the resale market.
Building permits, a key indicator of the pace of future construction, fell 8.8% to a 1.41 million rate.
In February, housing starts were revised to an increase of 7.3% to 1.43 million, as compared with a previous rise of 1.45 million.
Building permits for new homes fell 8.8% to 1.41 million in March. Economists had expected building permits to drop to 1.45 million from February's initial estimate of 1.52 million.
Key details: The data revealed that the construction rate for single-family homes rose 2.7% in March, with the rate for apartments dropping by 6.7%.
Single-family-home construction in the Midwest led the jump with a 23.6% increase.
Regionally, construction of all types of homes was mixed. Notably, there was a surge in home building in the Northeast of 72.4%.
Permits for single-family homes rose 4.1% in March, while permits for buildings with at least five units fell by 24.3%.
Overall, housing starts are down year over year. The annual rate of total housing starts fell from 17.2% from the previous year.
Big picture: The small dip in housing starts is mostly due to a slowdown in apartment building, which had been booming over the last few months.
After a red-hot building streak, apartment builders are cooling off as new units hit the market. Rent inflation is also slowing, signaling that consumers have more options on the supply side.
On the single-family-home side, buyers are faced with a shortage of previously owned homes and are turning to new builds. The National Association of Home Builders on Monday said that new construction has increased market share from one-tenth to one-third of housing sales. Builders are pretty optimistic about the future.
What are they saying? "New home inventories had gotten bloated last year when demand sank … builders slammed on the brakes in terms of starts, and the pipeline of new single-family homes under construction has thinned considerably," Stephen Stanley, chief U.S. economist at Santander U.S. Capital Markets, wrote in a note.
"My sense is that, barring a significant pickup in new home sales, builders have more work to do in getting inventories down," Stanley added, "which means that, even if housing starts are in the process of bottoming out, they are unlikely to strengthen considerably in the near term."
Others expected macroeconomic conditions to start affecting home builders.
"Although home purchase intentions were supported by lower mortgage rates in March, we expect mortgage rates to rise in the coming months as markets push rate cut expectations into 2024, compounding the impact of tighter lending standards as a barrier to homebuilding ahead," Katherine Judge at CIBC Economics wrote in a note.
Market reaction: U.S. stocks DJIA, -0.37% SPX, +0.04% were set to open higher early Tuesday. The yield on the 10-year Treasury note TMUBMUSD10Y, 3.570% fell below 3.6%.
This article was originally published by Marketwatch.com. Read the original article here.