The numbers: The U.S. added a more modest 187,000 new jobs in July, perhaps a sign the economy is cooling enough to drive inflation lower and even stave off further increases in interest rates.
Employment growth has fallen below 200,000 two months in a row for the first time since the onset of the pandemic in 2020.
The unemployment rate, meanwhile, dipped to 3.5% from 3.6%, the government said Friday.
After the report, stocks rose and bond yields fell.
Senior officials at the Federal Reserve will decide whether to raise interest rates again in September after reviewing a handful of reports on jobs, wages and inflation.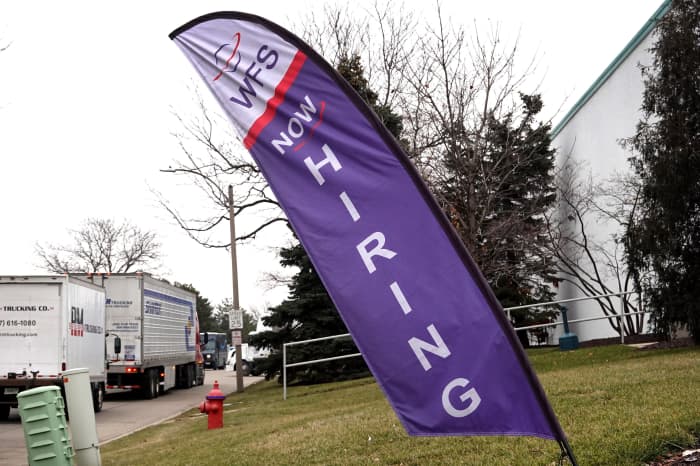 Higher rates work to slow inflation by depressing the economy, but they also raise the risk of recession. The Fed is aiming to extinguish high inflation without triggering a downturn — what economists call a "soft landing."
The good news? Inflation has slowed a bit faster than expected recently. Yet while the labor market appears to be cooling, a shortage of workers is keeping upward pressure on wages.
Wages rose 0.4% in July. The increase over the past 12 months was unchanged at 4.4%.
Fed officials want to see annual wage growth return to pre-pandemic levels of 3% or less.
The pace of hiring is also faster than the Fed would like. The economy probably only needs to add 100,000 jobs a month to absorb all the people entering the labor force in search of work, Fed officials said.
Key details: The increase in hiring in July was concentrated in just a handful of areas, mostly health care and social assistance.
Some 87,000 jobs — or 47% of July's total — were created by medical providers and social programs.
Hiring also rose slightly in leisure and hospitality, finance, wholesale and government.
While the economy is still creating lots of new jobs, fewer industries are hiring. The percentage of firms adding jobs vs. the share reducing them fell close to a record low last month. That's a sign the labor market is cooling off.
Hiring in June and May was also weaker than previously reported.
Job gains in June were reduced to 185,000 from 209,000, marking the smallest increase since the end of 2020.
The increase in employment in May was cut to 281,000 from 306,000.
Another sign of a softening labor market: The number of hours people work fell a tick to 34.3 and matched a post-pandemic low. Businesses tend to cut hours before resorting to layoffs when the economy slows.
The share of people working or looking for work, meanwhile, was unchanged at a post-pandemic high of 62.6%.
High labor-force participation can also help to reduce inflation. When more people are looking for work, companies don't have to raise wages as much to obtain labor.
Big picture: Can the Fed really pull off a soft landing — something it's only done once or twice since World War Two? Senior officials are increasingly convinced it's doable.
The Fed economic staff recently dropped its forecast of a recession and a majority of Wall Street economists now say a downturn is unlikely in the next year.
The economy still isn't out of danger, though. The Fed has raised interest rates to the highest level in a few decades and some key parts of the economy are suffering.
If progress on reducing inflation wanes and rates go even higher, the economy would be more vulnerable to a recession.
Looking ahead: "Today's July jobs report is consistent with a soft landing in the U.S. economy," said chief economist Gus Faucher of PNC Financial Services. "Job growth is gradually slowing to a more sustainable pace."
"The July employment report should not change the Fed's hawkish lean," said Nationwide Chief Economist Kathy Bostjancic. "But officials will want to see the August employment report and the next two inflation monthly readings before deciding whether they can remain on hold or if further rate hikes are required to cool labor demand and inflationary pressures."
Market reaction: The Dow Jones Industrial Average DJIA and S&P 500 SPX were set to open higher in Friday trades. The yield on the 10-year Treasury BX:TMUBMUSD10Y slipped to 4.15%.
This article was originally published by Marketwatch.com. Read the original article here.