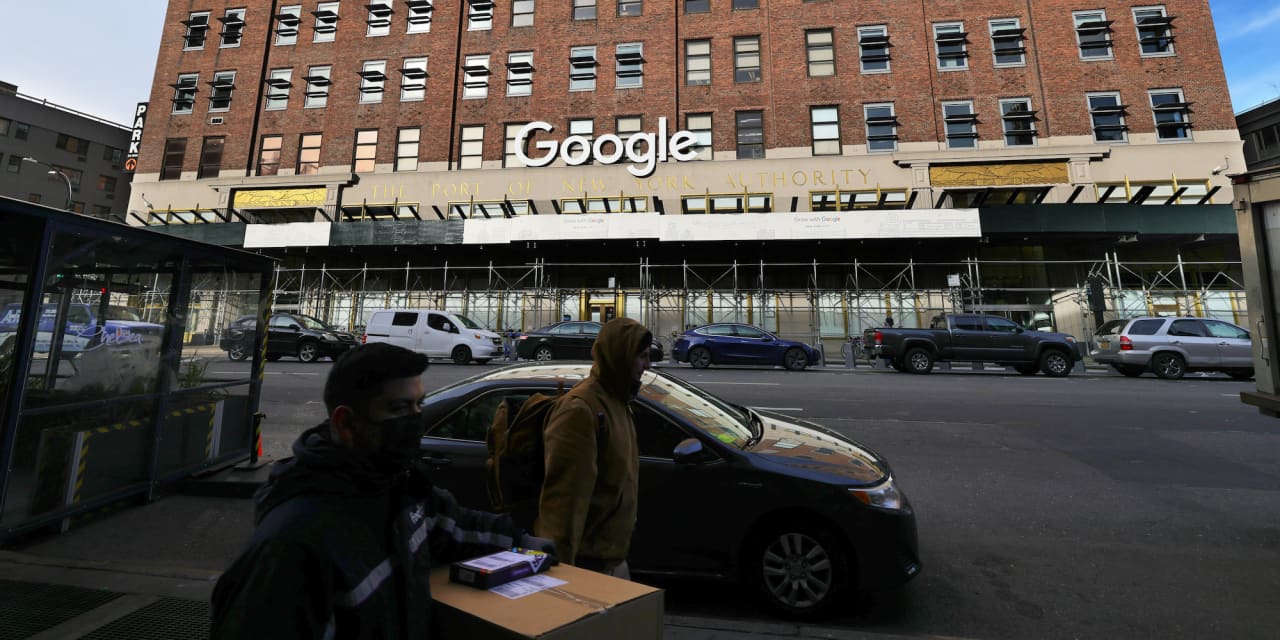 U.S. stocks fell sharply Tuesday, failing to build on the previous session's intraday bounce, as investors sifted through a raft of corporate results and awaited earnings due after the bell from megacap tech giants, including Microsoft and Google owner Alphabet.
What's happening
The Dow Jones Industrial Average DJIA, -1.51% was down 414 points, or 1.2%, at 33,636.
The S&P 500 SPX, -1.85% was down 69 points, or 1.6%, at 4,227.
The Nasdaq Composite COMP, -2.95% lost 362 points, or 2.8%, to trade at 12,643.
Monday saw the biggest intraday reversal since February for the Dow, which rose 238 points, or 0.7%, erasing a loss of nearly 500 points. The S&P 500 rose 0.6%, and the Nasdaq Composite gained 1.3%.
Also read: U.S. stocks ended a Manic Monday in the green — but intraday bounces like this aren't bullish
What's driving markets
Investors were wading into the busiest week of the U.S. corporate earnings reporting season, digesting results from a number of corporate heavyweights released ahead of the opening bell, while looking ahead to results from megacap tech players Microsoft Corp. MSFT, -2.89% and google parent Alphabet Inc. GOOG, -3.00%.
"This week a lot of attention will be on the megacap earnings announcements. Netflix's announcement proved to be a big speed bump that the market is still trying to get over and hopefully there will be some horsepower to help us over, created by announcements and forecasts of the remaining FAANG stocks this week," said Brian Overby, senior options analyst at Ally Bank, in emailed comments.
Formerly highflying Netflix NFLX, -4.58% shares have dropped more than 40% since announcing last week that it had lost 200,000 subscribers in the first quarter.
While close to 80% of firms that have so far reported for the quarter have beaten profit expectations including GE, United Parcel Service Inc. and Pepsico Inc, disappointing earnings forecasts, including those from JetBlue Airways Corp., are weighing on shares.
In U.S. economic data, orders at U.S. factories for durable goods rose 0.8% in March and business investment rebounded after the first decline in a year, signaling the economy is still growing at a steady pace. The rise durable-goods orders matched the consensus expectation produced by a survey of economists by The Wall Street Journal.
A survey of consumer confidence dipped in April to 107.3 from 107.6, but Americans signaled they are optimistic enough about the economy to keep buying big-ticket items such as news cars and appliances.
The S&P CoreLogic Case-Shiller 20-city house price index posted a 20.2% year-over-year gain in February, up markedly from 18.9% the previous month, but U.S. new-home sales decreased 8.6% to an annual rate of 763,000 in March, the government said Tuesday.
Companies in focus
What other assets are doing
This article was originally published by Marketwatch.com. Read the original article here.