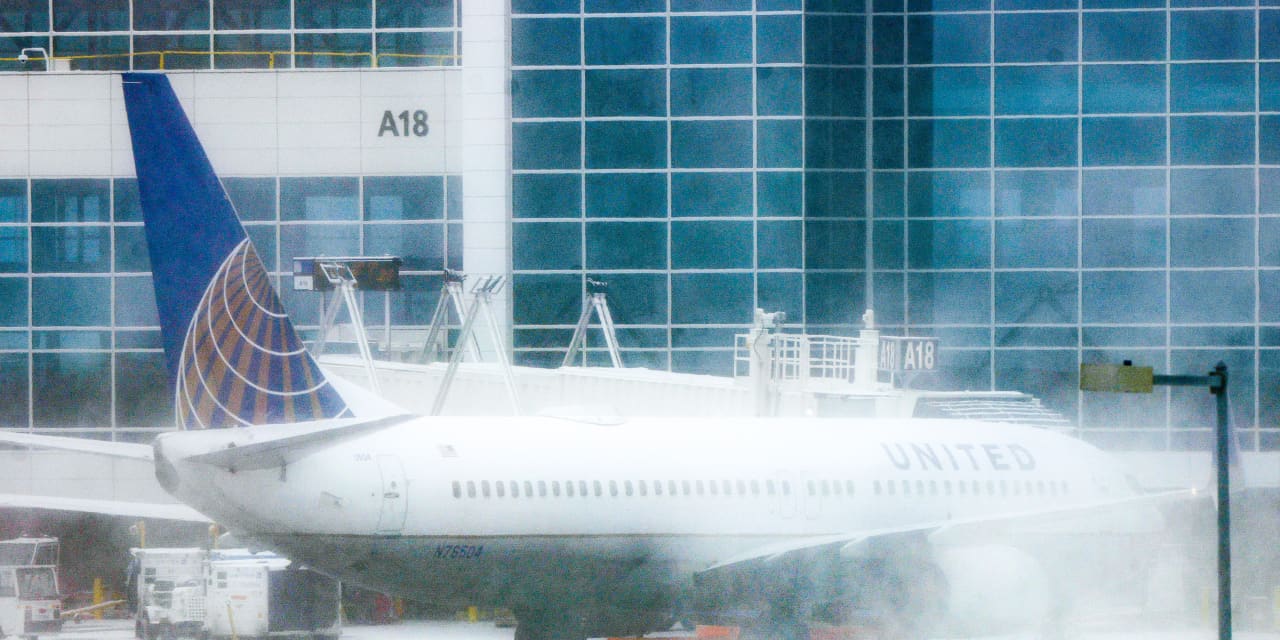 More than 1,600 flights were canceled and 5,800 delayed Wednesday, according to tracking service FlightAware, as a powerful winter storm hit two-thirds of the U.S. with snow, ice and howling winds.
According to FlightAware's "misery map," a combination of cancellations and delays, airports most affected included Chicago's O'Hare International Airport, Denver International Airport and Minneapolis-Saint Paul International Airport.
Among major U.S. airline stocks, American Airlines Group Inc. AAL, -0.83% paced losses, down 0.8%, and Southwest Airlines Co. LUV, -0.47% off 0.5%.
Flightaware showed SkyWest Inc. SKYW, +0.78%, Southwest, and Delta Air Lines Inc. DAL, -0.24% as the airlines with the most canceled or delayed flights on Wednesday.
United Airlines Holdings Inc. UAL, +1.20% stock rose 1.2% and Delta stock turned lower as the S&P 500 index SPX, -0.16% slipped and the U.S. Global JETS ETF JETS, ended the day flat.
In the Minneapolis area, "travel will become increasingly difficult later today, and nearly impossible tonight as winds increase and snow intensifies," the National Weather Service said in a recent local advisory.
"Almost all of the country (will be) experiencing some form of notable weather" this week, the NWS said in a broader advisory.
A severe winter storm in December led to thousands of delays and cancellations, with Southwest canceling more than 16,700 flights as antiquated scheduling systems and its complex network exacerbated disruptions caused by the storm.
Costs associated with the storm hit $800 million and the airline went on to report a quarterly loss in January.
Southwest Chief Executive Andrew Watterson testified earlier this month at a Senate hearing about the meltdown, promising lawmakers "lots of work and lots of expenditures" to prevent another.
This article was originally published by Marketwatch.com. Read the original article here.