Shares of electric-vehicle startup VinFast Auto Ltd. have surged since the company went public through a special-purpose acquisition company deal last week, taking its market capitalization to levels well beyond established automakers such as Ford Motor Co. and General Motors Co.
Shares of low-float company VinFast VFS, +21.94% rose 16.1% Friday, after ending Thursday's session up 32.3%, sending the company's market cap to $231.3 billion. In comparison, Ford's F, +0.17% market cap is $47 billion and GM's GM, -0.73% is $45.2 billion, according to FactSet data. Rival EV maker Rivian Automotive Inc. RIVN, +1.93% has a market cap of $18.6 billion. However, all of these are dwarfed by Tesla Inc.'s TSLA, +1.22% $730.2 billion market cap.
In roughly a week, the VinFast stream on Stocktwits, a social platform for investors and traders, has racked up about 3,000 watchers, and message volume is "pretty consistent" throughout the day, Tommy Tranfo, Stocktwits' head of community, and Tom Bruni, a senior writer for the platform, told MarketWatch Thursday.
Related: EV startup VinFast may be worth more than Ford or GM, but there's a catch
"What everyone is discussing is whether or not the current hype in the stock is warranted given where the business is," Tranfo and Bruni said in a statement emailed to MarketWatch Thursday, noting the company's soaring market cap. "That's despite the underlying business doing less than $1 billion in revenue, having negative cash flow from operations of $1.5 to $2 billion."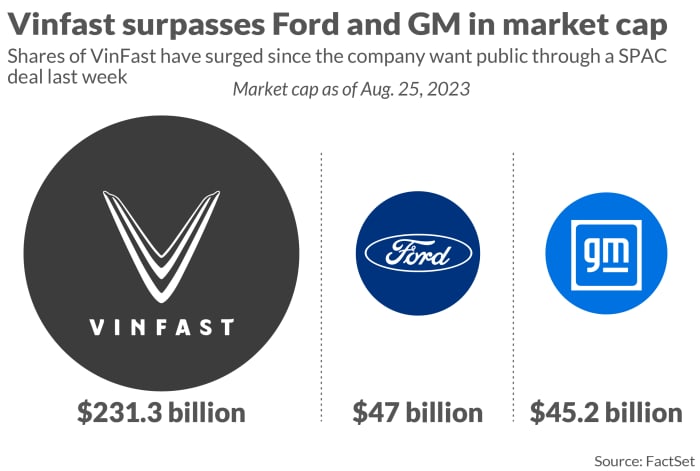 In the short term, the stock is trading on momentum and hype, according to Tranfo and Bruni. "But eventually, its business results have to justify the valuation. And as we've seen with other startups in the space, it's easy to say they're going to accomplish XYZ, but harder to actually execute and produce results," they said.
"From the community side: [We] think what we're paying attention to the most right now is if this hype sticks," they added.
Related: Rivian, Lucid and XPeng make the list of 20 EV companies expected to grow sales most quickly through 2025
The EV maker is a majority-owned affiliate of Vietnamese conglomerate Vingroup, one of the largest publicly traded companies in Vietnam. VinFast said that as of June 30, 2023, the company has delivered close to 19,000 EVs.
About 99% of VinFast's shares are controlled by Vingroup chair and VinFast founder Pham Nhat Vuon, making only a small portion available to investors.
Stocktwits' Tranfo and Bruni noted that EVs have a good track record of growing strong retail community support. "So there is reason to believe that this momentum could continue, but it may be too early to tell for sure," they added. "Retail loves the electric-vehicle industry, so the interest is likely to continue regardless of how well the company (and stock) actually perform."
Related: Tesla's stock jumps 7% after Baird highlights Cybertruck, other 'catalysts' for the year
VinFast is importing its vehicles into the U.S. and is also ramping up its North American presence. In July, the company broke ground on an electric-vehicle manufacturing site within the Triangle Innovation Point in Chatham County, N.C. The EV startup says the plant will eventually have the capacity to make 150,000 EVs a year.
Claudia Assis contributed.
This article was originally published by Marketwatch.com. Read the original article here.