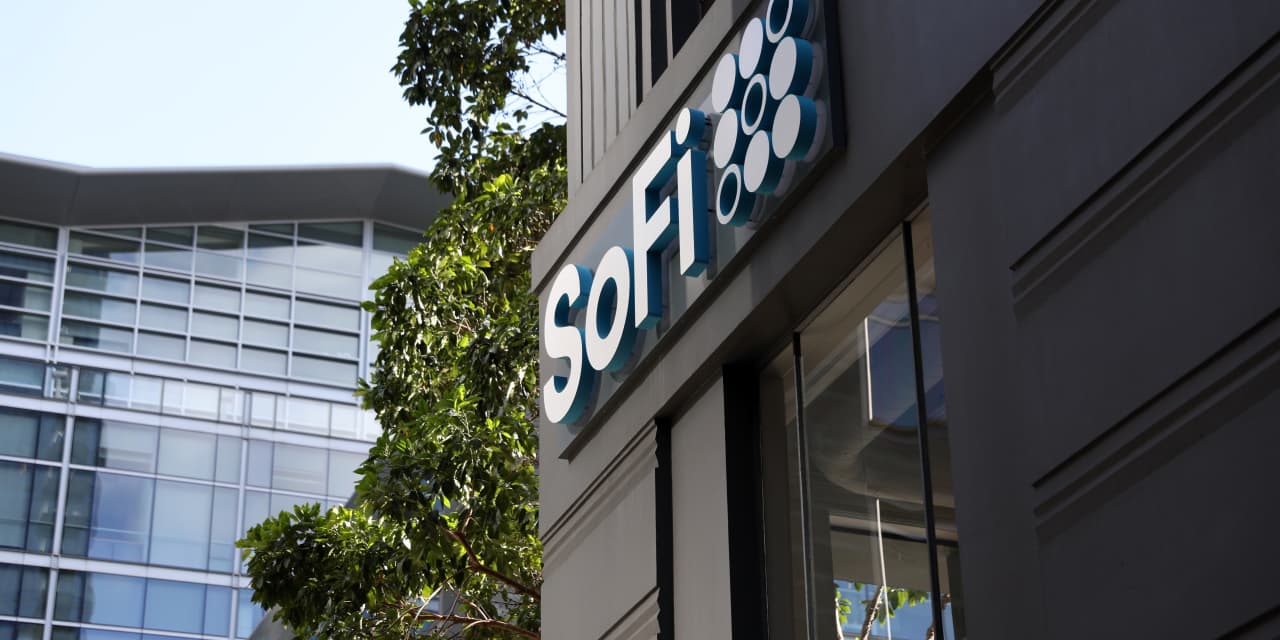 Shares of SoFi Technologies Inc. enjoyed their best day in roughly a year Monday, but they were giving back some of those gains Tuesday after an analyst questioned whether recent enthusiasm for the stock was proportional to SoFi's financial reality.
It's "challenging" to move to a bearish stance on SoFi SOFI, -7.38% shares in light of "such strong momentum" for the stock and his own more upbeat estimates for future growth, Keefe, Bruyette & Woods analyst Michael Perito wrote in the wake of Monday's earnings report. But he thinks that SoFi's valuation "has overshot the fundamental earnings outlook," and he downgraded the stock to underperform from market perform.
In Perito's view, the financial-technology company will see only "modest at best" profitability during 2023. Meanwhile, "with growth rates likely to moderate one way or another, capital consumption has to slow."
The company is "generating 80% of revenues from bank-related activities, and while [its] growth rate and business model are differentiated, the current valuation is difficult to fundamentally justify," he noted, flagging that SoFi shares were trading at more than 30 times the high end of the company's target 2023 range for earnings before interest, taxes, depreciation and amortization.
Even as he downgraded the stock, he lifted his price target to $7.50 from $5.50.
SoFi shares were down nearly 6% in Tuesday morning trading after roaring almost 20% higher Monday. They're up 130% so far this year and recently changed hands just south of $11.
Jeffrey Adelson of Morgan Stanley took a similar view as he reiterated his own underweight stance.
"Bulls win the day, but valuation looks expensive with execution risks into 2024 as growth slows [and] rates stay higher for longer," he wrote. Adelson has a $7 target price on the stock.
Read: Upstart may be gearing up for a big beat, but does its stock already reflect that?
Others were more upbeat, including Andrew Jeffrey of Truist Securities.
"We anticipate that [SoFi] will remain a battleground stock, but contend robust, high-quality [second quarter 2023] results and increasingly credible mainstream banking ambitions firmly place the burden of proof on detractors," he wrote in a note to clients.
He said he was "struck by many investors' and analysts' apparent insistence on viewing SoFi as just another bank," since "factors like capital and credit are important" but "miss the fundamental point."
"SoFi is changing the way consumers bank, and it is doing it faster than most appreciate," Jeffrey continued. "This structural change, in which the [company] is accelerating deposit share, automating loan decisioning, focusing on members' holistic financial health and providing a comprehensive suite of financial products and solutions is new. Legacy banks do not and cannot replicate this model, in our view."
He has a buy rating on the stock and lifted his price target to $16 from $11 after Monday's report.
SVB MoffettNathanson's Eugene Simuni said that SoFi's earnings "demonstrated broad-based strength across the company's business and reduced concerns about the credit quality of SoFi's on-balance sheet personal loan book."
He titled his note to clients "Much More Than a Student Lending Recovery Story" as he raised his price target to $14 from $12 on SoFi shares.
See also: SoFi student-loan business may not 'see the tsunami the stock seems to be reflecting,' JPM warns
This article was originally published by Marketwatch.com. Read the original article here.