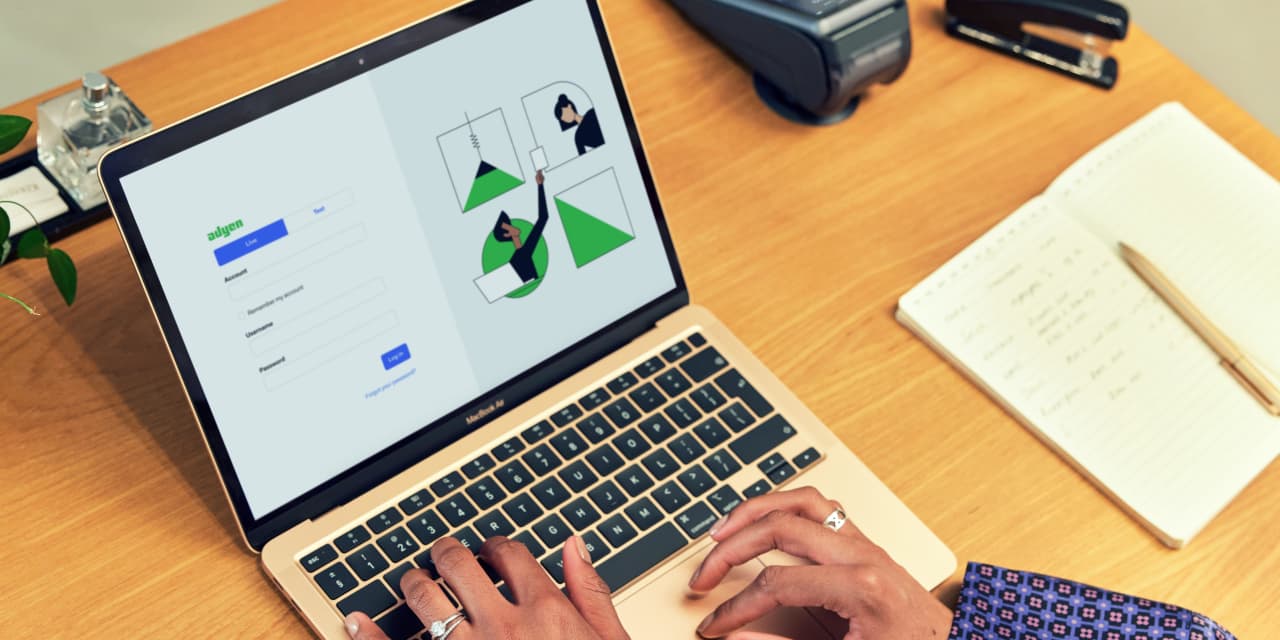 Adyen NV shares continued their steep descent Monday as another analyst threw in the towel on his bullish call.
"We think investors will need to wait at least 12 months before any re-acceleration, allowing the bear narrative to dictate," Morgan Stanley's Adam Wood wrote of the Dutch payment-processing stock Monday. He cut his rating to equal weight from overweight while lowering his price target on the Amsterdam-listed shares ADYEN, -8.60% to €1,025 from €2,000.
Wood's downgrade comes as Adyen shares have shed half their value over the past seven sessions, making for their worst seven-day period since they lost 11% in a June 2018 stretch, according to Dow Jones Market Data.
The current losing streak included a 39% one-day decline for the Netherlands-listed shares Thursday in the wake of Adyen's latest earnings report, which signaled greater competitive pressures in the U.S., where its stock ADYEY, -9.27% was off more than 8% in Monday's session.
Read: Adyen sees flurry of ratings moves after 39% price drop on Thursday
"We think the key debate centres around the growth equation for the company, namely if and when Adyen can get back to growth within the mid-term guidance range (mid 20s/lows 30s net revenue growth)," Wood wrote.
While bulls likely view pricing pressure in the U.S. as temporary and think it will take time for Adyen's 18 months' worth of investments to deliver serious volume, revenue and earnings benefits, Wood notes that bears have a more skeptical view of things. For one, they seem to see Adyen's recent commentary as indicative of a more commoditized U.S. payments landscape than investors previously thought.
"Additionally, we note that once pricing has been lowered, we typically find it is difficult for the industry to get back to a higher pricing level, an additional headwind," Wood wrote.
Don't miss: Is Adyen's pain PayPal's gain?
In Wood's view "the answer likely sits somewhere in between the bull and bear case scenarios," but absent a reacceleration in Adyen's business, he thinks the bearish view will drive the day.
This article was originally published by Marketwatch.com. Read the original article here.