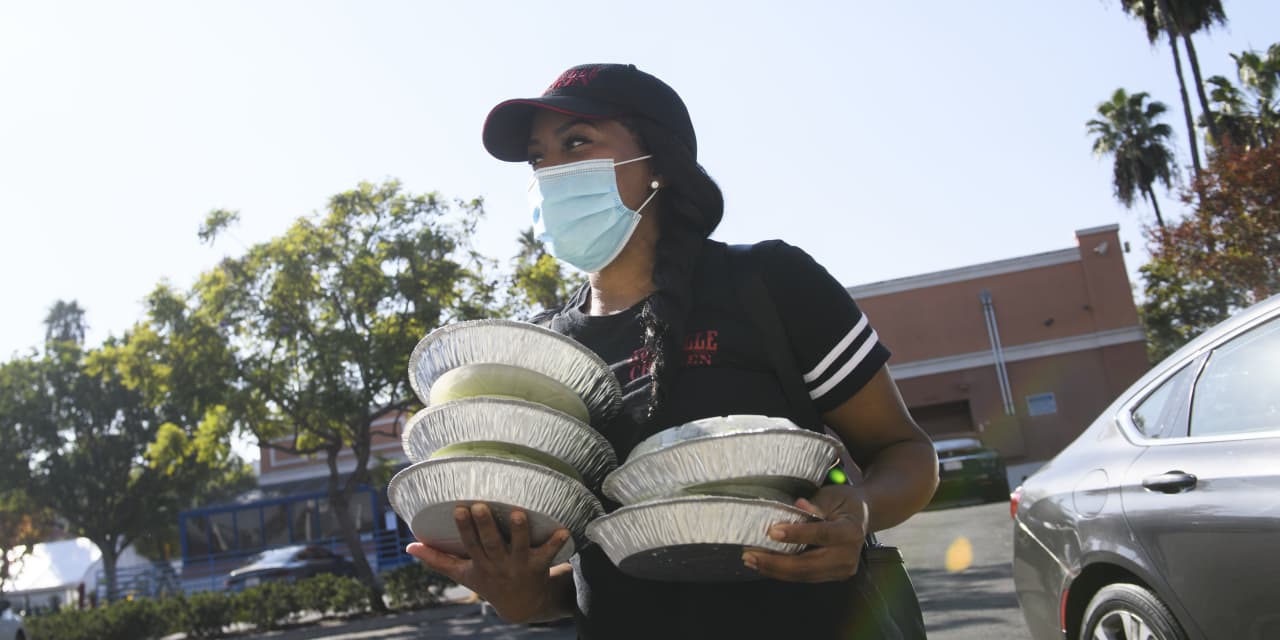 For almost 20 years, National Black Business Month in August has served as a way to celebrate and put a spotlight on Black-owned businesses.
That increased attention has led to initiatives — such as the 15 Percent Pledge, Path to 15-55 Initiative and Buy Black 30 Challenge — that have helped bring in billions of dollars in revenue for Black businesses and put them on the average consumer's radar, said Tiffiany Howard, an associate professor in the political science department at University of Nevada, Las Vegas.
In addition, the number of Black businesses grew from 2017 to 2020, through the initial stages of the COVID-19 pandemic, according to an analysis by the Brookings Institution. That report included some encouraging figures, especially about the growth of businesses owned by Black women.
Now Howard and other experts who study race and entrepreneurship worry that those gains could be at risk. With the rising backlash against diversity, equity and inclusion (DEI) initiatives, coupled with the recent Supreme Court decision that banned race-based affirmative action in education, they are concerned that Black-owned businesses and Black entrepreneurs could feel a negative impact.
"As time has passed, the shocked outrage surrounding the events of [George] Floyd's death have waned, and with it so has the commitment of many in positions of power and influence to address the legacy of slavery and institutional racism," Howard said.
Caution in contracting programs
A racial reckoning and widespread protests followed after Floyd, a Black man, was murdered by a Minnesota police officer in May 2020, as the U.S. was already reeling from the effects of the pandemic. In response, companies big and small, along with prominent business and political leaders, pledged their support for anti-racist policies, practices and initiatives.
But some surveys have shown that since then, companies have scaled back their DEI initiatives as part of cost-cutting moves and as a result of backlash. And white Americans' support for the Black Lives Matter movement, which at its peak in June 2020 was at 43%, has fallen to 33%, according to data from the online polling company Civiqs.
From the archives (April 2023): Three years after companies doubled down on DEI, 'the pendulum swings back.' Here's why.
Black Business Month also has served as a call for policymakers to roll out policies and programs designed to help people who are marginalized in business, especially the Black business community, said Rachel Atkins, an assistant professor of economics at St. John's University in New York whose research areas include racial economic inequality in entrepreneurship.
Atkins thinks the same caution that corporations and educational institutions are exercising because of the pushback to DEI and the Supreme Court's affirmative-action ruling, respectively, could spread to local governments and other institutions. For example, she said, local and state agencies are having to be careful about how they operate their contracting programs for minority-owned businesses.
"My fear is that these kinds of programs geared toward Black business owners could be the next frontier," she said. "It's the thing that keeps me up at night."
In fact, based partly on the Supreme Court's reversal of affirmative action, a federal judge in Tennessee ruled in July that in federal contracting, the Small Business Administration should not presume social disadvantage based on a business owner's race or ethnicity. In response, the SBA is now requiring applicants to write narratives to "demonstrate their individual social disadvantage," according to the agency's guide to writing the narratives.
Federal-contracting experts think the federal government could appeal the decision, according to a report from the news outlet FedScoop.
When reached for comment, the SBA referred MarketWatch to a statement by SBA Administrator Isabella Casillas Guzman from earlier this month, in which she said that "the SBA is proud of our work to promote equity and level the playing field in federal procurement to attract a diverse supplier base and ensure competition, innovation, and performance." She also said the agency is working with the Department of Justice in reviewing the ruling and evaluating next steps.
Elsewhere, small-business owners have met with local and state officials about the issue. A congressman who represents Largo, Md., recently acknowledged the risks for programs meant to help minority-owned businesses.
Implications for closing the racial wealth gap
Black entrepreneurs already get a disproportionately small slice of the venture-capital pie: Last year, they received about 1% of total funding, down from 1.3% the previous year, according to Crunchbase.
And historically, Black business owners seeking capital have seen a lack of support from traditional financial institutions. Only 41% of Black-owned firms that applied for Paycheck Protection Program (PPP) loans during the pandemic received all of the funding they sought, compared with 71% of white-owned firms, according to a survey by a dozen Federal Reserve Banks. That may have been due in part to administrative requirements and Black business owners' lower level of access to advice from paid professionals, according to a study by New York Fed economists.
Many times, Atkins said, Black entrepreneurs are "trying to navigate a system that not only wasn't designed for [Black people], but at many points in history explicitly excluded us." Even if lending discrimination is now illegal, "the legacy of that doesn't just go away even if you make a law," she added.
Howard — who has researched other sources of capital for Black entrepreneurs, including cryptocurrency, crowdfunding and community development financial institutions (CDFIs) — said she is concerned about what the recent backlash and caution could mean for "prospects for wealth building, and closing the racial wealth gap."
Black families owned about 24 cents for every $1 of white family wealth, on average, through the first quarter of 2023, according to the most recent Federal Reserve data.
"It would set back African-American economic-mobility prospects by decades," Howard said.
From the archives (March 2023): Silicon Valley Bank's role for 'underestimated' founders
Related: Brands like Bud Light and Target have always tried to embrace social causes. Here's why they just can't win.
This article was originally published by Marketwatch.com. Read the original article here.