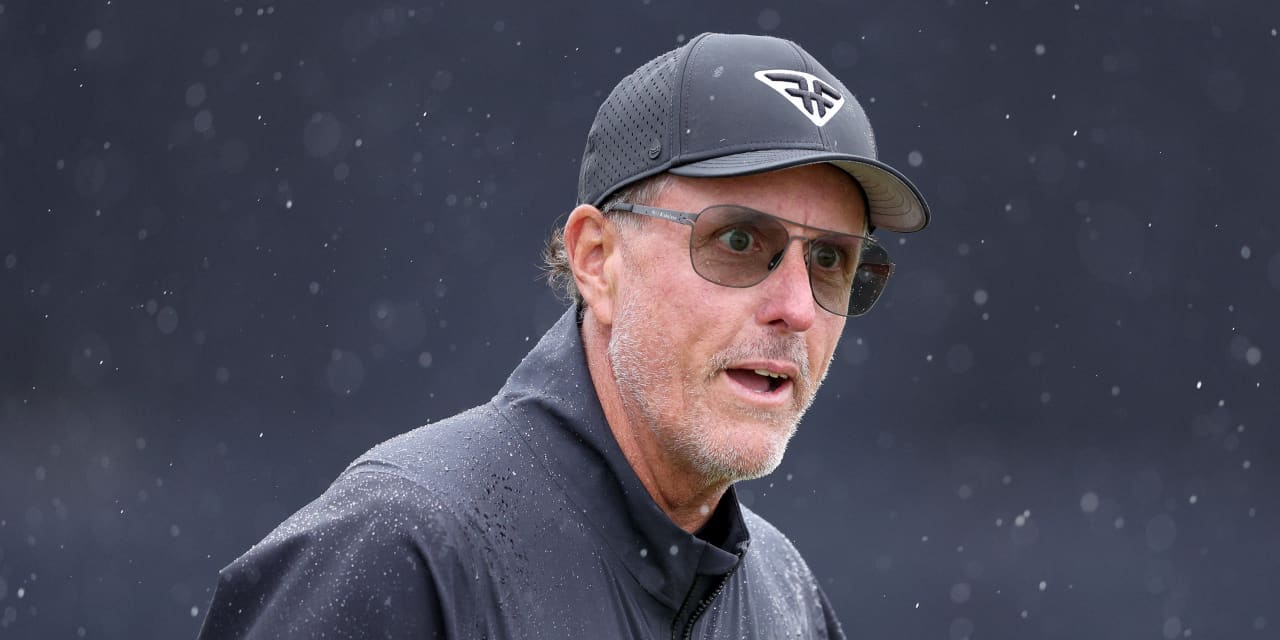 Golf star Phil Mickelson has gambled more than $1 billion on football, basketball and baseball over the past three decades, a forthcoming book claims.
Professional gambler and Las Vegas businessman Billy Walters alleges in a book due out on Aug. 22, "Gambler: Secrets from a Life of Risk," that Mickelson placed hundreds of bets with him for exactly $220,000 and 1,115 bets for precisely $110,000 over the span of three decades. What's more, Walters estimates that Mickelson lost more than $100 million on his bets during the multidecade span. That's according to excerpts of the book reported by The FirePit Collective.
"The only other person I know who surpassed that kind of volume is me," Walters wrote.
Walters is viewed as one of the more successful professional gamblers in recent memory, with sportsbooks limiting the amount he could wager at their establishments. He was convicted of insider trading in 2017 and served five years in federal prison. Mickelson was named in that insider-trading case; he was not accused of wrongdoing but agreed to pay back close to $1 million earned on a stock tip he received from Walters.
Walters said he met Mickelson for the first time at the 2006 AT&T Pebble Beach Pro-Am, and the two formed a betting partnership two years later.
According to Walters, Mickelson asked Walters to place a bet on his behalf on the Ryder Cup in 2012. Mickelson, who was playing in that team tournament, asked Walters to place a $400,000 bet on the U.S. team to win, a request that Walters said he declined. PGA Tour players are prohibited from wagering on events under the organization's Integrity Program.
"I could not believe what I was hearing," Walters reportedly wrote. " 'Have you lost your [expletive] mind?' I told him, 'Don't you remember what happened to Pete Rose?' The former Cincinnati Reds manager was banned from baseball for betting on his own team. 'You're seen as a modern-day Arnold Palmer,' I added. 'You'd risk all that for this?' I want no part of it."
Mickelson has a documented history of sports gambling. Court filings showed that Mickelson transferred roughly $3 million to an "illegal gambling operation" in 2015, and in 2007 the Detroit News reported that Mickelson had ties to an alleged mob bookie.
Representatives for Mickelson did not respond to MarketWatch's request for comment for this story.
In an interview with Sports Illustrated last year, Mickelson was asked about speculation that he had encountered financial troubles. "My gambling got to a point of being reckless and embarrassing. I had to address it," Mickelson said.
Mickelson was one of the first professional golfers to leave the PGA Tour for LIV Golf last year. He'd been offered roughly $200 million to join the Saudi-backed league, according to the Golf Channel's Brentley Romine. The PGA Tour, the DP World Tour and the Saudi-backed LIV Golf circuit reached a landmark merger agreement in June that aims to create a single operation that would "unify" golf.
See also: PGA Tour head: it will be 'difficult' to earn players trust after LIV merger
Much of Mickelson's alleged gambling predates the summer of 2018, when the Supreme Court lifted a U.S. ban on sports betting, allowing for individual states to craft legislation to legalize gambling.
Since that time, states have been legalizing both in-person and mobile sports betting. As of June, 34 states allow some form of legal sports betting, according to the latest tally by the American Gaming Association.
As more people get access to sports betting, it's natural to wonder whether a greater number of people gambling may lead to an increase in people who develop gambling addictions. It's estimated that between 1% and 3% of the American adult population has some sort of gambling issue, although some groups believe the actual number could be even higher.
"We didn't have a good problem-gambling infrastructure in place prior to the expansion of sports betting, and we still don't," Keith Whyte, executive director of the National Council on Problem Gambling, was quoted as having told the Charlotte Observer in February.
While the federal government has apportioned funds to abuse programs for alcohol, tobacco and narcotics, there are no federal funds designated to remedy problem gambling, the NCPG said.
"It's this ticking time bomb," Whyte added.
The U.S. commercial sports-betting handle — that is, the total amount wagered —topped $93 billion in 2022, according to the American Gaming Association's Tracker, a massive jump from the $57.22 billion wagered in 2021.
The Associated Press contributed.
This article was originally published by Marketwatch.com. Read the original article here.