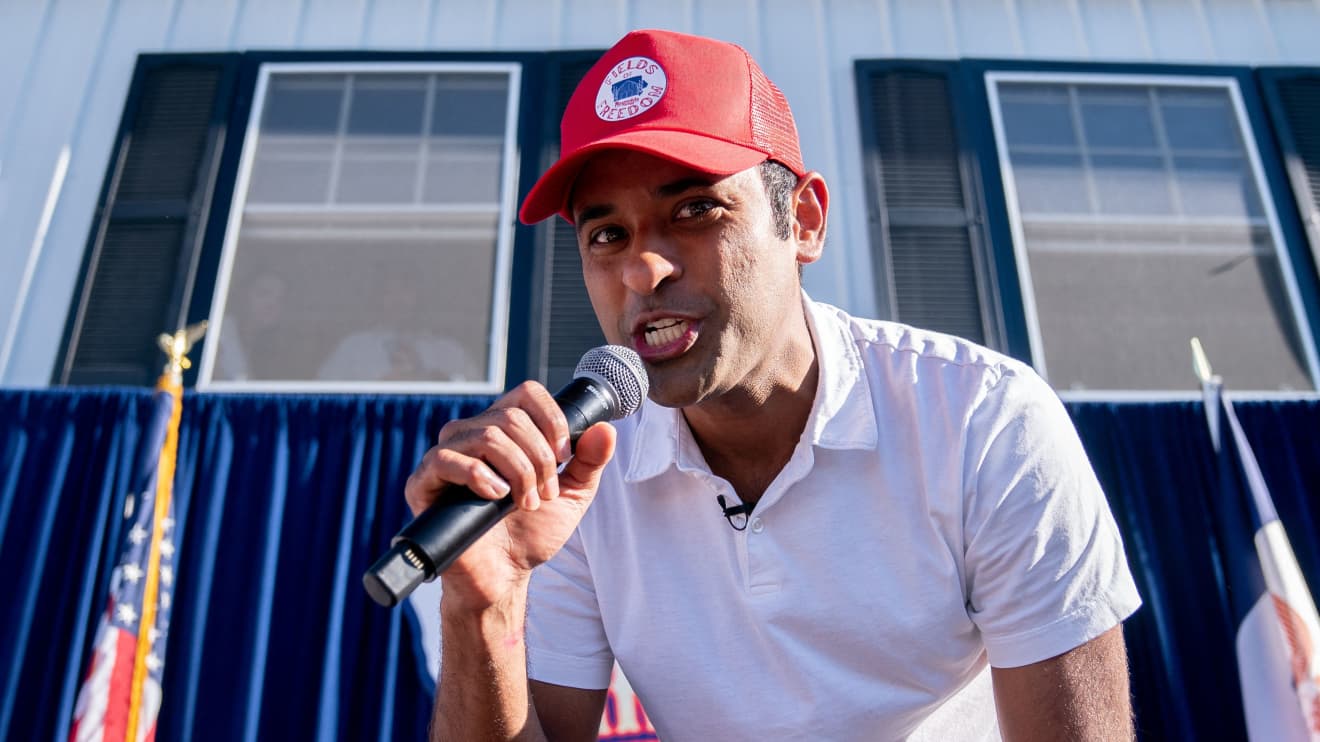 Slim Shady is throwing some shade at Republican presidential candidate Vivek Ramaswamy.
Eminem, the rapper sometimes known as Slim Shady, is protesting the fact that hip hop-loving Ramaswamy has performed his work in public. Most recently, Ramaswamy rapped "Lose Yourself," a song that won Eminem both Oscar and Grammy awards, at an appearance at the Iowa State Fair.
BMI, the music-licensing company, sent Ramaswamy's team a letter on Eminem's behalf saying the artist is "objecting" to the use of his works in this context. In addition, the letter states that Eminem, whose real name is Marshall B. Mathers III, has requested that BMI remove all his works from the agreement with "political entities or organizations" that allows for such usage.
"BMI will consider any performance of the Eminem Works by the Vivek 2024 campaign from this date forward to be a material breach of the Agreement," says the letter. (MarketWatch was able to obtain a copy of the communication.)
Officials with BMI confirmed the details in the letter, but had no additional comment.
A spokesperson for Ramaswamy's campaign made light of the situation, saying in a statement: "Vivek just got on the stage and cut loose. To the American people's chagrin, we will have to leave the rapping to the real Slim Shady."
See also: John Fogerty joins the likes of Tom Petty, Rihanna and Prince's estate in telling Trump's campaign to stop playing his songs
Ramaswamy also joked about the BMI letter, tweeting lyrics to Eminem's hit single "The Real Slim Shady" saying, "He didn't just say what I think he did, did he?"
This is hardly the first time a politician — or even a presidential candidate — has run afoul with a musical act. During President Donald Trump's reelection campaign in 2020, groups and artists ranging from the Rolling Stones to John Fogerty registered complaints about the top Republican's use of their songs.
In particular, Fogerty objected to Trump's use of "Fortunate Son," an anti-war anthem Fogerty wrote for Creedence Clearwater Revival.
"I wrote this song because, as a veteran, I was disgusted that some people were allowed to be excluded from serving our country because they had access to political and financial privilege. I also wrote about wealthy people not paying their fair share of taxes," Fogerty wrote on the Twitter (now X) social-media platform. "Mr. Trump is a prime example of both of these issues."
The issue goes beyond Republican politicians, however. For example, R&B tenor Sam Moore, of the duo Sam and Dave, asked Barack Obama to stop playing "Hold On, I'm Coming'" during his 2008 presidential campaign. (Audience members were changing the lyrics to, "Hold on, Obama's comin'.")
At the time, Moore wrote, "I have not agreed to endorse you for the highest office in our land…My vote is a very private matter between myself and the ballot box."
But many times, artists have little recourse in stopping politicians from using their music. That's because most artists give rights to perform their music to performance rights organizations (PROs), such as BMI, from which venues and events can then license the songs — and that means the artists don't need to be consulted about the playing of their music at events. So political campaigns can pay for the rights and use these songs, even if the artist objects.
This article was originally published by Marketwatch.com. Read the original article here.