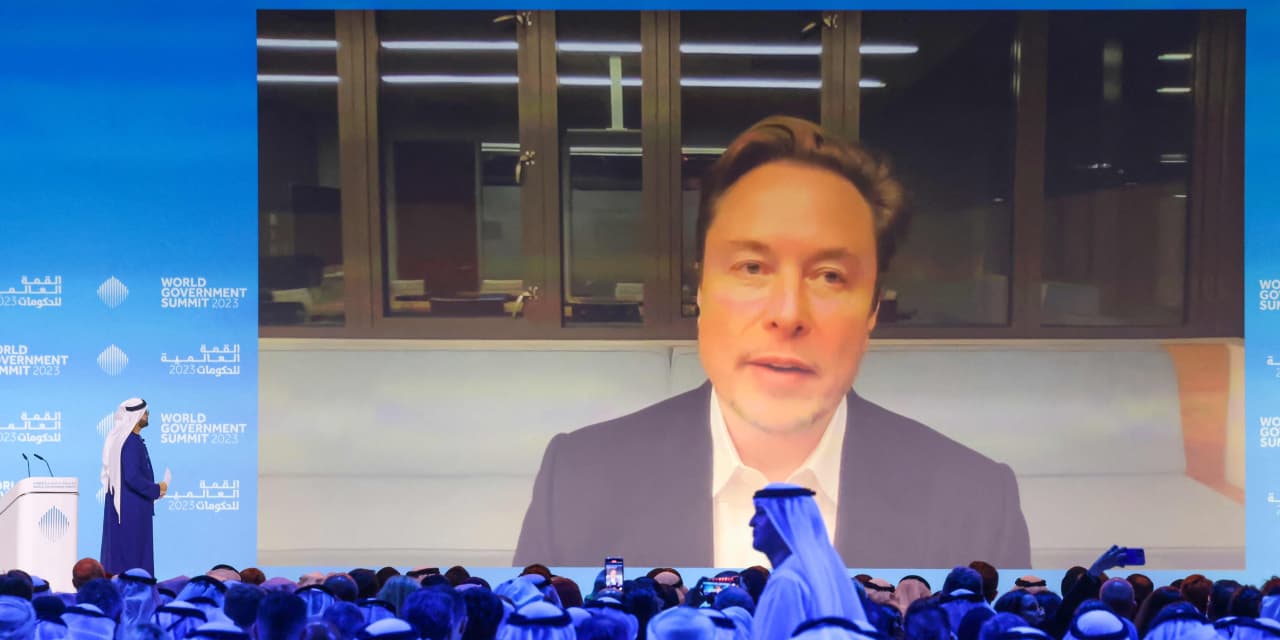 Tesla Inc. shares tanked more than 5% in the extended session Wednesday after the electric-vehicle maker teased a "next generation" electric-vehicle platform but stopped short of unveiling details.
At the end of a four-hour investor day, Chief Executive Elon Musk sidestepped a question that sought details about the new vehicles' performance and looks; the prototype timeline; and whether Tesla would start making them at an existing factory before moving production to its future Mexico factory, as it intends to do.
"We will have a proper sort of product event, but it would be jumping the gun if we answer your questions [now]," Musk said, before asking for other questions from an audience of mostly Wall Street analysts.
Tesla's stock TSLA, -1.43% had advanced right after the closing bell, having ended the regular trading day down 1.4%. The stock then saw losses accelerate as the event in Austin, Texas, progressed.
Tesla had to "fully rethink" the manufacturing process with the goal of improving assembly and making EVs faster and more cheaply, and with a smaller powertrain and lighter weight, executives said.
The promised more affordable next-generation platform could be the base for more than one vehicle, they said.
Most of the presentation was dedicated to highlighting Tesla's technological prowess and airing global aspirations toward electrification and sustainability.
At the start, Musk told the audience that he envisioned an investor day not just for Tesla shareholders but for "anyone invested in Earth," adding that he wanted to offer "hope and optimism based on actual physics and calculations."
"There's a clear path toward sustainable energy" that doesn't require destroying natural habitats or austerity, combining energy storage, EVs and other aspects of electrification, Musk said.
See also: Tesla recalls 362,758 EVs, says self-driving software 'may cause' crashes
Chief Financial Officer Zachary Kirkhorn was the final scheduled speaker in the session, and he provided information about how Tesla was cutting costs and planned to reduce the operating cost for owners of the next-generation but still-under-wraps vehicle platform.
Kirkhorn did not provide long-term financial targets, a common offering during investor-day presentations, and the livestream carried on the Musk-owned Twitter platform stopped during his presentation as it reached a three-hour time limit.
Tesla then opened another livestream to air the executives taking questions from the audience.
"Probably the most exciting announcement of the day is that we're going to be building a gigafactory in Mexico," Musk said at the beginning of the question-and-answer session after the scheduled presentation. The next-generation vehicles would be made there.
Mexico's president, Andrés Manuel López Obrador, beat Musk to that announcement earlier this week, however.
See: Mexican president says Tesla committed to building plant in Mexico
Musk tweeted nearly a year ago that he was "working on" a new master plan. "Master Plan 2" was released in March 2016, promising a few things that have fallen short of reality, especially around Musk's hopes for self-driving cars and car sharing. The first so-called master plan, from 2006, outlined Tesla's strategy of starting off with a pricey and highly desirable sportscar as a springboard and a funding source for future affordable EVs.
The newest blueprint comes as Tesla's stock has regained the $200 level after trading as low as $109.10 in late December. The stock has surged 64% in the quarter so far, though it is down 30% over the past 12 months. That compares with a decline of about 8% for the S&P 500 index SPX, -0.47% in the past 12 months and contrasts with a quarterly advance by that stock-market benchmark of around 3%.
Tesla in late January reported mixed fourth-quarter results, with revenue slightly below Wall Street expectations, but injected some optimism in its production outlook for 2023 and promised to rein in costs faster.
Musk also told investors that demand for Tesla's EVs was not a problem.
This article was originally published by Marketwatch.com. Read the original article here.