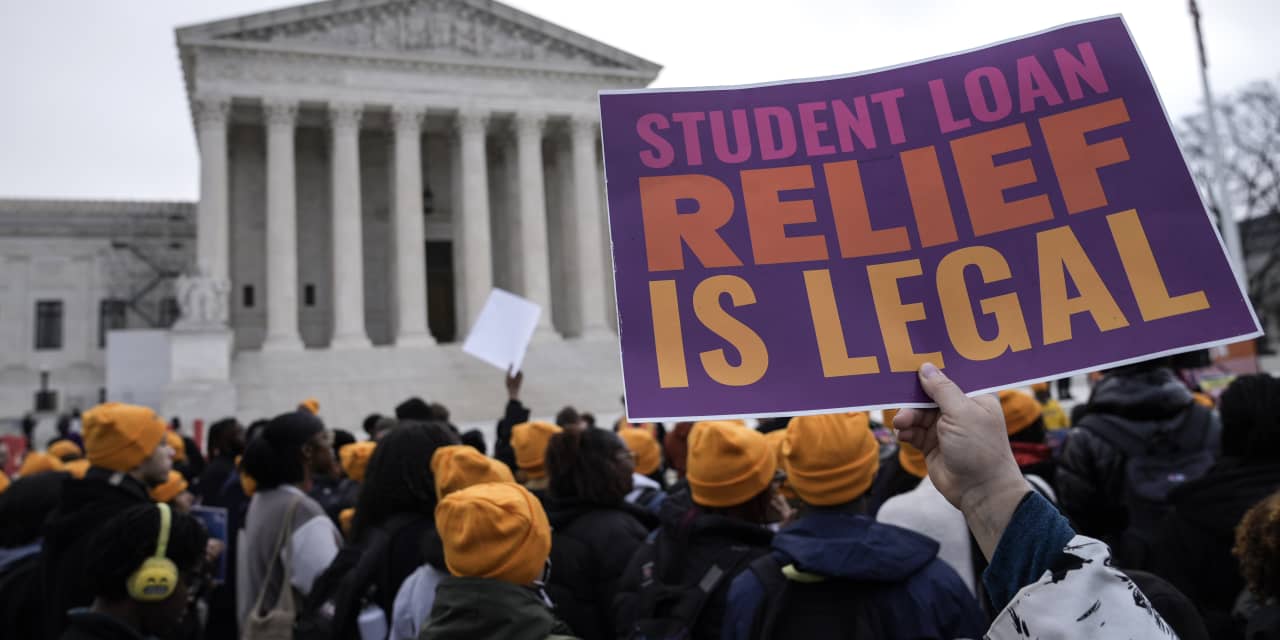 A day after the U.S. Supreme Court heard oral arguments on the Biden administration's plan to forgive student loans, a White House official told MarketWatch there's no fallback plan in case the high court strikes it down.
"We have one plan, it's the plan that we've announced," said Bharat Ramamurti, the deputy director of the National Economic Council, who joined MarketWatch's Victor Reklaitis for a live Q&A session.
"We feel quite good about how things went yesterday," Ramamurti said.
On Tuesday at the Supreme Court, conservatives sounded skeptical that the president has the authority to provide more than $400 billion in student-loan relief.
Read: Chief Justice Roberts has questions on student-loan cancellation: 'How does that fit under the normal understanding of modify?'
Analysts have said it's likely the Supreme Court, which has a 6-3 conservative majority, will nix Biden's loan-forgiveness plan. The high court likely won't issue its decision until June.
Now see: Supreme Court majority questions Biden's student-debt relief plan
Biden announced the debt-forgiveness plan in August. It would cancel $10,000 in federal student-loan debt for individuals who make less than $125,000, or for households with income of less than $250,000 a year. Pell grant recipients would have an extra $10,000 forgiven.
"That's the plan we're going with," Ramamurti said. "We think it's legal, we think it's the right approach. There is no current back up plan."
Ramamurti also weighed in on other economic topics including the solvency of Medicare and Social Security. Earlier Wednesday, a report said Maine Independent Sen. Angus King and Sen. Bill Cassidy, a Republican from Louisiana, are leading a group of lawmakers in a proposal to raise the full retirement age to around 70 years old from 67, and create a sovereign-wealth fund that would help fund Social Security.
Read: Lawmakers consider plan to raise Social Security's full retirement age to 70
Ramamurti said he had not seen the details but said increasing the retirement age is "effectively a benefit cut," and that Biden is against benefit cuts.
Ramamurti was named by Biden last month as adviser for strategic economic communications, in addition to his role as deputy director of the National Economic Council.
Lael Brainard, the former vice chair of the Federal Reserve, became head of the NEC in February.
This article was originally published by Marketwatch.com. Read the original article here.