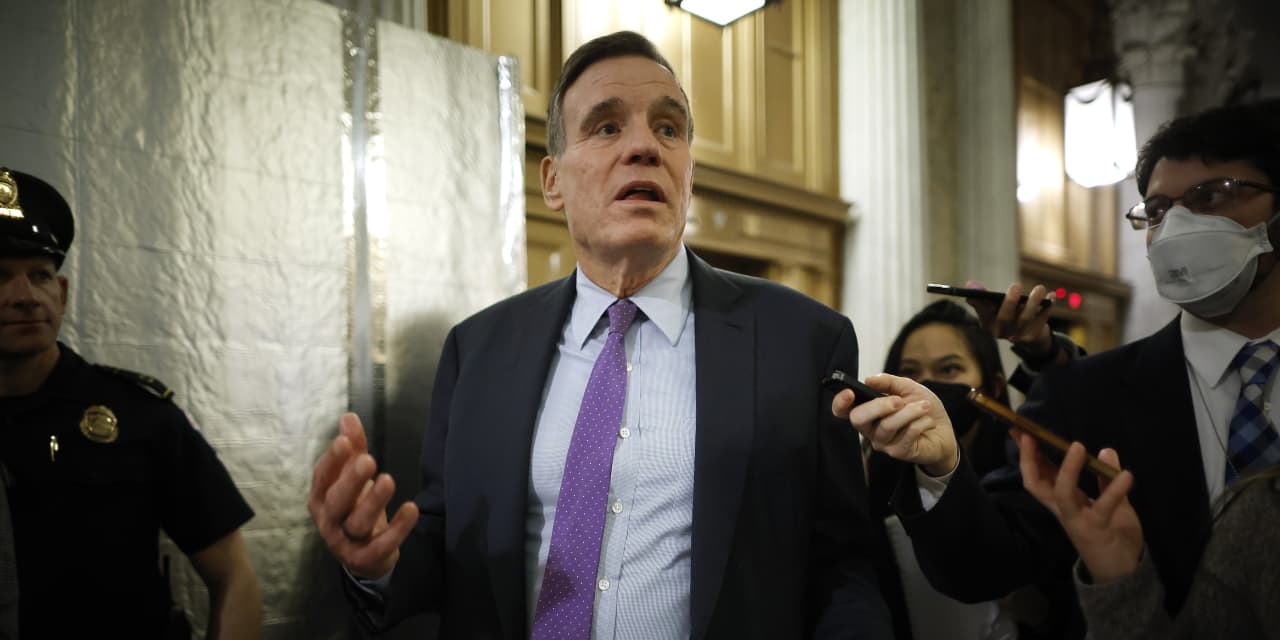 Sen. Mark Warner admits he's "very frustrated" by the continued absence of major antitrust tech law, but he's also confident kids safety protections online could be a bipartisan building block this year for a "breakthrough."
"Let's restart antitrust," Warner (D., Va.) told MarketWatch on Monday. "Lessons were learned [in 2022] and we can break through with kids legislation. Can't we at least agree on kids safety?"
That, in turn, would induce "a series of efforts" by federal lawmakers on popular issues such as data portability and interoperability, putting a stop to self-preferencing of products and services by Apple Inc. AAPL, +0.41%, Alphabet Inc.'s GOOGL, +0.78% GOOG, +0.73% Google, and Amazon.com Inc. AMZN, +1.49% on their gigantic digital stores, and changes to Section 230, which shields social-media companies from third-party content that appears on their platforms.
"Section 230 has been this vast, get-out-of-jail free card," Warner said, protecting companies from legal action even if the content violates civil rights protections, amounts to stalking or even leads to wrongful death claims. [Warner has authored a bill that would tweak Section 230 of the Communications Decency Act from such immunity.]
What is more, the former telecom executive and venture capitalist did not rule out the possibility of a handful of bills, including antitrust bills from the likes of Sens. Amy Klobuchar (D., Minn.), Richard Blumenthal (D., Conn.), and Marsha Blackburn (R., Tenn.) from being modified and resurfaced in the 118th Congress.
While acknowledging a dysfunctional House could complicate all legislation, Warner said it could also present opportunities for bipartisan topics like kids safety and national security around the threat from China.
Warner's general sense of frustration is the byproduct of Congress's inability to pass substantive legislation into law despite years of finger-wagging hearings, tissue-thin promises from tech executives, and groundbreaking laws passed overseas and in progressive states like California.
"For 20, 30, 50 years, some of the secret sauce of our country was developing technology and its standards," Warner told MarketWatch, several days after he addressed the need for tech legislation at a CES panel. "We have been stepping back from this, and some of it came during the techno optimism of the Obama Administration."
Yet Russian subterfuge in the 2016 elections and the "dark underbelly of social media" have underlined the damage tech can inflict on national security and society — especially youth subjected to body shaming and bullying online, he said.
Tech executives argue that legislation is an "existential risk," Warner said, yet have shown a ready inclination to adhere toward the law in Europe and Asia without any apparent damage to their businesses.
Read more: As U.S. fails to crack down on Big Tech, Europe shows what progress looks like
"Why isn't what's good for the Brits, Germans and French not here?' Warner said. "European [regulators] are acting in front of America."
Read more: CES 2023: Tech legislation is shifting from antitrust focus to broadband, cybersecurity
Affordable broadband, cybersecurity in the development of health-care systems, and technology competition with China head the to-do list in 2023, Warner, chairman of the Senate Select Committee on Intelligence, said during a panel on congressional tech priorities late Friday at CES.
"This has been glory days of funding, with the federal infrastructure bill that includes funding for electric vehicles, the chips bill, and the inflation reduction act, and its impact on energy industry," Warner added.
This article was originally published by Marketwatch.com. Read the original article here.