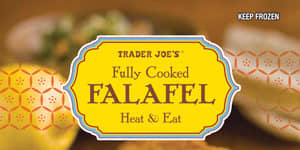 Grocery store chain Trader Joe's said Friday it recalled lots of its frozen falafel on reports that the product may contain rocks, the second such recall in a week from the supermarket chain.
In an email to customers, Trader Joe's said its supplier alerted the company that its "Trader Joe's Fully Cooked Falafel" (SKU# 93935), sold in 34 states and Washington DC, "may contain rocks."
The grocer said all "potentially affected product has been removed from sale and destroyed," and advised customers not to eat the product, but to either discard it, or return it for a full refund.
Earlier on Monday this week, Trader Joe's recalled its "Almond Windmill Cookies," and "Dark Chocolate Chunk and Almond Cookies," because the products could potentially contain "rocks."
Trader Joe's told MarketWatch in an emailed statement that the "close timing of the two situations is coincidental."
"While there are aspects of our product supply chain beyond our direct control, we will never leave to chance the safety of the products we offer," Trader Joe's spokesperson Nakia Rohde told MarketWatch. "In this case, there was a different issue in the each of the manufacturing processes."
"We pulled the product from our shelves as soon as we were made aware of the issue," Rohde said. "Once we understood the issue we notified our customers."
This article was originally published by Marketwatch.com. Read the original article here.