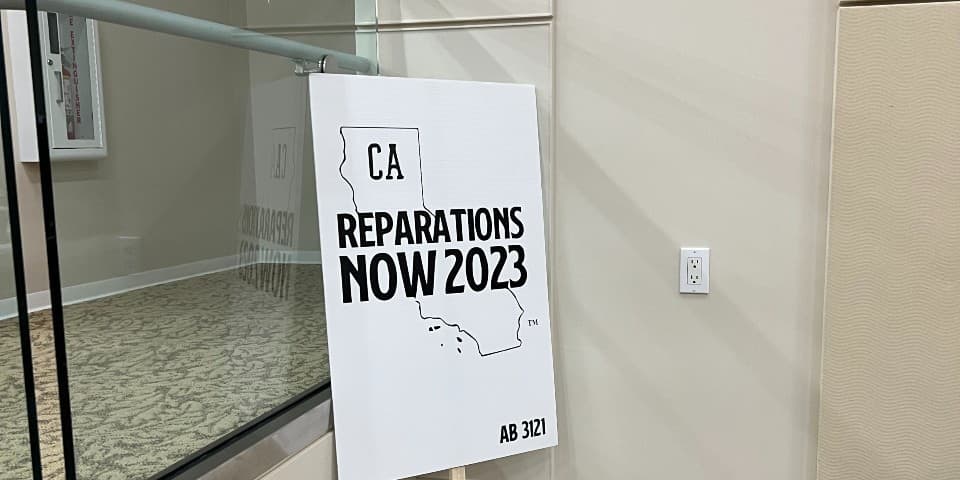 Economic experts on Wednesday told the California reparations task force that their calculations of the harms to descendants of enslaved people, which total at least $800 billion, do not constitute an estimate for planned reparations in the state.
Speaking in Sacramento, Calif., during the first day of a two-day meeting — during which some members of the public called to push back against the very idea of reparations — Thomas Craemer called media coverage of the economic team's calculations "premature," although those calculations are available because the task force's deliberations are public.
"What we're estimating is losses to African Americans who are descendants to people who were enslaved in the U.S.," said Craemer, an associate professor at the University of Connecticut School of Public Policy who focuses on race relations and reparations. "We're not suggesting reparations. That's for the task force to determine."
The report by Craemer and other economic experts includes calculations that amount to at least $800 billion worth of harms to descendants of enslaved people: $246.5 billion for mass incarceration/over-policing, and $569 billion for housing discrimination, the economists told the state's reparations task force. But there are several other potential areas that they see as possibly adding to that total.
For health harms, the total possible amount is unclear, though the economists calculated that each eligible resident could get $13,619 for each year spent in California. The economists did not put forth final calculations for the following harms, though they suggested possible formulas for some of them: unjust property takings, devaluation of Black businesses, labor discrimination, segregated education, environmental harm and more.
Another economic expert who also wrote the report, Howard University professor of economics William Spriggs, said by video call to the meeting: "It's improper to judge what the precise numbers will be. We're only giving you our advice on calculations of specific harms. The task force has latitude to take it [or not]."
Previously: California reparations push could give Black residents hundreds of thousands of dollars — here's what they say they would do with it
Both Spriggs and Craemer suggested that the task force might recommend monetary reparations that go beyond the economists' calculations. For example, Craemer said the group might consider taking into account "pain and suffering" when making its recommendations.
See: How to pay for reparations in California? 'Swollen' wealth could replace 'stolen' wealth through taxes.
The California reparations task force, the first of its kind at a state level, is due to publish its final report by June 30. The nine-member task force, established by a law signed in 2020, has for the past couple of years studied and discussed reparations for descendants of people who were enslaved, with the help of experts and the California Department of Justice. Now its members are completing recommendations for state lawmakers to consider for possible legislation, which will begin a new process toward possible reparations.
As California Attorney General Rob Bonta said Wednesday during a brief video call in which he thanked the task force and the Justice Department for their work on the effort so far, "getting the final report is just the first step."
The task force's recommendations will also include policies and changes besides monetary reparations, such as the establishment of a new state agency. The California American Freedmen Affairs Agency (CAFAA) would be modeled after the Freedmen's Bureau, which was established by Congress to help freed enslaved people after the Civil War.
The economists also recommended that the new agency make direct payments to eligible recipients and help with their claims.
The task force voted Wednesday to approve the economists' draft report. All draft reports, along with the task force's interim report that was released last year, are available on the state Department of Justice's website.
The group's next meeting is Thursday in Sacramento. Members will continue to discuss other recommendations, as well as organization and formatting, of the final report. They will also discuss agendas and locations for their last two meetings, which are expected to be May 2 and June 30.
Also: Reparations tally could surpass half a million dollars, but task force also wants to change California policies
See also: California schools may someday require African-American studies — a move to 'directly counter' laws like Florida's 'Stop WOKE'
This article was originally published by Marketwatch.com. Read the original article here.