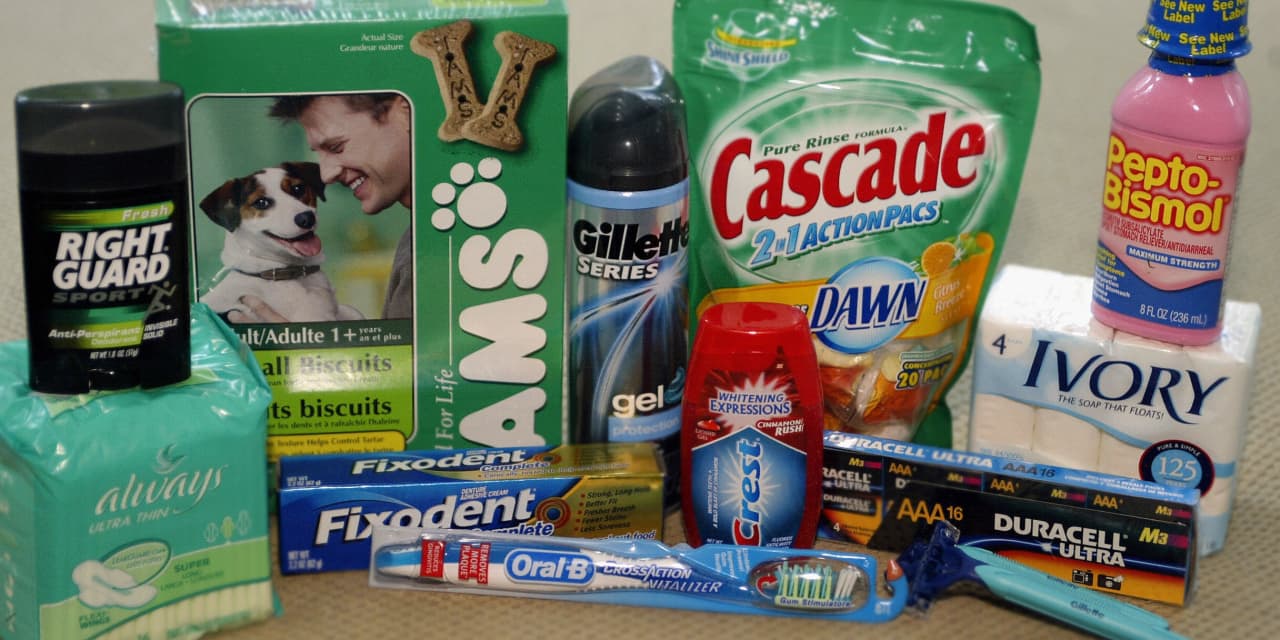 Procter & Gamble Co.'s stock rose 1.6% in premarket trading Friday, after the consumer-goods giant blew past earnings estimates for its fiscal fourth quarter as it again raised prices by up to 9%.
The Cincinnati-based parent of brands including Charmin, Crest and Pampers said sales growth was due to a 7% increase from higher pricing and a 2% increase from favorable mix, partially offset by a 1% decline in shipment volumes.
On a call with analysts, Chief Executive Jon Moeller signaled more price increases to come.
"Pricing isn't going away in absolute," Moeller said, according to a FactSet transcript. "It is linked to innovation and we have a very strong innovation pipeline. If you look back historically, pricing has been a positive contributor to our top-line growth for something like 48 out of the 51 last quarters and again as we strengthen our innovation program even further, that will provide opportunities to continue to benefit from modest pricing."
The company posted net income of $3.384 billion, or $1.37 a share, for the quarter ending June 30, up from $3.052 billion, or $1.21 a share, in the year-earlier period. Adjusted per-share earnings also came to $1.37, ahead of the $1.32 FactSet consensus.
Sales rose to $20.6 billion from $19.5 billion a year ago, ahead of the $20 billion FactSet consensus.
"The team met or exceeded our going-in plans for sales, earnings, and cash in a difficult operating environment and despite significant cost headwinds," Moeller said in the earnings release.
Gross margin increased 380 basis points from a year ago, driven by 340 basis points of pricing benefit and 290 basis points of productivity savings.
Companies, especially consumer companies, have been criticized this year for what is being called "greedflation," or the practice of raising prices to protect profits, which has allowed them to boost margins through the current inflationary period.
The International Monetary Fund and Christine Lagarde, chief of the European Central Bank, have added their voices to the criticism at a time when inflationary pressures are starting to ease.
For more, see: 'Greedflation': IMF puts blame for rise in prices on corporate greed
On Friday, the personal consumption expenditures index, a measure of prices favored by the Federal Reserve, showed a rise of just 0.2% in June.
The increase in prices over the past year slowed to 3% from 3.8% and touched the lowest level since October 2021, the government said Friday.
The so-called core PCE rate of inflation, meanwhile, also rose 0.2% last month. The core rate omits volatile food and energy costs and is viewed by the Fed as a better predictor of inflation trends.
On Friday, Colgate-Palmolive Co. CL, -1.93% also released quarterly earnings that beat estimates and said it raised prices by 11% after raising them by 12% a year ago.
P&>'s Moeller reminded analysts on the call of just how well the company performed through the COVID-19 pandemic, both before and and since the rise in inflation, showing strong top-line growth across categories and geographies.
"In the past two-years, nearly half of our earnings [were] wiped out by commodities-transportation and foreign-exchange headwinds, yet we still grew earnings per share in each of those years while delivering 7% organic sales growth each year, increasing investment in innovation, brand-building and growing markets, and growing market share in aggregate in the process," he said.
At the same time, the company has returned more than $80 billion to shareholders in the form of dividends and stock buybacks, he said.
Read also: Consumers are shopping in more stores than ever before to save money
By category, beauty sales rose 8% in the quarter as P&> raised prices by 8%. Grooming sales were up 3% after a 9% hike in prices.
Healthcare sales rose 3% after a 6% hike in prices. Fabric- and home-care sales were up 5% after a 6% price hike, while baby-, feminine- and family-care sales rose 7% after the company raised prices by 8%.
The company is now expecting fiscal 2024 earnings per share to increase 5%-9%, to a range of $6.25-$6.43. Sales are expected to rise 3%-4%.
The FactSet consensus is for fiscal 2024 EPS of $6.37 and a sales rise of 3.6%.
The stock PG, +2.83% has gained 0.4% in the year through Thursday's close, while the S&P 500 SPX, +0.99% has gained 18%.
See also: Costco says second straight monthly same-store-sales decline is due to lower gas prices. Not everyone agrees.
This article was originally published by Marketwatch.com. Read the original article here.