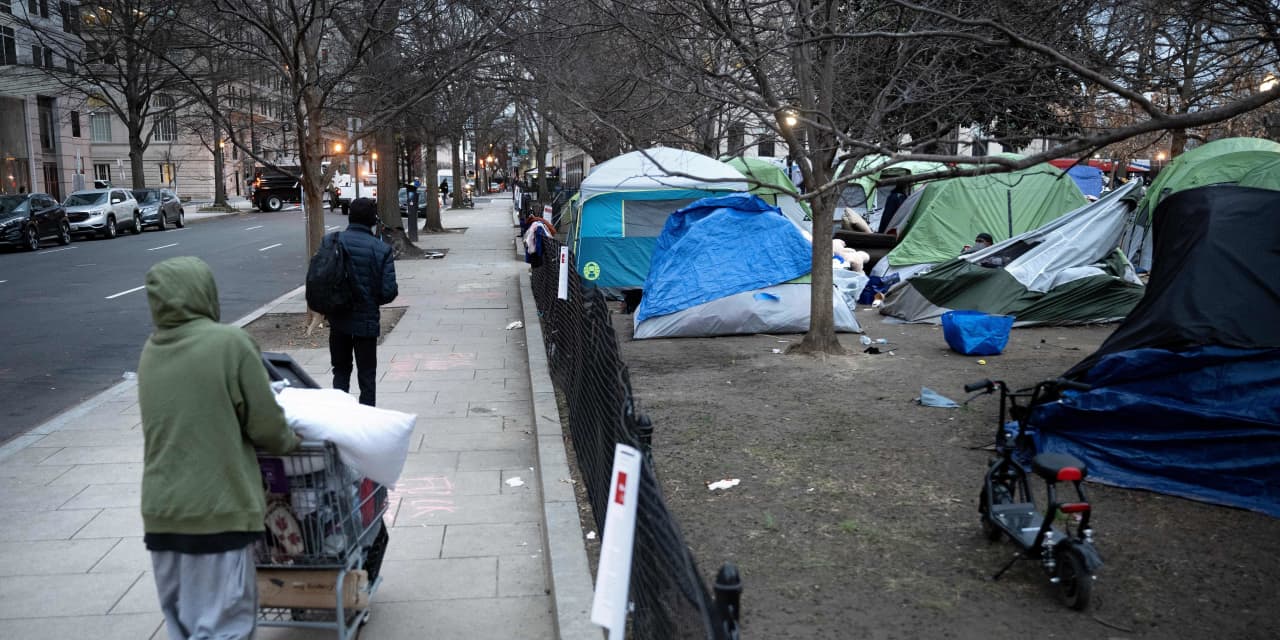 Poverty was associated with more deaths in the U.S. in 2019 than causes such as firearms, homicides, suicides, drug overdoses, strokes, accidents and more, estimates from a new study show.
Now the scholars behind those findings think poverty should be considered a "major risk factor for death in the U.S.," akin to risk factors like smoking or obesity, according to a research letter published Monday in the Journal of the American Medical Association.
"We're very cautious as a country on spending money on social policies that would fight poverty because we argue it's expensive," lead author David Brady, a professor of public policy at the University of California, Riverside, told MarketWatch. "We would say: 'Well, yeah, but if you give all these benefits, if you can reduce poverty, you can reduce mortality, and you save your country billions of dollars.'"
The U.S. has long had a higher rate of poverty compared to many of its developed peers. In 2021, the country's official poverty rate was 11.6%, translating to about 37.9 million people, according to government data. But Brady and his co-authors, Ulrich Kohler at the University of Potsdam in Germany and Hui Zheng at Ohio State University in Columbus, noted in their letter that nobody had really quantified how many deaths could be linked to that poverty, despite ample research showing income affects mortality.
So they analyzed the University of Michigan's Panel Study of Income Dynamics — the "longest running longitudinal household survey in the world" since it began in 1968, according to the study's website — and its mortality data, which was validated with the National Death Index. The researchers also factored in a more comprehensive measure of household income that includes money from taxes and tax credits.
"Importantly, the cause of a person's death — like a physiological condition, such as cancer or heart disease, that ends in fatality — isn't necessarily the same as the risk factors that contributed to their death."
They found that in 2019, about 183,000 deaths of people over the age of 15 were associated with "current poverty," a more recent state of impoverishment, while more than 295,400 deaths were associated with "cumulative poverty," a category that included people who spent the majority of the past 10 years in poverty. Those findings may even be an underestimate, since poverty might have contributed to COVID-19 deaths after 2019, they noted. (A version of the study with an extended appendix can be found on Brady's website.)
Importantly, the cause of a person's death — like a physiological condition, such as cancer or heart disease, that ends in fatality — isn't necessarily the same as the risk factors that contributed to their death. Risk factors are more like "the causes of those causes," Brady said.
For example, smoking may put someone at risk of lung disease, which could ultimately kill them. Similarly, poverty "puts you at risk of a whole variety of causes of death," Brady said.
Current poverty alone was associated with 10 times as many deaths as homicide, but the U.S. doesn't yet approach anti-poverty measures with the same rigor that it applies to curbing crime, Brady said.
"In 2020, when homicide and murders spiked in the United States, there was this big national controversy about the rise in crime, but at the same time COVID was killing tons of people, and poor people were particularly vulnerable to COVID-related deaths," Brady said. "I didn't hear poverty being talked about as much, even though COVID would get talked about."
Tackling poverty as a public-health issue and major risk factor for death would require policymakers to consider that social policies could also serve as health interventions while supporting the labor force and economy, Brady said.
"Good physicians understand that people walk into the doctor's office carrying all their social experiences with them. Their poverty — and exposure to hazards and risks and toxins because of being poor — certainly shapes the health they're showing up with," Brady said. "Understanding the causes of their disease, the causes of their sickness, requires an understanding of people's economic circumstances."
This article was originally published by Marketwatch.com. Read the original article here.