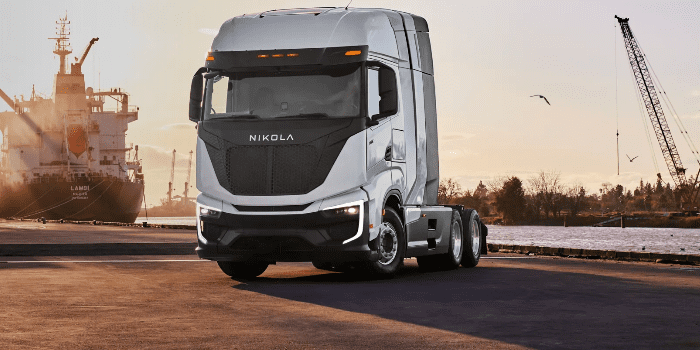 Shares of Nikola Corp. NKLA, -12.96% pulled back sharply Friday, after the electric-vehicle maker beat Wall Street expectations for second-quarter losses and revenue, but slashed its full-year outlook.
And it didn't help that Nikola said Chief Executive Michael Lohscheller was stepping down, effective immediately, after just eight months in the role.
The EV maker NKLA, -12.96% said it now expects 2023 revenue of $100 million to $130 million, down from the guidance range provided in May of $140 million to $200 million.
The company also cut its truck deliveries guidance range to 300 to 400 from 375 to 500. The company's gross margin outlook also worsened, to between negative 110% and negative 85% from between negative 75% and negative 95%.
The stock sank 9.0% in premarket trading, to pull back from Thursday's nine-month closing high of $3.39.
The stock has been on fire of late, as it has nearly quadrupled in the past three months, after the company made a number of announcements, including selling trucks to J.B. Hunt Transport Services Inc. JBHT, +0.15% and making a deal with BayoTech Inc. to sell up to 50 big-rig hydrogen fuel cell electric trucks.
Earlier Friday, the company reported a net loss for the quarter to June 30 of $217.8 million, or 20 cents a share, after a loss of $173.0 million, or 41 cents a share, in the same period a year ago. The reason per-share losses narrowed while net losses widened was because the number of shares outstanding used in per-share calculations increased 67% to 708.69 million shares.
Excluding nonrecurring items, the adjusted loss per share of 20 cents beat the FactSet loss consensus of 22 cents.
Revenue fell 15.3% to $15.4 million, but was above the FactSet consensus of $15.0 million.
Gross margin worsened to negative 180% from negative 161%.
The number of trucks produced declined 34% to 33,000 and trucks shipped were down 6.3% to 45,000.
"Nikola has turned the corner and is well on the way to executing our business plan and achieving profitability," said Chief Executive Michael Lohscheller.
Separately, the company said Lohscheller, who became CEO on Jan. 1, 2023, was stepping down for family health reasons and will return to Europe. Chairman Steve Girsky was named as his successor.
Lohscheller will remain with the company through September in an advisory capacity, and to help with the leadership transition.
The stock has rocketed 271.6% over the past three months while the Global X Autonomous and Electric Vehicles ETF DRIV, +0.19% has rallied 21.9% and the S&P 500 SPX, +0.62% has gained 10.9%.
This article was originally published by Marketwatch.com. Read the original article here.