This article is reprinted by permission from NextAvenue.org.
It is never too late to pursue your passions, especially when you don't let fear stand in your way. This is why, at 58, Nancy Volpe Beringer mustered up the guts to go back to school and pursue her dream of becoming a fashion designer.
She truly believes that every great idea starts with a dream and that we need to find the gumption to pursue our dreams with everything we've got, regardless of the obstacles that always slide into our path.
At the time the Philadelphia-area native found inspiration from her two grown sons, Dan, now 44, a successful company president in the finance arena, and David, now 42, a musician, videographer and photographer.
When she applied to college in fashion design, she transitioned from being a successful educator to a management-level position as an advocate for educators.
The now 68-year-old Volpe Beringer admits, "I was lying awake feeling a bit jealous of my children who were learning so many cool things, but who gets jealous of their own kids? I guess I did."
"This led me to ask the one question that truly changed my life — if I was young, what would I want to study? What would I want to learn? And it immediately came to me that it was fashion design."
Volpe Beringer tried to talk herself into something "more practical" such as interior design but allowed herself to fantasize about what she wanted in her heart of hearts. Within a week she was in New York and back home in Philadelphia touring fashion schools.
She decided to pursue this dream in spite of the fact that she could not illustrate or draw. She was certain that her sister, the art teacher, had received all of the talent in the family.
"For me, fear is my friend. I accept it, but it doesn't stop me. I have never been afraid to receive constructive criticism during any of my pursuits; as a teacher, the editor of a monthly publication or in business," explains Volpe Beringer. "By never letting fear stop me, I learned from every endeavor."
'I found my home'
A natural-born risk taker, she continued to tour local art and fashion schools, including the Fashion Institute of Technology (FIT) and the Parsons School of Design. But instead of her initial plan to enroll in a one-year program, with great encouragement from Ted Beringer, her husband of 13 years, she chose a three-year master's degree program at Drexel University in Philadelphia, one of the top fashion schools in the world.
"So much of what I did in the business world and the world of education involved creating new projects and programs. I didn't realize that I needed my creativity to survive and to thrive," she explains.
"It wasn't until I enrolled in Drexel that I went, 'Ahh, this is what it's all about.' I felt so comfortable there. I knew that I found my home," she says of her journey. "I was already used to working many hours a day, but this required a minimum of 80 hours a week."
She also didn't care that she was nearly four decades older than most of her peers. "I actually forgot that I looked different from the other students when I was at Drexel. I went to more 21st birthday parties than you can count, which is so great that they wanted me there."
Her journey involved using her hard-earned savings for tuition, surrounding herself with supportive friends and family members, blocking out naysayers, working tirelessly and eventually finding her purpose even when she initially didn't know what kind of fashion she wanted to create.
"I knew I wanted to be a relevant designer, whatever that looked like," she explained whenever she was asked what she planned to do when she graduated. "I felt like if I am getting the chance to fulfill this fantasy that I didn't even know exists at my age then there must be a reason. The universe must be trying to tell me something."
Read: 'We all need purpose when we wake up in the morning': Finding meaning in retirement leads to happiness and health
Designing for a Grammy star
After graduating from Drexel, she was given the opportunity to sell her first fashion pieces at Joan Shepp, the top boutique in Philadelphia. Her pieces were prominently displayed in the window and were styled with fashion items from the Paris runway, which was a great honor.
"Joan Shepp is where the Grammy-nominated Philadelphia rapper Tierra Whack saw a big multi-colored coat that I designed for a fashion charity event, which reflected the journey to sobriety from dark to light to bright," Volpe Beringer says.
Whack contacted her and they had an instant connection. She made a coordinating dress, and the rapper wore her unique works of art to the Grammy Awards. Volpe Beringer even paid her own way to L.A. for a final fitting — and did everything needed to make sure her look made it to the red carpet. She has a cherished copy of the New York Times photo of "The 5 Most Talked About Looks at the 2019 Grammys," which included Tierra Whack wearing Volpe Beringer's work.
"Tierra is an artist who does her own thing," Volpe Beringer says, "so to have her trust in me for this monumental event in her career, during my first year out of fashion school, was such an honor."
Also see: 3 common retirement dreams that can become big disappointments
Third time's the charm on 'Project Runway'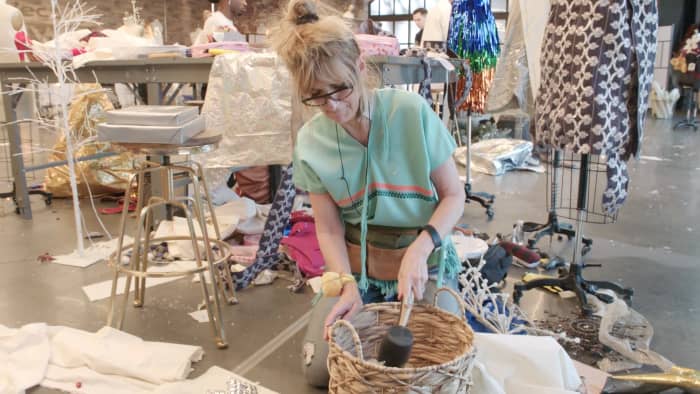 While being "a relevant designer" was always at the top of her mind, Volpe Beringer says it wasn't until "Project Runway" that her new path truly made sense.
"I had a secret fantasy about being on the show when I first saw it at age 50. I watched it with my mother and thought if I had continued studying after my first sewing class when I was 11 or 12, I could be on the show. But I didn't tell anybody."
Volpe Beringer graduated with her master's degree in fashion design at age 61, and soon after had the opportunity to become a contestant on "Project Runway." It took her three tries but she eventually made it on Season 18.
On the show, Volpe Beringer created a winning design for Tatyana McFadden, a record-breaking Paralympian, who is the fastest female wheelchair racer in the world.
At that moment her mission and message clicked. "This is why I am on this reality series. I am in fashion for my voice to be heard," says Volpe Beringer. "It's not about creating more fashion; we have plenty of that in the world. But it's really about sharing my voice for those who are unheard in the world of fashion."
While Volpe Beringer did not win "Project Runway" that season, which concluded in March 2020, just days before the start of the COVID-19 lockdown, as a runner-up she designed the most inclusive and accessible collection ever to be featured in a "Project Runway" finale.
Her opening look featured adaptive fashion for a model in a wheelchair; showcasing how to make it both functional and fashionable.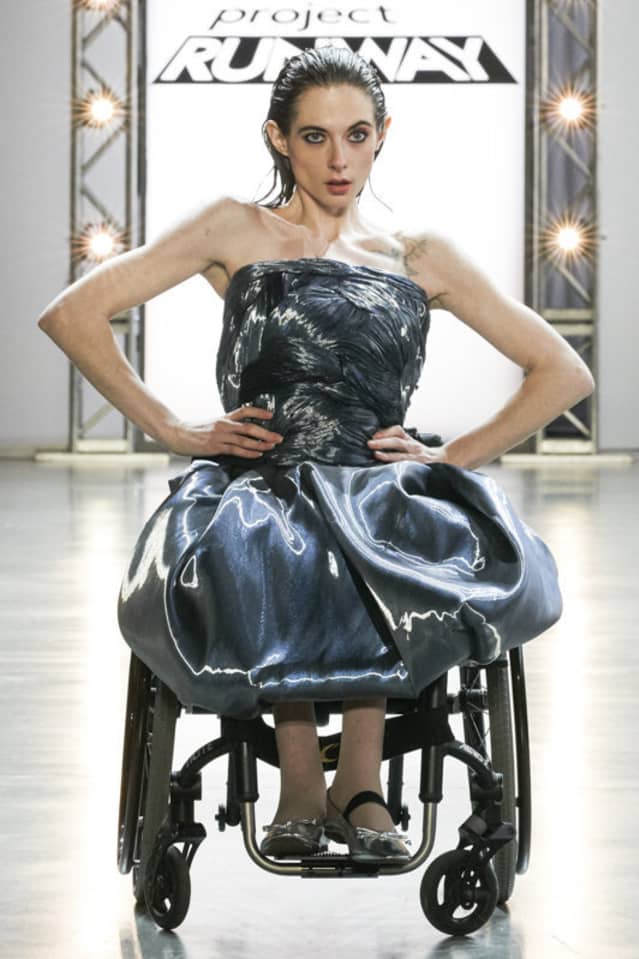 Jessi Ruiz, model, make-up artist and ambulatory wheelchair user, has been working on fashion shows and photo shoots with Volpe Beringer for the past year and a half and ardently supports her work ethic, unwavering concentration and unique vision.
"A lot of wheelchair users don't feel they are worth having a big wedding because the dress won't look right or fit while the bride is sitting in the chair, and Nancy can fully adapt and customize any type of clothing from sweatpants to bridal gowns," notes Ruiz, 34.
"What I love about Nancy is her way of thinking outside of the industry's standard box. When they think of models or individuals, I feel that they never include the disabled or the elderly community. Her mission is to bring all of this into focus."
You might like: Here's everything coming to Netflix in September 2023, and what's leaving
Adapting clothing and designs for all
This set the foundation for her current pursuit, The Vault by Volpe Beringer, which she calls "a great example of how you take a challenge, and you don't let it stop you, but instead allow it to guide you into where I think your heart — and the universe — wants you to go."
She already had an extensive collection of designer clothing and accessories that she rescued after an electrical fire in her apartment building and decided to create a resale site to raise money for the ever-growing pandemic challenges.
Within days, she realized she could combine her goals to promote sustainability and accessibility. Her ground-breaking venture has received international recognition as "the world's only luxury resale platform that offers complimentary adaptive options for the disabled."
For example, to keep the integrity of a look, she took the buttons off a Chanel jacket, sewed up the buttonholes, reapplied the buttons, and put Velcro underneath for someone with limited fine motor skills. For another look, by deconstructing a jacket with a big, ruffled sleeve, she preserved the same silhouette and proportions when adapting a design for a little person.
Don't miss: 1 in 5 U.S. workers think their jobs are pointless
'Fashion is about empowerment'
Looking to the future, Volpe Beringer wants to embark on a speaking tour. Her aim: "To give a voice to fashion and to inspire people to understand that aging never has to stop you from your pursuits; it can benefit you."
This is one of the life lessons that was revealed from her time on "Project Runway."
"I had the least amount of fashion experience, but I had a lot of other skills; skills that I had gained throughout my life, through overcoming many challenges and from my work. That's why I was able to make it to the finale and as a runner-up on the show."
"Fashion is about much more than clothes. It is empowerment. It is a chance to express your individuality, build confidence and be able to succeed. Why shouldn't everyone have that same opportunity with fashion, and with their lives?"
A supportive family
Volpe Beringer's family strongly believes in her vision and admires her drive. They don't see her retiring any time soon.
"Nancy has a true zest for life. She has been through many difficult situations, yet she lets nothing deter her and just keeps moving forward no matter what obstacles are in her way," her husband Ted says. "Being 59 years old and a college freshman says it all — it is clearly never too late to follow your dreams. We know that this is just the beginning. She will continue to add value to the disabled community and remain an inspiration to her many admirers and followers."
"It's honestly hard to imagine my mom ever slowing down and living the stereotypical retired life. Everyone in my family has always been in awe of her energy level, and we have no idea where it comes from," her younger son, Dave Barbaree, says.
"I also think she was so busy as a mom raising me and my brother while working multiple jobs and never had the chance to pursue her own dreams. When that opportunity came later in life, she didn't take it for granted for one moment."
Read: 'I am beside myself with the classes I have taken.' Retirees are finding themselves on college campuses — again.
More on Nancy Volpe Beringer
Debra Wallace is a multi-award-winning professional journalist, author, editor, social media/web content provider, and autism advocate with 20+ years of experience. She regularly contributes to Parade.com, Orlando Family Fun, South Jersey, Monsters & Critics, Delaware Today, and several other print and digital publications. Her expertise includes celebrity profiles, entertainment, local heroes, health/wellness, special needs parenting, and autism advocacy. Wallace is a devoted single mother to her 17-year-old son, Adam.
This article is reprinted by permission from NextAvenue.org, ©2023 Twin Cities Public Television, Inc. All rights reserved.
More from Next Avenue:
This article was originally published by Marketwatch.com. Read the original article here.