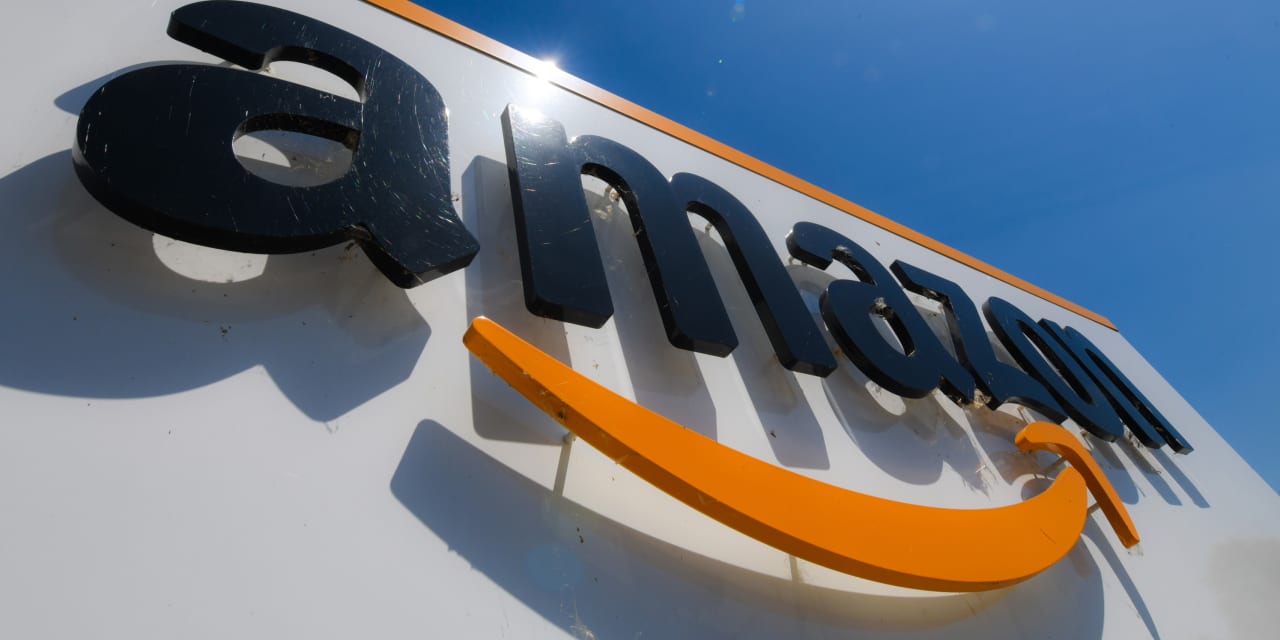 Here are some of the biggest movers on Friday:
Stock gainers:
Amazon.com Inc.'s stock AMZN, +9.42% jumped more than 10% after the retail juggernaut blew past second-quarter expectations, with strong e-commerce and cloud sales.
Tupperware Brands Corp.'s stock TUP, +49.29% rallied 50% after the beleaguered maker of iconic food containers announced a debt restructuring agreement.
Shares of Cloudflare Inc. NET, +8.16% surged more than 8% after the cybersecurity company's earnings and forecast topped Street estimates.
DaVita Inc. shares DVA, +6.73% rallied 7% after the dialysis center company hiked its earnings outlook, following a beat.
Shares of Booking Holdings Inc. BKNG, +8.28% rallied nearly10% after the travel booking site's earnings beat, and forecast of a 'record summer travel season,' for the third quarter.
Shares of Atlassian Corp. TEAM, +17.26% surged 16.5% after the workplace-collaboration cloud software developer forecast fiscal first-quarter sales that were above Wall Street's estimates.
DraftKings Inc. DKNG, +2.65% shares jumped nearly 2% after the online sports-betting platform reported a surprise second-quarter profit and boosted its full-year sales forecast.
Gilead Sciences Inc.'s stock GILD, +4.85% rose 6% after sales beat consensus to offset a profit miss.
Fluor Corp.'s stock FLR, +14.61% rallied 15% after the engineering and construction services company's earnings blew past expectations.
The stock of U.S. Cellular Corp. USM, +91.69% rocketed 92% and its parent Telephone and Data Systems' stock TDS, +85.69% rose 85% after they said they're reviewing strategic options for USM, one of the remaining independent wireless providers in the U.S.
Cinemark Holdings Inc.'s stock CNK, +3.06% rose 1.7% after the cinema operator swung to a profit and beat consensus estimates for the second quarter.
AMC Networks Inc., AMCX, +12.58% home to "The Walking Dead" franchise, was up 14%, after the company beat profit estimates for the second quarter by a wide margin, offsetting a revenue miss.
Amgen Inc.'s stock AMGN, +5.66% jumped 6% after the biotechnology giant reported record second-quarter earnings that rose above expectations and raised the full-year outlook, as volume growth offset a slight decline in prices.
Vacation-home rental platform Airbnb Inc. ABNB, +0.79% was up 1.3% after it reported second-quarter results and a third-quarter sales forecast that topped Wall Street's estimates.
Stock decliners:
Apple Inc. shares AAPL, -4.07% dropped 3.3% after the tech giant's iPhone sales lagged the consensus view.
Online home-buying platform Opendoor Technologies Inc.'s stock OPEN, -23.02% was down 23% after offering a weaker-than-expected sales outlook, as the housing market remains frozen in place.
Fortinet Inc. FTNT, -24.93% stock slumped 24% after the cybersecurity group said it saw an "unusually large volume of deals" pushed out beyond the June quarter.
Shares of Block Inc. SQ, -13.07% declined 23% after the payments technology company reported better-than-expected quarterly results and said that it now expects to book positive adjusted operating income for the full year.
Shares of CarGurus Inc. CARG, -14.80% dropped more than 7% after the online car marketplace spooked investors by postponing its second-quarter results scheduled for after the bell Thursday, without providing much detail.
Redfin Corp.'s stock RDFN, -23.69% was down 23% after the real-estate company said it will take longer than expected to break even after it lost market share in its latest quarter.
Shares of toy maker Funko Inc. FNKO, -13.04% fell 15% after the company cut its sales outlook amid continued weaker demand.
Icahn Enterprises L.P.'s stock IEP, -25.37% slid 24% to put it on track for its biggest one-day decline, after Carl Icahn's investment arm, beset by a critical short-seller report, halved its quarterly distribution to $1.
Nikola Corp.'s stock NKLA, -15.91% tumbled 14% after he electric-vehicle maker beat Wall Street expectations for second-quarter losses and revenue but slashed its full-year outlook.
Fisker Inc.'s stock FSR, -5.28% slid 5.5% after the electric-vehicle maker reported a narrower-than-expected loss but revenue and EV production that missed Wall Street expectations, and it also lowered its full-year production outlook.
This article was originally published by Marketwatch.com. Read the original article here.