U.S. stocks traded mostly higher Monday afternoon as investors welcomed waning signs of banking sector stress, but remained wary of the potential for further problems as well as the threat of a potential credit crunch.
How stocks are trading
The Dow Jones Industrial Average DJIA, +0.60% rose 278 points, or 0.9%, to 32,516.
The S&P 500 index SPX, +0.16% was up 19 points, or 0.5%, to 3,990.
The Nasdaq Composite COMP, -0.47% edged down 11 points, or 0.1%, to 11,813.
The Dow on Friday ended a back-to-back run of weekly declines, while the S&P 500 and Nasdaq Composite both saw weekly advances.
What's driving markets
An agreement by First Citizens Banchshares Inc. FCNCA, +53.74% to buy the deposits and loans of failed Silicon Valley Bank helped underpin sentiment as shares of European banks steadied. First Citizens shares jumped 55.2%.
Shares of First Republic Bank FRC, +11.97% were up 12.7% and helped lead a swath of regional lenders higher, with the SPDR S&P Regional Banking exchange-traded fund KRE, +0.87% up 1.8%. KRE remains down around 28% in March.
"If market conditions were what they are now back in 2008, the equity market would have been under severe stress. But today, with a lot of bad news already priced into the market and greater confidence that the Fed won't tolerate large levels of stress, the equity market is showing remarkable resilience," said Mark Hackett, chief of investment research at Nationwide, in a note.
That doesn't mean the storm is over.
"Frankly, this is quite puzzling and any investor who thinks they understand what's going on right now isn't paying attention to the data. Investors should be careful of listening to those who seem to have everything figured out given the number of moving parts and lack of historical precedent," he wrote.
U.S. equities have been particularly choppy in recent weeks as traders have expressed anxiety about banking sector stress while welcoming the lower bond yields those concerns have delivered.
See: Why the worst banking mess since 2008 isn't freaking out stock-market investors — yet
This has left the S&P 500 stuck near the middle of the 3800-4200 range it has held for four months, and leaves the Wall Street barometer "stuck on either side of its 200-day moving average," said Jonathan Krinsky, chief technical strategist at BTIG.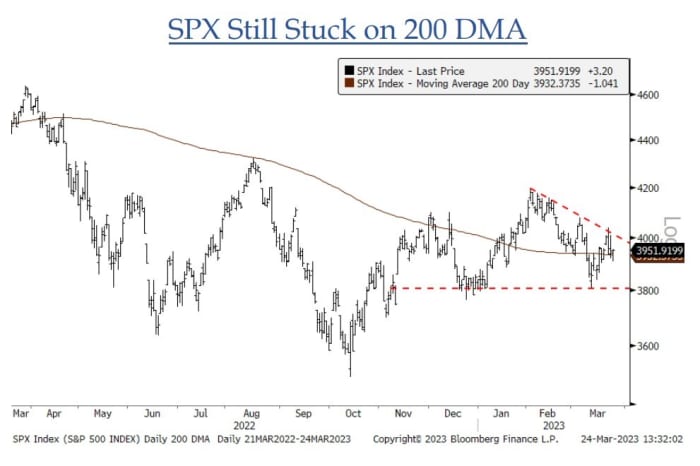 The Tell: 3 charts show U.S. bank failures causing stock-market pain beneath the surface
Companies in focus
This article was originally published by Marketwatch.com. Read the original article here.