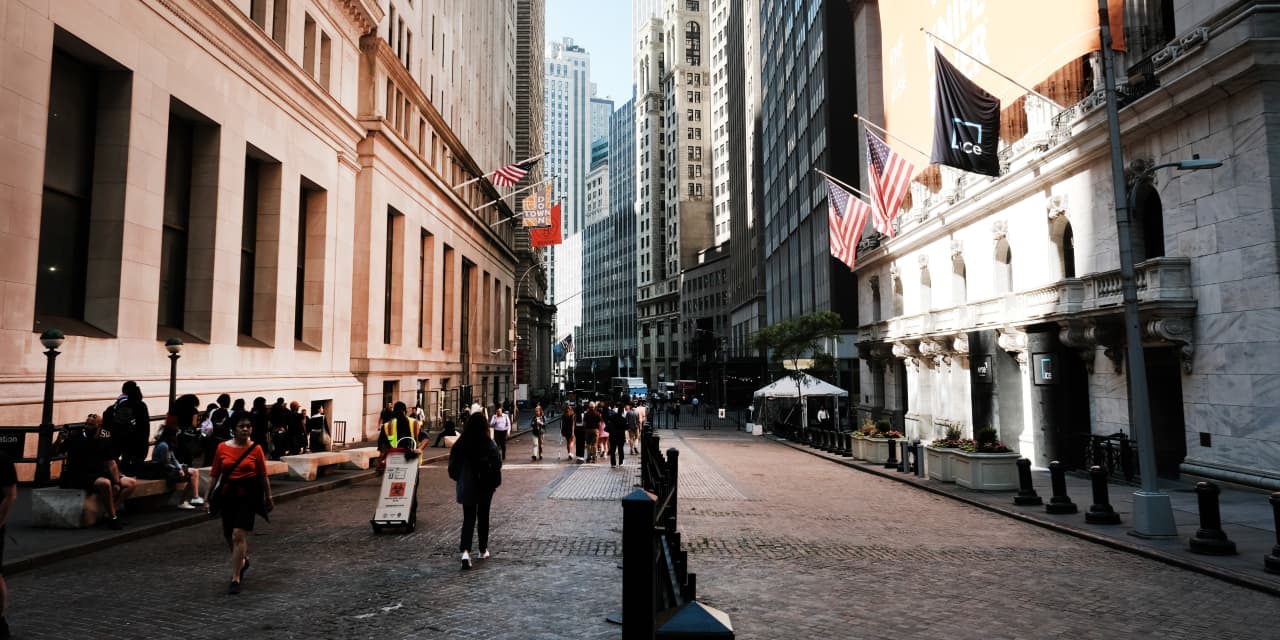 U.S. stocks opened lower on Friday after the best day for equities this month, as investors reacted to an auto workers strike while digesting a fresh healthy economic data ahead of next week's Federal Reserve meeting.
What's happening
The Dow Jones Industrial Average DJIA shed 19 points, or 0.1%, to 34,885.
The S&P 500 SPX fell by 17 points, or 0.4%, to 4,487.
The Nasdaq Composite COMP declined by 66 points, or 0.5%, to 13,855.
On Thursday, the Dow rose 332 points, or 1%, its biggest gain in five weeks. The S&P 500 rose 0.8%, for its largest one-day rise since Aug. 25, as a 25% gain by Arm Holdings ARM, +1.26% in its trading debut helped boost sentiment.
What's driving markets
U.S. stocks fell at the open on Friday, paring back some of their gains from the prior session as investors digested economic data suggesting the economy remains resilient ahead of next week's Fed policy meeting.
The central bank will unveil its latest economic forecasts Wednesday along with a decision on interest rates but is widely expected to leave interest rates unchanged.
Investors' skittishness was also inspired in part by the start of a United Auto Workers strike against the Big Three U.S. automakers, Ford F, +0.99%, General Motors GM, +2.18% and Chrysler owner Stellantis STLA, +2.31%. Some analysts worry that the strike could drive up car prices, adding more fuel to inflationary pressures that have started to re-emerge over the summer.
Stock losses were underscored by rising Treasury yields, which have weighed on U.S. equities in recent weeks as borrowing costs have climbed to fresh highs. The yield on the 10-year note BX:TMUBMUSD10Y rose 4.5 points at 4.332%, nearing its highest level since 2007.
More upbeat news about the state of the U.S. economy arrived early Friday in the form of the New York Fed's Empire State business conditions index. The manufacturing gauge which measures activity in New York state rose 21 points in September to 1.9, the regional Fed bank said Friday. Also, Fed data showed U.S. industrial production rose 0.4% in August, slightly better than economists had expected.
The latest data on U.S. manufacturing "doesn't change the broader picture, which is that, with global manufacturing still struggling, the outlook for America's factories remains muted too," said economists at Capital Economics in written commentary.
Upbeat news out of China had earlier helped to boost the mood across global markets, as European stocks climbed. On Friday, China said its industrial production and consumption improved in August, while investment continued to lose momentum despite Beijing's increased efforts to stimulate economic growth.
China's industrial production expanded 4.5% from a year earlier in August, up from the 3.7% increase in July, the National Bureau of Statistics said Friday. Also, China's central bank cut a short-term policy rate on Friday, a day after saying it will lower the amount of deposits banks have to set aside as reserves to spur more lending as the world's second-largest economy shows more signs of slowing.
Investors were also paying attention to the possibility of volatility driven by the expiration of $3.4 trillion in stock options. According to data from Nomura, 10 of the past 11 expiration days in September saw the S&P 500 finish lower.
Companies in focus
This article was originally published by Marketwatch.com. Read the original article here.