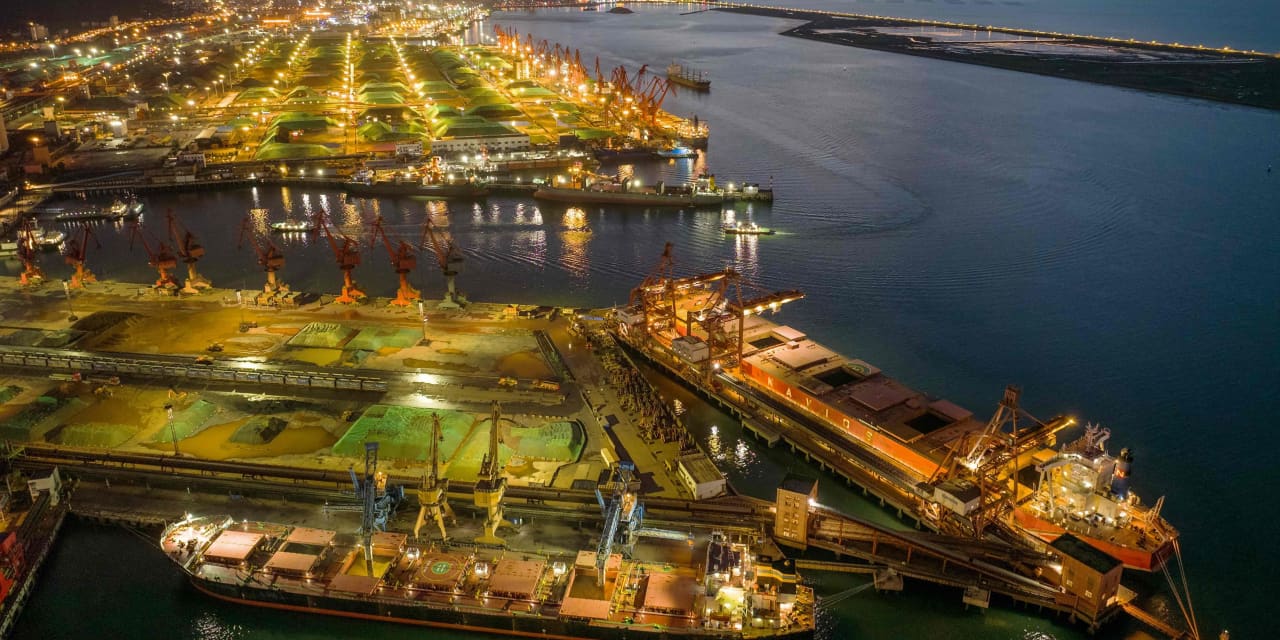 U.S. stocks were sharply lower Tuesday morning, resuming a pullback as investors shunned assets viewed as risky following weak China international trade data for July and weighed the threat of a credit-rating downgrade on major U.S. banks.
How stocks are trading
The Dow Jones Industrial Average DJIA remained down 353 points, or 1%, at 34,120, after declining 466 points at its session low.
The S&P 500 SPX was down 47 points, or 1.1%, at 4,471.
The Nasdaq Composite COMP shed 197 points, or 1.4%, to trade at 13,797.
The Dow rose 408 points, or 1.2%, on Monday, while the S&P 500 SPX gained 0.9% and the Nasdaq advanced 0.6%.
What's driving markets
A risk-off tone swept global markets after weak China trade data heightened concerns about a slowing global economy.
China's exports fell 14.5% for the year to July, the biggest decline since the outbreak of the COVID-19 pandemic in February 2020, while imports slid 12.4%, worse than forecast.
The news highlighted "that the world's second biggest economy is being dragged lower by weakness in global demand and a domestic slowdown," said Jim Reid, strategist at Deutsche Bank.
Assets sensitive to China demand were hit, with industrial commodities like crude oil CL.1, -0.13% and copper HG00, -1.79% lower. Shares in London-listed miners were under pressure.
Perceived havens were firmer, with the dollar DXY gaining ground and government bonds attracting buyers, pushing Treasury yields BX:TMUBMUSD10Y lower.
Also weighing on sentiment was a possible downgrade by Moody's Investors Service of six major U.S. banks, adding to concerns about the fragility of the financial sector as it deals with the sharp rise interest rates since March 2022. Bank stocks were lower, with the SPDR S&P Bank ETF KBE dropping more than 3%.
Stocks fell last week, with market watchers looking for continued consolidation after a strong 2023 rally led largely by megacap tech stocks that has seen the Nasdaq Composite rise more than 30% year to date while the S&P 500 advanced toward its record high from January 2022.
"We believe the market has entered a consolidation phase [within] an uptrend that will likely last 1-3 months with support at 4,328″ for the S&P 500, said Kevin Dempter, analyst at Renaissance Macro Research, in a Tuesday note.
"Patience will be the most important discipline for investors during this period especially [within] megacap tech given the overbought conditions and sentiment extremes in the space," he wrote. "Ideally, we would look to take advantage of oversold conditions in uptrends but with a focus on a longer-term trade horizon and not tactical."
Data showed the U.S. trade deficit narrowed by 4.1% to $65.5 billion in July.
Philadelphia Fed President Patrick Harker said policy makers "may be at the point where we can be patient and hold rates steady.
Companies in focus
This article was originally published by Marketwatch.com. Read the original article here.