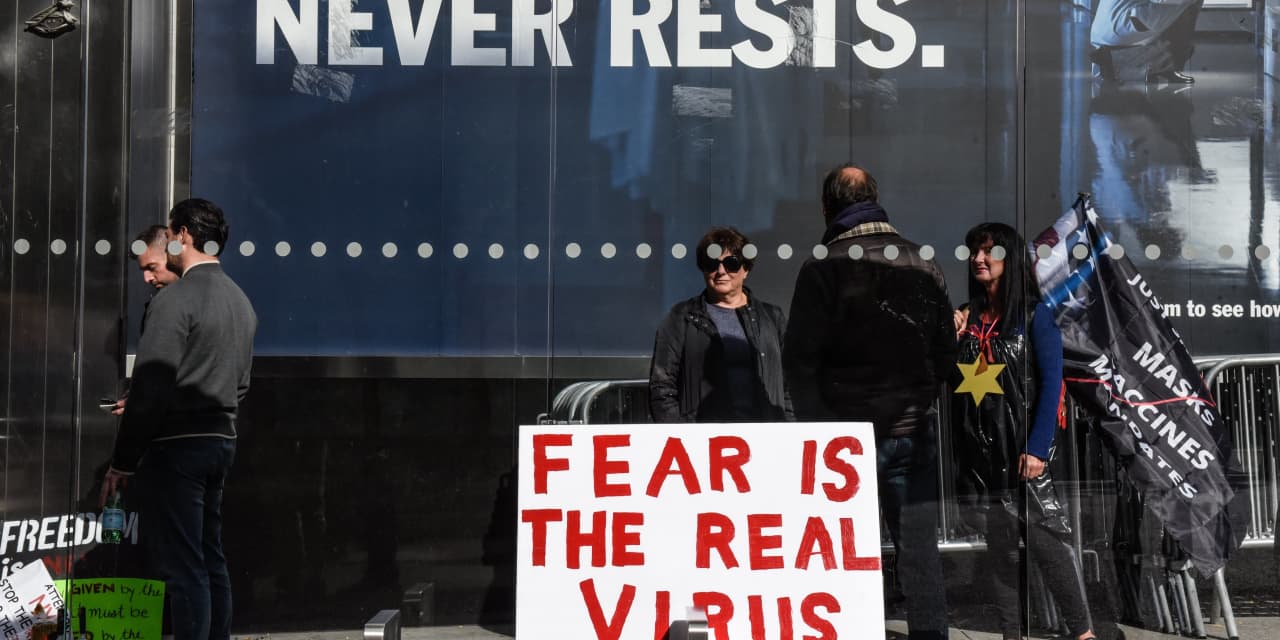 U.S. stock benchmarks traded mixed Friday morning, with the Dow lagging its peer indexes, as growing concerns over rising cases of COVID-19 in the U.S. and a national lockdown in Austria, helped to challenge the thesis for continued buying of equities.
How are stock-index futures trading?
The S&P 500 index SPX, +0.06% slipped 2 points, or less than 0.1%, to around 4,702.
The Dow Jones Industrial Average DJIA, -0.56% fell 200 points, or 0.6%, to about 35,670.
The Nasdaq Composite Index COMP, +0.57%

,

however, gained 0.3%, rising by about 52 points to reach around 16,048.
On Thursday, the Dow closed down 60.10 points, or 0.2%, at 35,870.95, the S&P 500 rose 0.3% to end at a record 4,704.54 and the Nasdaq Composite climbed 0.5% to finish at a record 15,993.
What's driving the market?
An announcement of a 20-day nationwide COVID lockdown by the Austrian government spooked stock markets and sparked buying in government safe-haven bonds on Friday.
Austria's lockdown will include both those vaccinated and unvaccinated, with movement for the latter having been restricted over the past week. The news from Vienna comes as Germany's health minister on Friday said that lockdowns couldn't be ruled out in his country, with record cases this week in Germany and Austria.
"I think we're seeing a knee-jerk reaction to Austria's lockdown announcement that's more a reflection of fear than reality," said Craig Erlam, senior market analyst at OANDA, in emailed comments. "Other countries like the U.S., U.K. and others will be very reluctant to impose such measures again and will likely adopt a lighter touch, if necessary, and unless unavoidable."
In the U.S. cases have been rising in the Upper Midwest, with a busy travel season about to begin ahead of next Thursday's Thanksgiving holiday. Also, the daily case count topped 100,000 for a second straight day on Thursday, with the seven-day average rising to a six-week high of 94,669, according to a New York Times Tracker.
The reports of rising cases also pushed down oil prices on fears of a fall in demand resulting from the COVID lockdowns. West Texas Intermediate crude was down CL00, -2.56% 3% to $76.08 a barrel and Brent BRN00, -2.44% crude was down 3.3% to $78.49 a barrel, at last check early Friday.
A mixed week for stocks is poised to leave the S&P 500 with a gain of nearly 0.4%, a 0.8% gain for the Nasdaq, while the Dow is down 0.6% in the week to Thursday. Markets will close for the U.S. Thanksgiving holiday next Thursday, with a shortened session of trading on Friday.
Still, a number of analysts remain bullish on equities.
"Buy any dip in the next two weeks and be positioned for a bullish couple of months to follow," the founder of asset-management firm Navellier & Associates, Louis Navellier, advised clients in a note Thursday.
"Expectations were that interest rates would rise and punish growth stocks more than value stocks from a compression of P/E multiples," he said. "Most likely now is a consolidation phase, with a bias to companies with strong cash flows, and then a sprint by growth names into year-end with a follow-through into traditionally risk-on January."
Read: Should stock-market investors who 'missed the rally' buy now? Here's what UBS says
The U.S. economic calendar is clear for Friday, though Federal Reserve's No. 2 Richard Clarida is due to speak.
Markets are waiting for President Joe Biden to nominate who will head the central bank after Jerome Powell's term finishes in February. Markets expect Biden will either renominate Powell or Fed Gov. Lael Brainard.
Read: Why banks prefer Brainard over Powell to lead the Fed
Elsewhere, House Democrats were poised to move Friday on Biden's $1.85 trillion social spending agenda, after plans for a Thursday evening vote were delayed by a nearly four-hour speech by Minority Leader Kevin McCarthy.
Which companies are in focus?
This article was originally published by Marketwatch.com. Read the original article here.