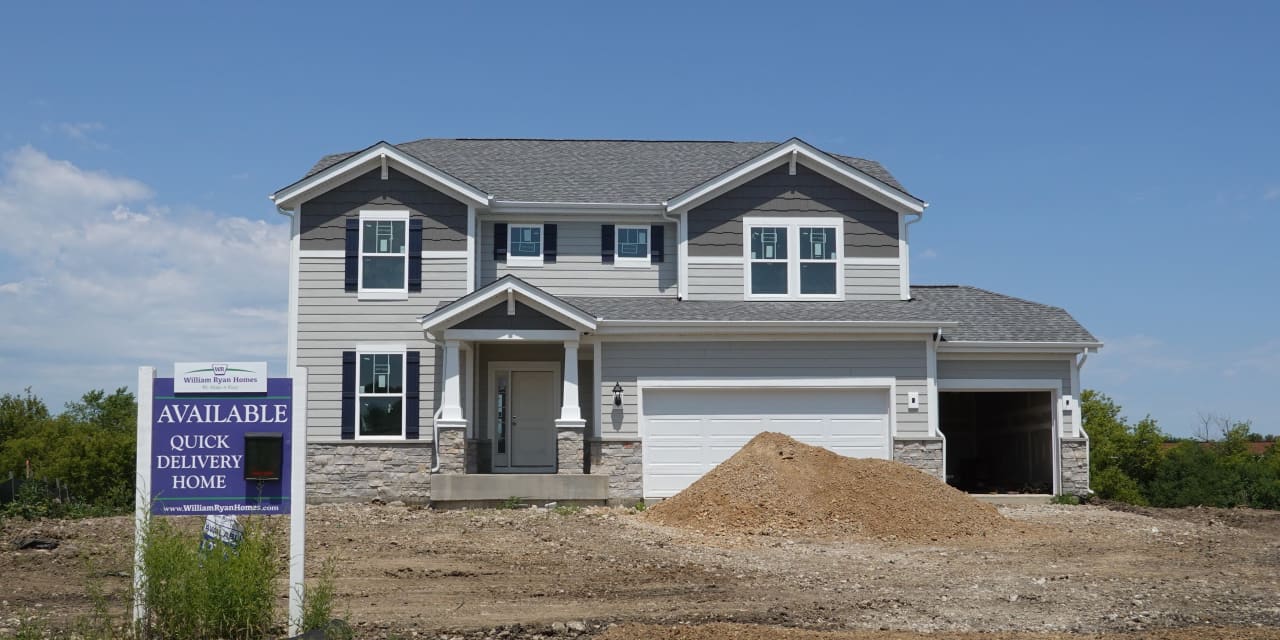 Exchange-traded funds that buy shares of home builders swung higher after fresh data on Wednesday showed new-home sales in the U.S. climbed by more than anticipated in July.
The SPDR S&P Homebuilders ETF XHB finished Wednesday up 2.1% and the iShares U.S. Home Construction ETF ITB gained 1.1%, FactSet data show.
New-home sales rose 4.4% last month to an annual rate of 714,000, according to a report Wednesday from the U.S. Census Bureau and the U.S. Department of Housing and Urban Development. That exceeded Wall Street's forecast, with Renaissance Macro Research's Neil Dutta saying it also marked the highest level since February 2022.
"New-home sales represent signed contracts and are thus considered a leading indicator of activity" relating to building, wrote Dutta, who is head of economics at RenMac, in a Wednesday research note that said sales are up 34.1% over last year.
"That single-family housing starts are up just 9.5% against last year indicate that there is still some construction activity in the pipeline," he said. "One thing to monitor will be the extent to which higher rates might be pushing up cancellations."
Both the SPDR S&P Homebuilders ETF and iShares U.S. Home Construction ETF have skyrocketed this year, with the SPDR fund up around 34% and the iShares ETF soaring about 39%, according to FactSet data.
The biggest holdings of the iShares U.S. Home Construction ETF on Aug. 22 included D.R. Horton Inc. DHI, +0.62%, Lennar Corp. LEN, +0.53% and NVR Inc. NVR, +0.55%, according to data on BlackRock's website.
On the same date, the SPDR S&P Homebuilders ETF's largest exposures were Carrier Global Corp. CARR, +2.66%, Lennox International Inc. LII, +4.08% and Owens Corning OC, +2.08%, according to the fund's holding data listed on the State Street Global Advisors website.
New-home sales climbed in July "despite elevated mortgage rates throughout the month," Barclays analysts said in a U.S. economics research report Wednesday. "Diminishing supply of existing homes has pushed more buyers into the new home sale market, supporting more resilient demand."
The median price for a new home increased 4.8% in July on a month-over-month basis to $436,700, which is down $41,500 from a year ago, according to the Barclays report.
"Given the ability of builders to buy rates down for prospective borrowers, if you are looking to buy, the new market is the best option," said Dutta.
This article was originally published by Marketwatch.com. Read the original article here.