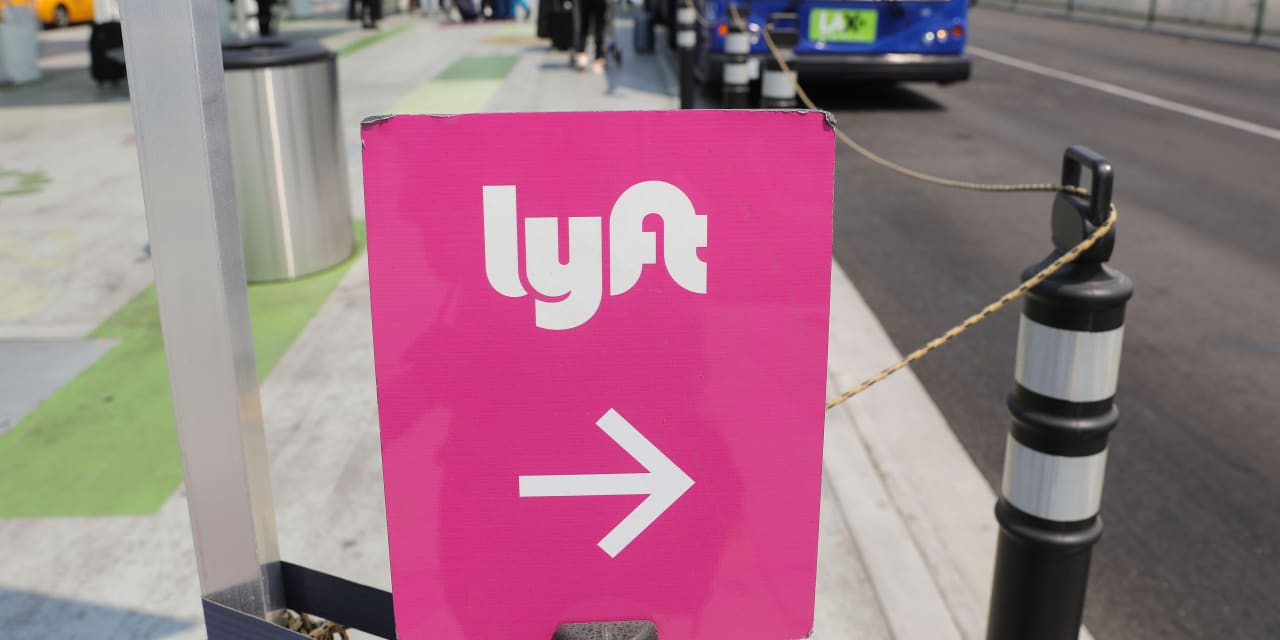 Lyft Inc. on Thursday reported first-quarter results that beat expectations, but a forecast that fell just shy of analysts' estimates weighed on the company's stock.
Lyft shares LYFT, -1.84% fell 15% after hours. They had dropped 1.8% in the regular session to close at $10.69 after a six-day positive streak.
Lyft forecast second-quarter revenue of $1 billion to $1.02 billion, and adjusted earnings before interest, taxes, depreciation and amortization, or Ebitda, of $20 million to $30 million. Analysts had expected revenue of $1.08 billion and Ebitda of $51 million.
The new chief executive of Lyft said in an interview with MarketWatch that he is looking ahead — and "excited" about gaining market share in rides. CEO David Risher cited third-party data showing that Lyft gained some ground against its much larger rival, Uber Technologies Inc. UBER, -0.92%, in the first quarter.
According to YipitData's numbers, Lyft's U.S. ride-hailing market share rose from 27% in February to 30% in mid-April, while Uber's market share fell from 73% to 70% in the same period.
"Riders are choosing Lyft, and when riders choose Lyft, drivers choose Lyft," Risher said. "In places like Portland and Phoenix, we're neck and neck with Uber."
Risher also talked about how his company is going to continue to try to compete with Uber: by emphasizing that Lyft drivers do just rides and not deliveries, which might make vehicles and therefore passengers smell like food. The company is doubling down on this message by launching a campaign titled "Shoulda Taken a Lyft" featuring TikTok influencer Delaney Rowe.
The company's new CEO, who had been a board member, has been at the helm for three weeks, after Lyft co-founder and CEO Logan Green and co-founder and President John Zimmer were pushed out from running the company in late March. The co-founders both remain on the board, and on Thursday were present for what Green said would be their last earnings call. Green also said "Lyft is our life's work" and said he and Zimmer were looking forward to continuing to serve on the board.
On the call, analysts repeatedly asked Risher about what's next. Risher touted cost cuts, such as the layoffs he announced shortly after he became CEO, as an example of his understanding of the urgency and need for improvement in the business.
Chief Financial Officer Elaine Paul said on the call that the company intends to use those cost savings toward driving more growth.
"Over time, with higher ride volumes, and higher margin opportunities, our economics will improve," Paul said.
Risher said he intends to share more about new products in the future, and expressed optimism about possible increased ridership as more companies call their employees back to the office.
Analysts also asked how Lyft can differentiate itself from Uber. Risher said Lyft would compete on price and on driving brand awareness, and that "we've been quiet for too long."
"When we execute well, share can move fast," he added. "Riders can vote with their app."
See: New Lyft CEO tells MarketWatch: 'I don't think of this as just an Uber battle. It's a battle against staying at home.'
Lyft said it had 19.55 million riders in the first quarter, compared with the 19.6 million analysts expected. Revenue per active rider was $51.17, higher than the $50.40 expected by analysts.
The company reported a first-quarter loss of $187.6 million, or 50 cents a share, lower than its loss of $196.9 million, or 53 cents a share, in the year-ago period. Adjusted for stock-based compensation, payroll taxes and more, net income was $27.7 million, or 7 cents a share. Revenue rose to $1 billion from $875.6 million in the year-ago quarter.
Analysts surveyed by FactSet had forecast an adjusted loss of 10 cents a share on revenue of $981.7 million.
The company also reported Ebitda of $22.7 million, compared with the $14 million analysts expected.
Ebitda is not profit and is already an adjusted number, but some companies use the metric to further exclude additional items and show investors their progress toward profitability.
Lyft shares have fallen about 4% so far this year, while the S&P 500 index SPX, -0.72% has risen about 6% year to date.
This article was originally published by Marketwatch.com. Read the original article here.