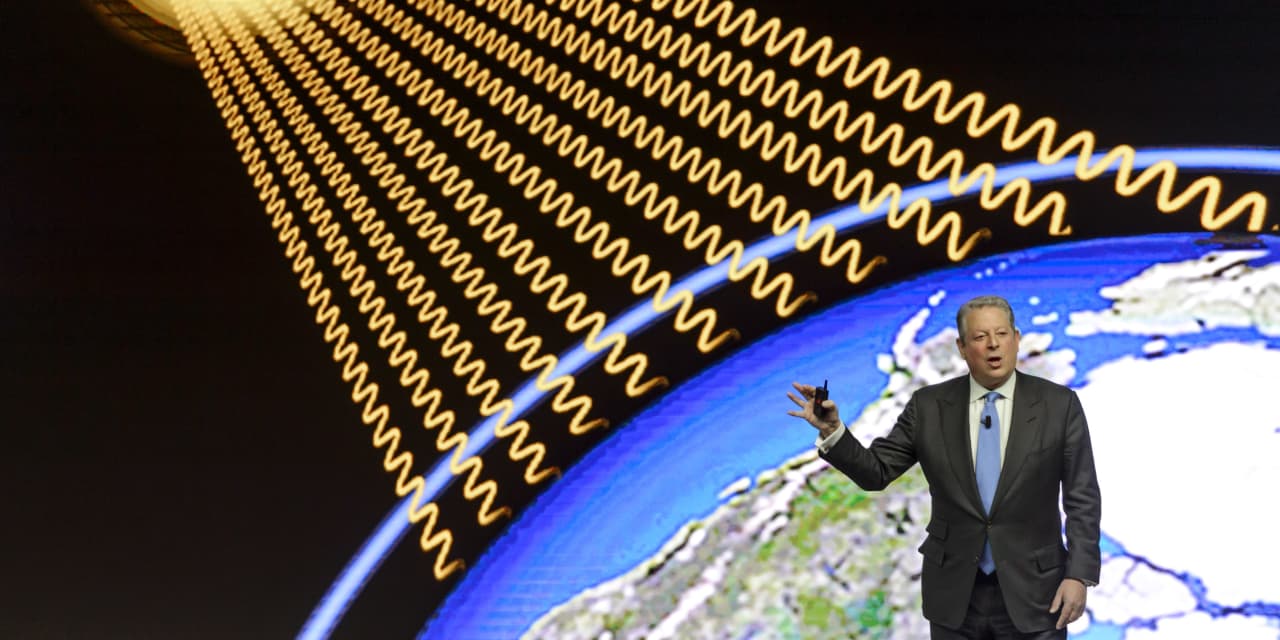 Clean-energy incentives for homes and businesses featured prominently in last year's broad Inflation Reduction Act. It's the biggest U.S. legislative action for climate change to date, proclaim backers of President Joe Biden, speaking of the law that attracted little Republican support but still made it out of a then Democratic-controlled Congress and White House.
Former Vice President and one-time presidential contender Al Gore, whose post-White House work has focused largely on climate change and who leads a nonprofit called The Climate Reality Project, has been a cheerleader of the IRA.
There's just one problem, Gore concedes. A big one. Most Americans remain unaware of the savings details or aren't clear on how to use the IRA for tax breaks and other sweeteners that might cut their energy bills and set the country more firmly on a path toward lower-emitting renewable energy, as he, Biden and others want. Others view the bill as a mammoth federal outlay rather than a human-sized break on their tax bill, the type of legislation that historically might have attracted Republicans and Democrats.
Read: Republicans' energy and climate plan
In response, in April, Gore's Climate Reality Project will be leading online training events open to the public, which he says are aimed at helping people take advantage of the clean-energy provisions of the IRA, some of which kicked in Jan. 1 and others that are likely to be put into action later this year or early next as details are ironed out.
Related: Want a rebate to upgrade home electric or swap to solar? There's good news and bad news.
By their own account, a third of registered voters have heard "nothing at all" about the climate law, which was combined with pharmaceuticals-focused and other spending within the IRA signed in August, according to a Yale Project on Climate Change Communication poll conducted in December. Another 24% heard "a little" and 29% heard "some" about the law.
But voters may also be reluctant to mark legislative or executive achievements much at all. A Washington Post-ABC News poll released earlier this month found that 62% of Americans thought Biden had accomplished "not very much" or "little or nothing."
Related: Americans want EV tax incentives. But are they ready to lose gas cars forever?
Biden is using the IRA to push for at-scale solar, wind, nuclear, carbon capture and other alternatives to fossil fuels, trying to make it easier for businesses to make the switch through rebates or tax credits. And for homeowners, breaks are tied to several upgrades, such electric vehicles TSLA, -2.57% GM, -0.18%, swapping from gas stoves to electric, gas furnaces to heat pumps, for heating and cooling, or simply upgrading a home's electric panel or swapping out leaky windows.
Read: Tesla's U.S. price cuts mean more models are eligible for federal EV tax credit
You can read up on the federal program, including rebate amounts and the timeline, on the Department of Energy's EnergyStar site.
Gore, who wrote and starred in the indie film "An Inconvenient Truth" on climate change in 2006, thinks it will take a virtual "road show" to strengthen a consumer base around clean energy.
Live broadcasts, he said, will feature Democratic New Jersey Gov. Phil Murphy; Biden administration officials such as Brenda Mallory, chair of the White House's Council on Environmental Quality; and climate advocates.
Read: Al Gore at COP27 climate summit: 'Choose life over death' by ending oil and gas reliance
Biden and most Democrats have leveraged the notion of U.S.-generated protection from foreign-energy reliance to push alternative energy and climate-change policy, although he hasn't been shy in tapping oil CL00, +0.17% reserves and pushing for lower gasoline RB00, +0.04% prices meantime, frustrating some climate groups.
Read: Carbon capture, nuclear and hydrogen feature in most net-zero emissions plans and need greater investment: report
The farm-, business- and consumer-level IRA incentives are intended to push the U.S. further along a path to net-zero greenhouse-gas emissions by 2050. Emissions created when fossil fuels are burned are blamed for rising temperatures, acidifying oceans, eroding coastlines and increasingly severe drought, heat and flooding.
Biden's political foes argue that generating more domestic oil and gas NG00, +2.16% is the key not only to keeping down energy costs but to cutting reliance on Russian and Middle Eastern production, thereby boosting security at the same time.
Gore's home state of Tennessee finds itself at the center of what clean-technology boosters are starting to view as America's new Battery Belt, much of it in the southern U.S. Battery storage is seen as a key growth industry and the key to making more alternative energy work at a practical level. Batteries are needed to run EVs, but also to allow for the storage of solar and wind energy to power the electric grid during times when wind and sun sources can't keep up.
From Michigan to Georgia, factory proposals for building advanced batteries and electric cars, and plans for making more solar panels and microchips, are creating a "new political reality," Gore said in recent days in an interview with Politico's Power Switch column.
And in may cases, growth is already underway in red states, whose national representation has been historically slow to back alternatives to oil and natural gas.
"The Republican powers that be in Georgia are now very excited about the battery plant and auto plants and electric vehicle plants," Gore told Politico. "The same here in Tennessee. The same in many states."
Read: President Carter was the first to put solar panels on the White House. Reagan removed them 7 years later.
Gore and the Biden administration argue that the billions in clean-energy spending and tax credits signed into law will create U.S. jobs — jobs requiring a range of skills and education level, which should soften the blow of lost positions in traditional energy.
Read: Biden claims green-job surge in State of the Union — is his boast justified?
Gore said the emergency around slowing climate change means that government and private interests have to hit it from several means, but that can also spell glazed-over eyes from average Americans.
Many folks are just "doing their jobs and taking care of their families, their homes," he said in the interview. "They're not following this step by step."
But the importance of bringing more Americans on board can't be downplayed.
"We're at an inflection point," Gore said.
In a separate interview, this one with Inside Climate News, Gore stressed his belief that the IRA will be powerful when it comes to changing behaviors, and slowing climate change.
Gore was asked whether final legislation, having been wrung out in the negotiating process and smaller than Democrats' initial ask, was enough to meet the challenge at hand or too watered down?
"Well, I disagree with their bottom line conclusion, though I certainly understand the disappointment of activists who have set their sights even higher. But as a longtime participant, in a previous lifetime, in the legislative process, my view is that the net result is still, by far, the biggest and best climate legislation ever enacted by any country, ever."
He continued: "One of the analyses says that for every increased ton of emissions coming from the provisions [supporting traditional energy] that folks like me don't like in this legislation, there are 28 tons of emissions reductions [within other initiatives in the bill]. And in a representative democracy, where compromise is almost always essential to getting a big outcome, that's a pretty good ratio of compromise."
This article was originally published by Marketwatch.com. Read the original article here.