The U.S. Labor Day holiday will mark another milestone in the marathon to bring workers back to the office, but it won't be a quick fix for landlords, according to Thomas LaSalvia, head of commercial real estate economics at Moody's Analytics.
Employers from Facebook parent Meta META, +0.27% to Goldman Sachs GS, -0.26% recently laid out mandates for staff to return to the office more frequently, starting this fall, including the big one — the federal government.
"A lot of companies are saying that after Labor Day, 'We expect more out of you," LaSalvia said, referring to days in the office. Still, office attendance, he argues, likely only stages a fuller comeback if a job or promotion is on the line.
Amazon.com Inc.'s AMZN, +2.18% Chief Executive Andy Jassy has been trying to drive home the point by warning staff to return at least three days a week, or face the consequences.
That could prove difficult, with Friday's U.S. jobs report for August expected to show U.S. unemployment at a scant 3.5%, near the lowest levels since the late 1960s, even if hiring has been slowing. The labor market, so far, appears unfazed by the Federal Reserve's benchmark rate reaching a 22-year high.
It has been a different story for landlords facing a roughly 19% vacancy rate nationally and piles of debt coming due, especially for owners of older Class B and C office buildings with a bleak outlook or properties in cities with wobbling business centers.
See: San Francisco's office market erases all gains since 2017 as prices sag nationally
As with shopping malls, LaSalvia said it's largely a problem of oversupply, with many office properties at risk of becoming obsolete as tenants flock to better buildings and locations staging a rebirth. The trend can be traced in leasing data since 2021, with Class A properties in central business districts (blue line) showing a big advantage over less desirable buildings in the heart of cities (orange line).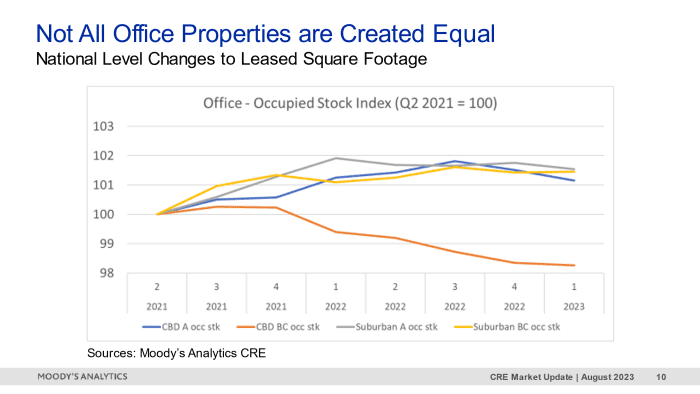 "Little by little, we are finding the office isn't dead," LaSalvia said, but he also sees more promise in neighborhoods with a new purpose, those catering to hybrid work and communities that bring people together.
Another way to look at the trend is through rents. Manhattan's Penn Station submarket, with its estimated $13 billion overhaul and neighboring Hudson Yards development, has seen asking rents jump 32% to $74.87 a square foot in the second quarter since the fourth quarter of 2019, according to Moody's Analytics. That compares with a 2% bump in asking rents in downtown New York City to $61.39 a square foot for the same period.
The push for a return to the office also doesn't mean a repeat of prepandemic ways. Goldman Sachs analysts estimate that part-time remote work in the U.S. has stabilized around 20%-25%, in a late August report, but that's still up from 2.6% before the 2020 lockdowns.
Furthermore, the persistence of remote work will likely add another 171 million square feet of vacant U.S. office space through 2029, a period that also will see tenants' long-term leases expire and many companies opting for less space. The additional vacancies would roughly translate to 57% of Los Angeles roughly 300 million square feet of office space sitting empty.
"The fundamental reason why we had offices in the first place have not completely disintegrated," LaSalvia said. "But for some of those Class B and C offices, the writing was on the wall before the pandemic."
U.S. stocks were mixed Thursday, but headed for losses in a tough August for stocks, with the S&P 500 index SPX off about 1.5% for the month, the Dow Jones Industrial Average DJIA 2.1% lower and the Nasdaq Composite COMP down 2% in August, according to FactSet.
Related: Some employers mandate etiquette classes as returning office workers walk barefoot, burp loudly and microwave fish
This article was originally published by Marketwatch.com. Read the original article here.