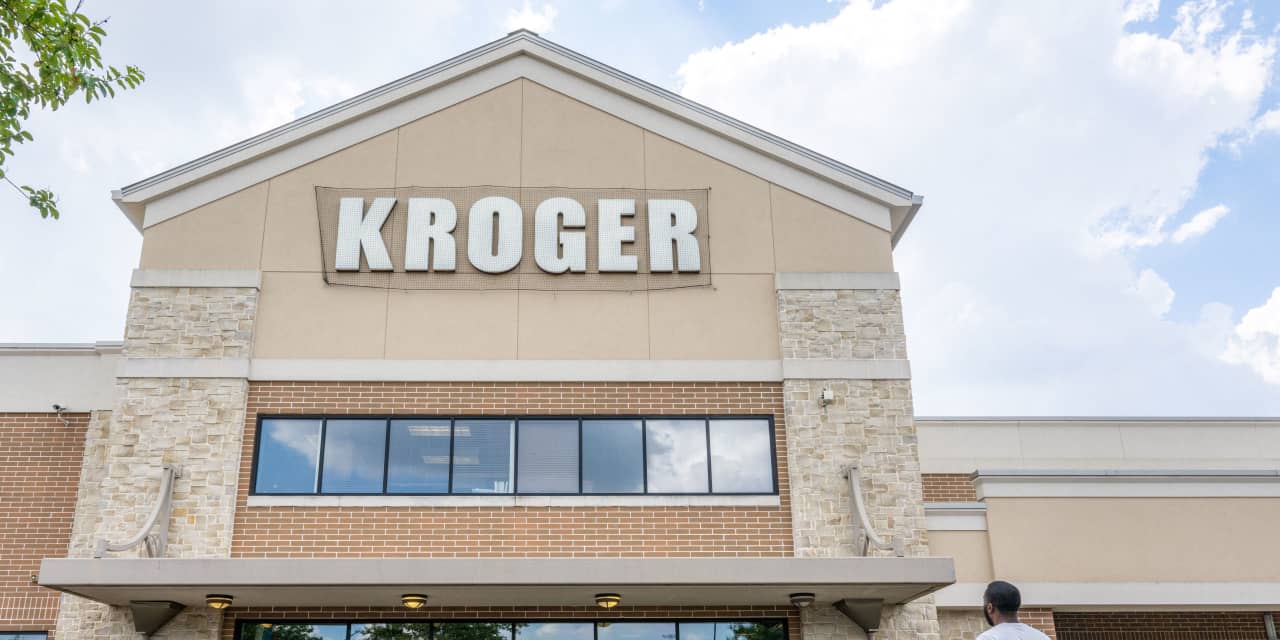 Shares of Kroger Co. bounced sharply into the green Friday as investors scanned a scattershot of news, including the grocer's downbeat fiscal second-quarter earnings report, a billion-dollar-plus opioid settlement and an agreement to sell more than 400 stores in an effort to gets its acquisition of Albertsons Companies Inc. over the wire.
Kroger's stock KR, +3.10% rallied 3.9% in afternoon trading, to reverse an earlier loss of as much as 2.9% to a three-month intraday low of $44.22. Shares of Albertsons ACI, +2.47% climbed 3.3% to put them on track to close at an 11-month high.
First, for the quarter through July, Kroger swung to a net loss of $180 million, or 25 cents a share, from net income of $732 million, or $1.00 a share, in the same period a year ago.
Excluding nonrecurring items, such as a $1.4 billion charge for the opioid settlement, adjusted earnings per share of 96 cents beat the FactSet consensus of 91 cents.
But net sales fell 2.3% to $33.85 billion, below the FactSet consensus of $34.12 billion. And same-store sales without fuel, or sales from stores that operate continuously for five quarters, grew 1.0% to miss expectations of a 1.3% rise.\
"The effect of sustained inflation, reduced government benefits including SNAP and higher interest rates have pressured customer spending, especially for those on a tight budget," said Chief Executive Rodney McMullen on the post-earnings conference call with analysts, according to an AlphaSense transcript. (SNAP refers to the Supplemental Nutrition Assistance Program, know previously as food stamps.)
The company affirmed its fiscal 2023 outlook for adjusted EPS of $4.45 to $4.60 and same-store sales growth of 1.0% to 2.0%, but said same-store sales are expected to be at the low end of guidance as consumers remain challenged and as a continued deceleration in inflation lowers the dollar value of products sold.
CFRA analyst Arun Sundaram reiterated his hold rating on Kroger and his $49 stock price target.
"[I]t seems like it is a matter of when, not if, we see grocery deflation, which will likely have negative implications to operating margins unless volumes/tonnage meaningfully improve," Sundaram wrote in a note to clients.
Second, the company said it reached an agreement to pay $1.2 billion to states and subdivisions, and $36 million to Native American tribes in equal installments over 11 years, to settle "the majority" of opioid claims. The company will also pay about $177 million for attorney fees.
"This settlement is not an admission of wrong doing or liability by Kroger and Kroger will continue to vigorously defend against any other claims and lawsuits relating to the opioids that the final agreement does not resolve," Chief Financial Officer Gary Millerchip said on the post-earnings call.
As a result, the company recorded a $1.4 billion charge in the second quarter, which reduced net earnings per share by $1.54.
Kroger said the settlement will not affect its ability to close the proposed acquisition of Albertsons, which has seen some regulatory pushback.
And finally, Kroger and Albertsons announced a divestiture plan in an effort to appease regulators regardingthe acquisition proposal, which was announced 11 months ago.
The plan includes the sale of 413 stores, 8 distribution centers, 2 offices and 5 private-label brands across 17 states and Washington, D.C. to C&S Wholesale Grocers LLC for $1.9 billion in cash.
"The divestiture plan ensures no stores will close as a result of the merger and that all frontline associates will remain employed," CEO McMullen said.
Before the closing of that deal, in connection with securing clearance from the U.S. Federal Trade Commission and other government regulators for the Albertsons acquisition, Kroger may require C&S to buy up to an additional 237 stores.
Here is the list of 413 stores in the divestiture plan by location:
Alaska: 14 Albertsons stores
Arizona: 24 Albertsons stores
California: 66 Kroger and Albertson stores
Colorado: 52 Albertsons stores
Idaho: 13 Albertsons stores
Illinois: 14 Kroger stores
Montana, Utah and Wyoming: 12 Albertsons stores
Nevada: 15 Albertsons stores
New Mexico: 12 Albertsons stores
Oregon: 49 Kroger and Albertsons stores
Texas and Louisiana: 28 Albertsons stores
Washington: 104 Kroger and Albertsons stores
Washington, D.C., Maryland and Virginia: 10 Harris Teeter stores (owned by Kroger).
Kroger's stock has gained 3.4% over the past three months and shares of Albertsons have rallied 14.0%, while the S&P 500 index SPX, +0.14% has tacked on 3.9%.
This article was originally published by Marketwatch.com. Read the original article here.