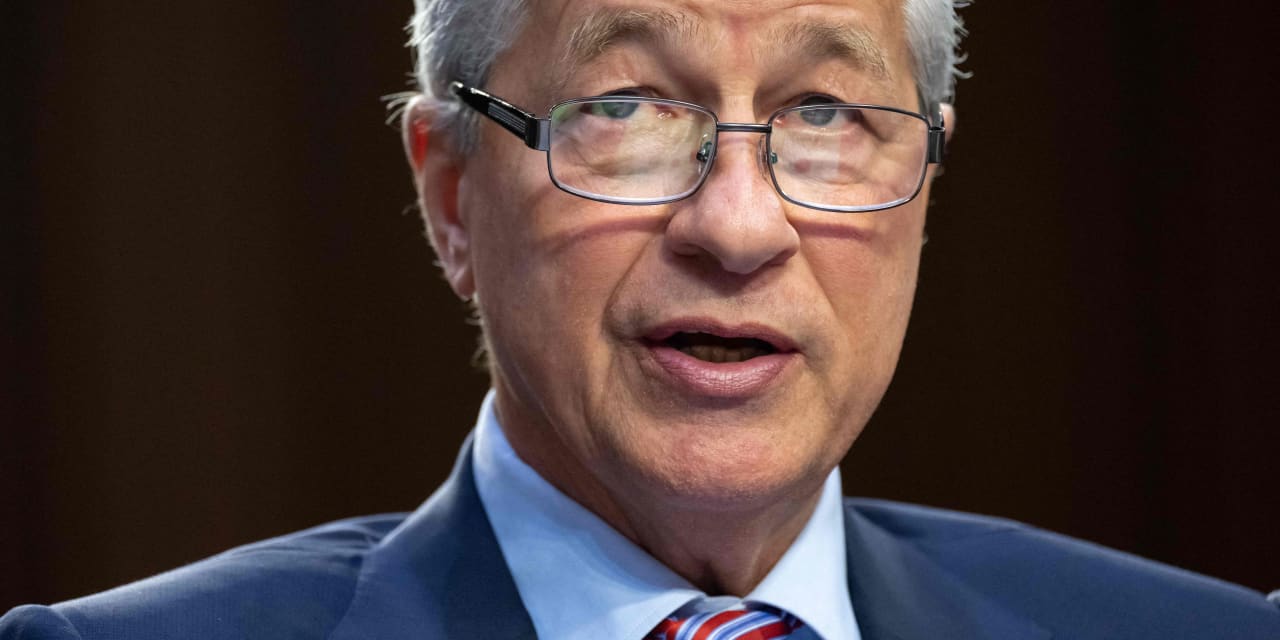 JPMorgan Chase & Co. Chief Executive Jamie Dimon on Monday said he plans on hanging around at the top spot and that the bank's plans surrounding his time in the role were the same, following high-profile CEO departures among some of its rivals.
As an analyst began to ask how many more years he planned to stay on as chief executive, Dimon interrupted and said "three and a half" — to some laughter in the audience — adding that "we are on the same plan we had before." As a running joke, Dimon has always said he'll stay on for another "five years."
"I can't do this forever. I know that. But my intensity is the same," Dimon said at JPMorgan's JPM, -0.83% investor day Monday. "I think when I don't have that kind of intensity, I should leave."
Dimon's remarks came after Morgan Stanley MS, +0.04% Chief Executive James Gorman said last week that he planned to step down within the next 12 months. The Wall Street Journal last week also reported that Ken Jacobs, chief executive at financial-advisory and asset-management firm Lazard Ltd. LAZ, +2.97%, was also making plans to depart.
The New York Times noted that JPMorgan hasn't outlined its CEO succession plans, and that possible replacement candidates have departed the bank. Dimon became JPMorgan's CEO in 2006, steering the bank through the 2008 financial crisis and through the turmoil of the pandemic.
JPMorgan also recently swallowed up First Republic Bank after the California-based lender collapsed. On Monday, JPMorgan raised its net-interest income outlook by $3 billion — to $84 billion this year — to reflect its larger size since that acquisition and amid fissures in the nation's banking system, following the implosions of First Republic, Silicon Valley Bank and Signature Bank.
Also during the investor-day presentation, Dimon reiterated that interest rates are still likely to rise, as credit standards tighten amid concerns about a recession and as stubborn inflation complicates the Federal Reserve's efforts to combat it by pushing its key interest rate higher. He said he was telling clients to be prepared for those rates to reach 6% or 7%.
"You're already seeing credit tightening up," he said. "Because the easiest way for a bank to retain capital is not to make the next loan. So I think you are going to see that. And I think everyone should be prepared for rates going higher from here."
But after consumer credit held up over recent years, Dimon said credit-card losses could start to crop up. But he said that evolution in the so-called credit cycle would be "very normal."
Also see: Americans are not paying off their credit-card debt. We should be concerned.
Still, he added that pockets of risk could emerge — in real estate, office properties and construction loans — but that the issues wouldn't hit every bank. And he said the problem could strain private credit lending.
"I don't think it's systemic," he said. "But I do think it may cause some issues away from banks."
Shares of JPMorgan finished 0.8% lower during regular trading on Monday.
This article was originally published by Marketwatch.com. Read the original article here.