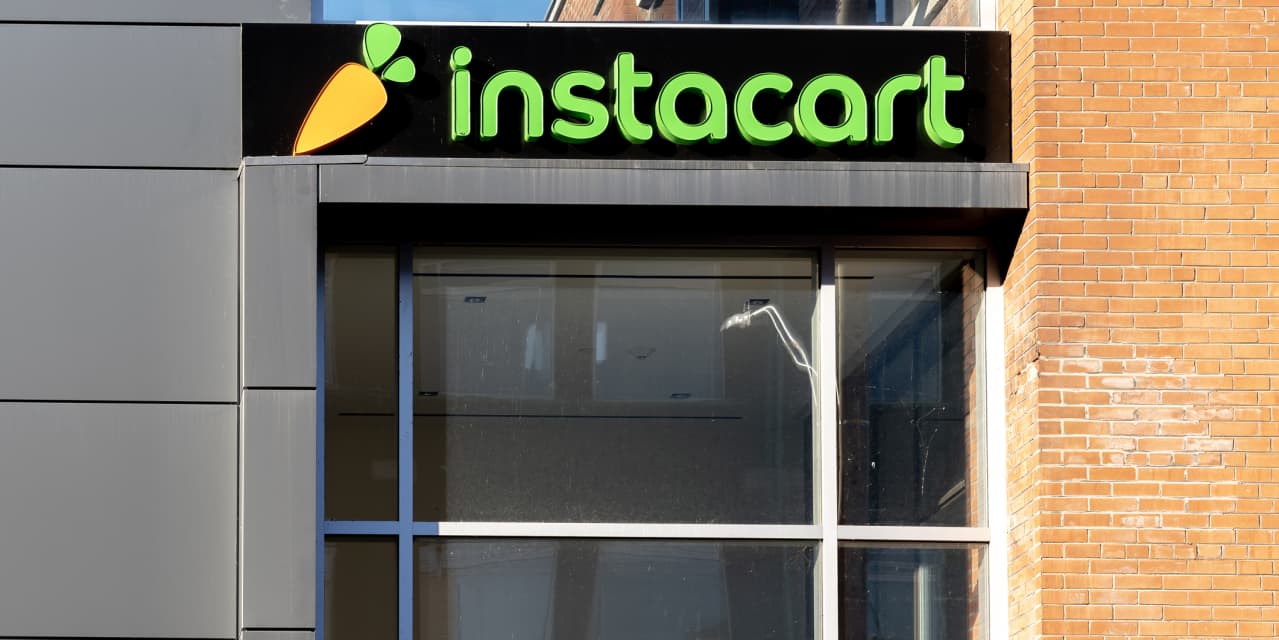 After reportedly putting its stock-market ambitions on hold last year, the grocery-delivery app Instacart on Friday filed its papers for an initial public offering, potentially joining a slew of other publicly traded gig-economy players that aim to help people meet their shopping and dining needs through their laptops and smartphones.
The online grocery-delivery platform plans to list on the Nasdaq Global Select Market under the ticker CART. The number of shares and their price have yet to be determined. Goldman Sachs and JPMorgan Chase will act as lead book-running managers for the proposed offering.
The debut for the company would arrive as markets rebound and as the IPO market thaws after last year's freeze. But while Instacart has rapidly grown revenue and finished the first half of this year with a profit, it faces competition from the likes of DoorDash Inc. DASH, +2.48%, and it depends on a handful of large customers for business as the gig and grocery industries consolidate.
Still, Chief Executive Fidji Simo said that the grocery industry was ripe for a quicker online evolution.
"As I write this, a massive digital transformation is underway in the grocery industry," she said in a letter contained in the company's IPO prospectus. "Grocery is the largest retail category and represents a $1.1 trillion industry in the United States alone. But only 12% of grocery sales are made online today. As even more people shop online, online penetration could double or more over time."
"This shift is being driven, in large part, by consumer expectations growing more diverse and complex," Simo continued. "We might be able to wait a couple of hours for our weekly shop but need popcorn in 30 minutes for an impromptu family movie night. Sometimes we want to buy groceries on our phones and sometimes in the store. We want grocers to understand our tastes and preferences and offer us a seamless, personalized experience everywhere."
According to the prospectus, two investment firms, Sequoia Capital and D1 Capital Partners, hold more than than 5% of the company's shares. So-called cornerstone investors — Sequoia and D1, as well as Norges Bank Investment Management and Valiant Capital Management — have "indicated an interest" in buying up to roughly $400 million worth of shares in the offering. Instacart has also entered into an agreement with PepsiCo Inc. PEP, +1.26% under which the beverage and snack giant will buy $175 million of the grocery platform's Series A redeemable convertible preferred stock.
Bloomberg last week reported that Instacart was thinking about going public in September.
The company, based in San Francisco and founded in 2012, reportedly confidentially filed to go public last year but shelved the offering in October amid a rocky market. Instacart this year upped its valuation to about $12 billion, according to the Information. But in 2022, it cut its valuation multiple times.
Instacart, which is officially known as Maplebear Inc., had net income of $242 million during the first six months of this year, contrasting with a $74 million loss in the prior-year period. It closed out last year with a $428 million profit, which included a hefty tax benefit. The company lost money in 2021 and 2020.
During the first six months of this year, Instacart had $1.775 billion in sales, a 30.9% gain over the first half of last year. As of June 30, Instacart had an accumulated deficit of $735 million.
The company has partnerships with more than 1,400 retail brands. But it said that its top three retailers account for roughly 43% of its gross transaction volume, a gauge of the value of products sold. And it noted that both the grocery and gig-economy industries are consolidating, posing additional threats.
"For example, Uber UBER, -1.61% acquired Postmates and Cornershop in 2020 and completed its acquisition of Drizly in 2021, all of which are competitors," the prospectus said.
"Consolidation amongst major retail partners, such as the pending merger between Albertsons ACI, -0.05% and Kroger KR, +0.11%, could impact contractual negotiations with such retail partners, result in lower utilization of our products, or lead ultimately to termination of existing retailer engagements," it continued.
This article was originally published by Marketwatch.com. Read the original article here.