Is Marvel's smallest superhero poised to become its next big hit? We'll see.
"Ant-Man and the Wasp: Quantumania" hits theaters over Presidents Day weekend. Box office forecasters expect it to pull in between $95 million and $100 million in North America over the traditional weekend, Variety reports, and $110 million through Presidents Day on Monday.
Internationally, Disney's DIS, -0.58% third stand-alone "Ant-Man" film could make at least $160 million, with estimates ranging from $130 million to $190 million. A big part of that box office haul is that "Ant-Man 3" is expected to reel in up to $55 million in China, alone — notable because this is the first Marvel movie allowed in China since "Avengers: Endgame" in 2019, after China recently ended its three-and-a-half year ban on all Marvel Cinematic Universe (MCU) movie releases in the country.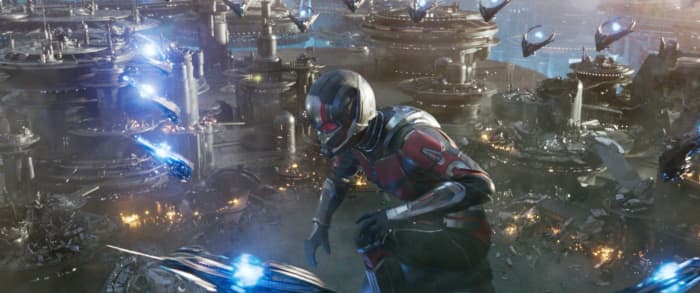 That's no small chunk of change for subatomic superhero Ant-Man, played by Paul Rudd, who along with his teammates like the Wasp (played by "Lost" and "The Hobbit" trilogy star Evangeline Lilly) can shrink himself and other objects down to the size of an ant — and even go microscopic, which is where the "Quantum Realm" comes in with this movie. (And, for what it's worth, he can also grow giant-sized, becoming Giant Man.)
But ticket sales are projected to fall below recent Marvel movies like "Black Panther" sequel "Wakanda Forever," which clawed $181 million over its opening weekend, as well as sequels like "Thor: Love and Thunder" ($144 million) and "Doctor Strange in the Multiverse of Madness," which made $185 million. But this weekend's box office projections are still well above the first two "Ant-Man" movies in 2015 and 2018, which made $57 million and $76 million domestically over their opening weekends.
So, where is the opening weekend box office for "Ant-Man 3" expected to fall compared with the 30 other Marvel movies, which began with 2008's "Iron Man?" Take a look here: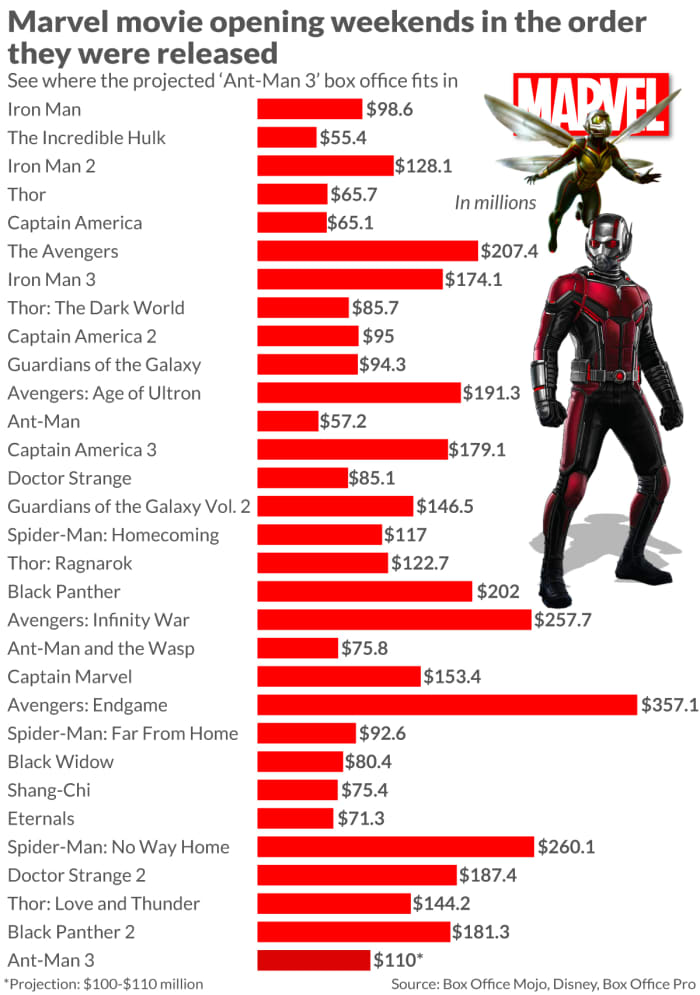 Another area where the new "Ant-Man" film may be coming up a little short is in its reception from critics and fans.
Early reviews warn the latest Marvel movie has some bugs — and they're not talking about Ant-Man's six-legged friends.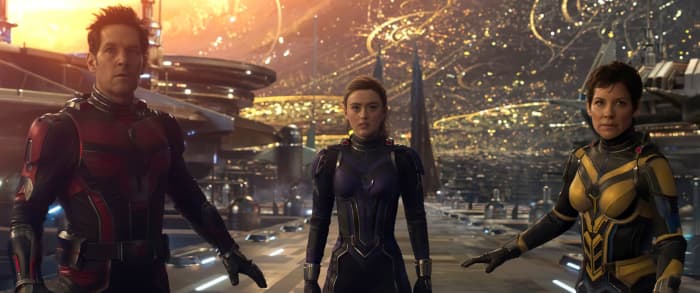 But "Ant-Man 3" isn't alone here. Fan sentiment for MCU movies has been on a bit of a downward swing over several of the more recent movies, coming off the highs of the "Infinity Saga" that featured "The Mad Titan" Thanos temporarily wiping out half the universe. Recent MCU films have struggled to score the same almost universal acclaim from critics and audiences that installments like 2018's original "Black Panther" (96% approval on Rotten Tomatoes) or 2019's "Avengers: Endgame" (94%) received. Last year's "Eternals" has the dubious distinction of being the worst-rated MCU movie on Rotten Tomatoes with a 47% rating, which is considered "Rotten" status on the review aggregator site. And early reviews of "Ant-Man 3" see the film trailing at just 51%, which is also considered "Rotten."
Check out the Rotten Tomatoes scores for the past five years of MCU movie releases here: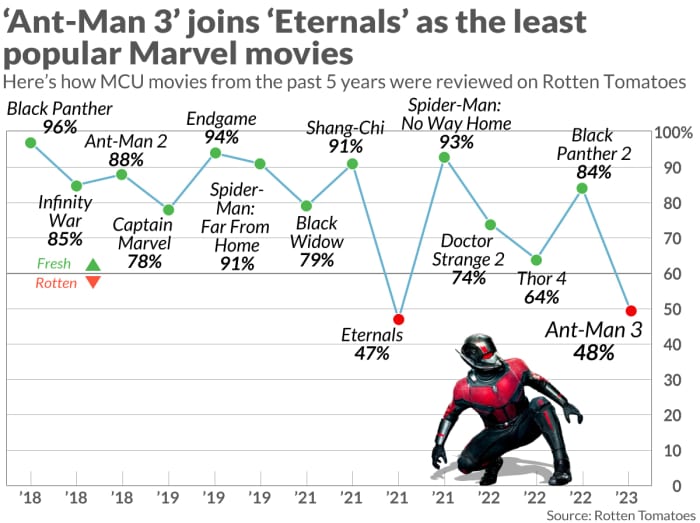 "Ant-Man and the Wasp: Quantumania" is the 31st MCU movie, and it's kicking off "Phase Five" of the cinematic universe; it will continue with "Guardians of the Galaxy Vol. 3," which hits theaters on May 5, and "The Marvels" — which was originally slated for July 28, but will now be landing on the big screen Nov. 10.
This article was originally published by Marketwatch.com. Read the original article here.