The roughly $25 trillion Treasury market first began flashing this telltale sign that a U.S. recession likely lurks on the horizon almost a year ago, according to Bespoke Investment Group.
It was late October of 2022 when the 3-month Treasury yield BX:TMUBMUSD03M first eclipsed the 10-year Treasury yield BX:TMUBMUSD10Y, resulting in an "inversion" of a key part of the yield curve that's been a reliable predictor of past recessions.
Where is this long-anticipated recession? Analysts at Bespoke think the next economic pullback still could be about 275 days away, or starting roughly in early June 2024, according to data as of Wednesday.
That's because past recessions took an average 589 days to materialize after the 10-year and 3-month yield curve first inverted, based on data since the early 1960s.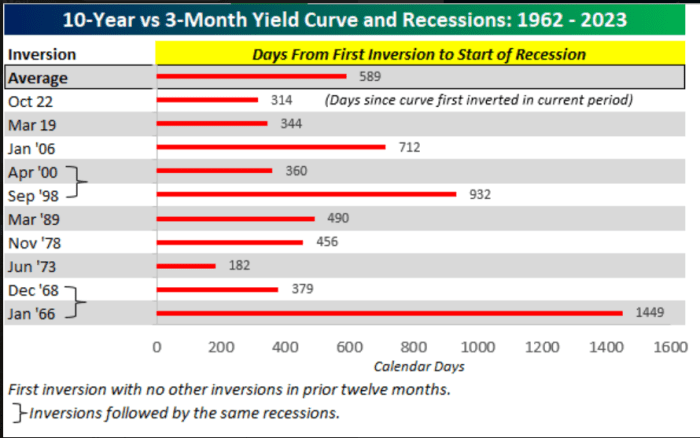 There has been considerable debate about what point along the Treasury yield curve matters most to investors as a recession predictor. Doubts also linger about if Wall Street's various recession barometers even work anymore, given the COVID crisis and the deluge of global stimulus released by governments and central banks in its wake.
"It's tempting to dismiss the yield curve in this cycle, but history has shown that recessions haven't been quick to arrive after the yield curve first inverts," the Bespoke team wrote in a related client note.
Their data also shows June 1973 was the only time in the past six decades when a recession arrived within 300 days of the 10-year and 3-month yield curve first inverting.
The 10-year Treasury yield was back to almost 4.3% on Wednesday, near its highest level of the year, putting further pressure on property owners, households and corporate borrowers looking for new financing.
The Federal Reserve's Beige Book report on Wednesday showed the economy grew modestly in July and August, bolstered by "the last stage of pent-up demand" for leisure activities. Goldman Sachs economists earlier in the week pegged the odds of a recession in the next 12 months at 15%, which means to them there isn't a pressing danger of one.
U.S. stocks posted back-to-back losses Wednesday, but with the S&P 500 index SPX still up 16.3% on the year, the Nasdaq Composite Index COMP 32.5% higher and Dow Jones Industrial Average DJIA up 3.9% for the same stretch.
From the archives: Why the countdown to a recession begins now, according to these bond market signals
This article was originally published by Marketwatch.com. Read the original article here.