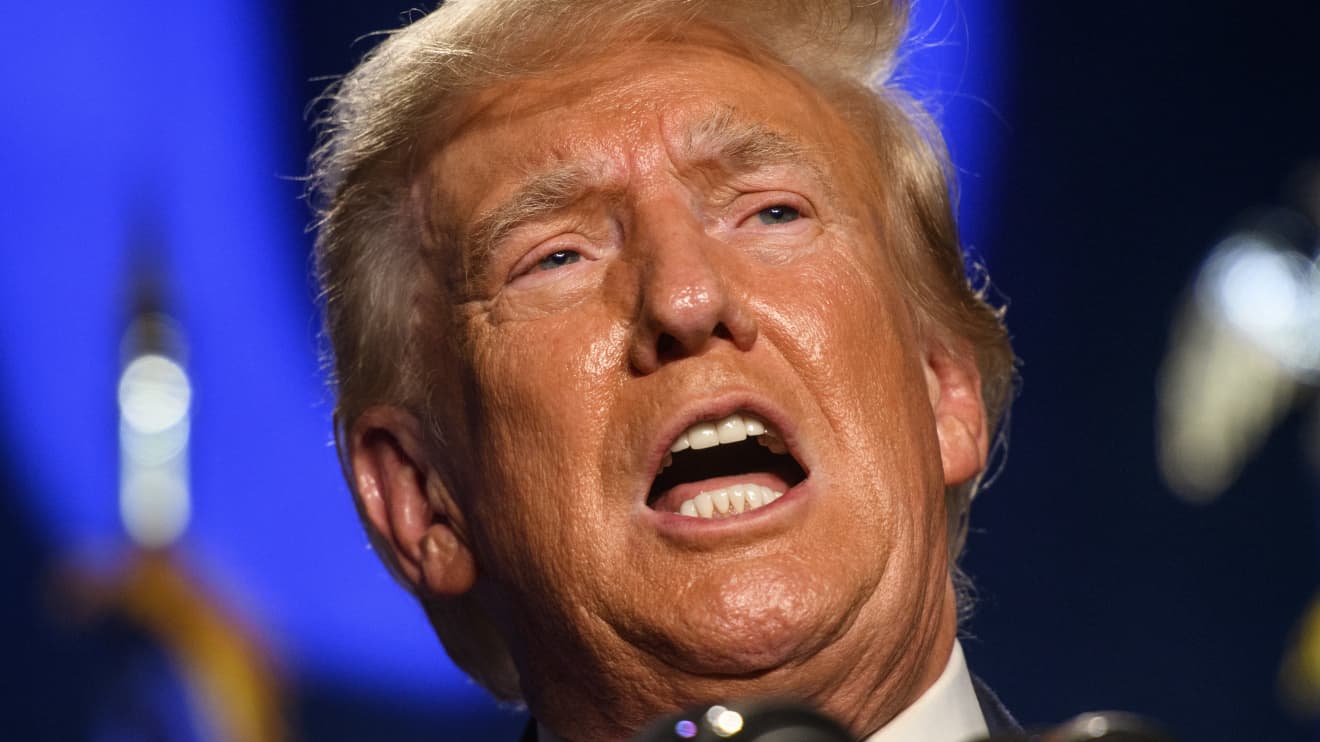 Will the world finally see a Donald Trump mug shot? And if so, what will be its significance?
Those are some of the questions being asked in light of the fact that the former president is looking at a potential indictment in Georgia's Fulton County over his efforts to overturn the 2020 election results.
Unlike the situation with Trump's three previous indictments this past year and the arraignments that followed, there are indications a mug shot will be taken this time if the case proceeds. Fulton County Sheriff Pat Labat has told media outlets that his office will follow its standard operating procedure, which includes having a picture.
"Unless somebody tells me differently, we are following our normal practices, and so it doesn't matter your status, we'll have a mug shot ready for you," Labat said in a recent interview with Atlanta television station WSB-TV.
When the former president was facing his first arraignment, which took place in New York, for his role in a hush-money payment to porn star Stormy Daniels, the possibility of a Trump mug shot had media watchers saying it could turn into a defining image of the 21st century.
Craig Agranoff, a Florida-based marketing executive, told MarketWatch earlier this year that the image would represent "the cultural icon of our time."
But now that Trump has been thrice indicted, a potential mug shot off a fourth indictment doesn't carry quite the same weight, experts say.
"It's lost a little of its punch," said Peter W. Cross, a former newspaper photo director turned freelance photographer.
Not that Cross doesn't expect such a photo to be widely distributed and make its way to the front pages of newspapers across the globe. "It will still be the most famous mug shot in the world," he added.
Part of what gives a potential mug shot such significance, experts argue, is that it can have meaning for both sides of the Trump universe — meaning those who are pro-Trump and anti-Trump alike.
"It's going to be a reminder of a time when he was in power to those who support him. It will be a symbol of his downfall to those who oppose him," Agranoff told MarketWatch this week.
Trump himself may try to capitalize on a mug shot if he's indeed indicted in Georgia and a photo is taken. He's already used his previous indictments as a way to rally his supporters for his 2024 presidential bid. In fact, his campaign sold T-shirts — at $36 a pop — with a faux mug shot after his first indictment.
Technically, a mug shot serves the practical purpose of putting a face to a name, so if someone who is booked for a crime skips a court date, there's a way to find and identify the person, explains Michelle Suskauer, a Florida-based criminal-defense attorney with Dimond, Kaplan & Rothstein and former president of the Florida Bar.
But in Trump's case, his image is so well-known, a mug shot isn't really necessary, Suskauer said: "He's one of the most recognizable persons, if not the most recognizable person, on the planet."
At the same time, Suskauer said, it's up to every jurisdiction as to how to handle the matter. She said the Fulton County sheriff is perhaps trying to make the point that even a former president must be treated like every other criminal defendant — in effect, no one is above have their mug shot taken.
A spokesperson for the Fulton County sheriff's office said Labat was not available for comment.
Still, how iconic a Trump mug shot becomes — again, presuming it's taken and made available — may depend on another key factor, according to Robert J. Thompson, director of Syracuse University's Bleier Center for Television and Popular Culture. Thompson told MarketWatch that it's all about how it "delivers in its mug shot–ness."
By their very nature, mug shots are supposed to be nondescript — they're not magazine-worthy portraits but identification photos, similar in that sense to the picture on a person's driver's license.
But mug shots differ from a DMV photo in that they're taken during times of distress, to say the least. The result can be something far less than flattering. Thompson points to the bizarre 2002 mug shot of actor Nick Nolte, following his arrest on a DUI charge, as the classic example. If Trump's photo is similarly unflattering in any way, Thompson said it could make the image all the more iconic.
In any case, Thompson doesn't think the fact that Trump has already gone through three indictments will affect the interest in a potential mug shot from the Georgia case should that indictment become a reality.
"The indictments themselves are becoming commonplace, but this would be something new for this one. It might be even more breathlessly covered since the previous indictments never delivered on this front," Thompson said.
This article was originally published by Marketwatch.com. Read the original article here.