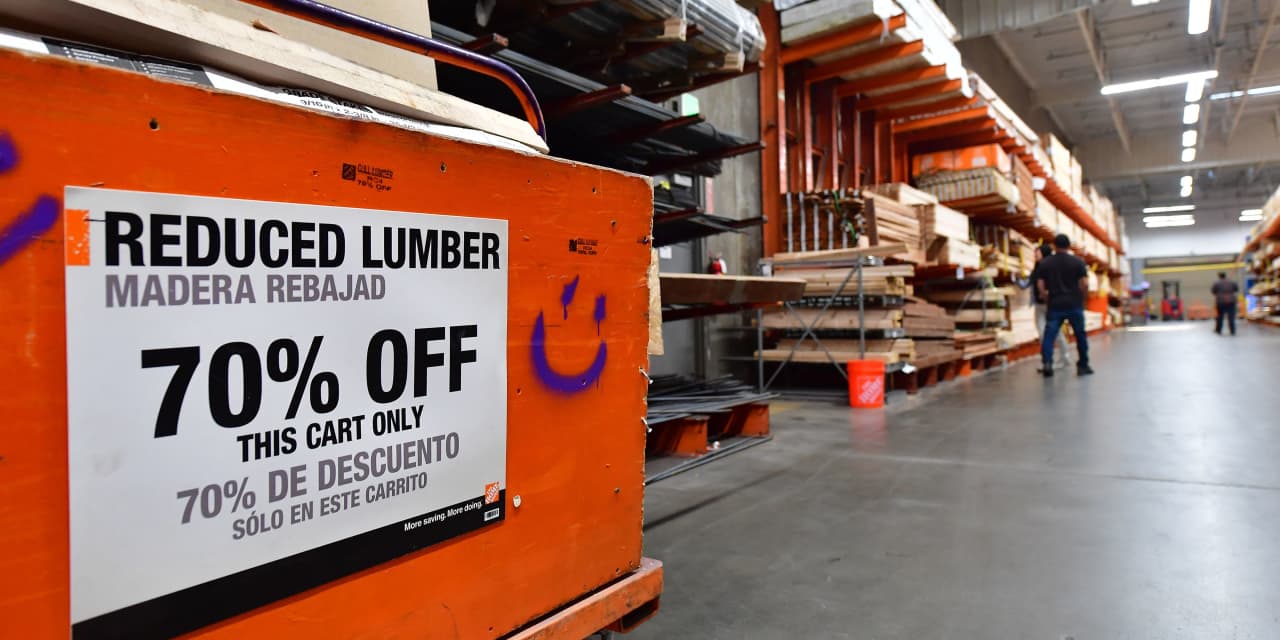 Shares of Home Depot Inc. dropped Tuesday, after the home improvement retail giant reported fiscal first-quarter profit that topped expectations but sales that fell short, and it cut the full-year outlook, citing lumber deflation and bad weather.
Net income for the quarter to April 30 fell to $3.87 billion, or $3.82 a share, from $4.32 billion, or $4.09 a share, in the same period a year ago. That topped the FactSet consensus for earnings per share of $3.80.
Sales declined 4.2% to $37.26 billion, well below the FactSet consensus of $38.31 billion.
"Our sales for the quarter were below our expectations primarily driven by lumber deflation and unfavorable weather, particularly in our Western division as extreme weather in California disproportionately impacted our results," said Chief Executive Officer Ted Decker.
Overall same-store sales fell 4.5% to miss the FactSet consensus for a 1.6% decline, with same-store sales in the U.S. falling 4.6%.
The stock sank 3.6% toward a seven-month low in premarket trading.
"Given the negative impact to first quarter sales from lumber deflation and weather, further softening of demand relative to our expectations, and continued uncertainty regarding consumer demand, we are updating our guidance to reflect a range of potential outcomes," said Chief Financial Officer Richard McPhail.
For fiscal 2023, the company cut its EPS outlook to a decline of between 7% and 13% from a decline in the mid-single digit percentage range, and lowered its sales outlook to a decline of between 2% and 5% from approximately flat.
The stock has dropped 10.2% over the past three months through Monday, while the Dow Jones Industrial Average DJIA, +0.14% has slipped 1.0%.
This article was originally published by Marketwatch.com. Read the original article here.