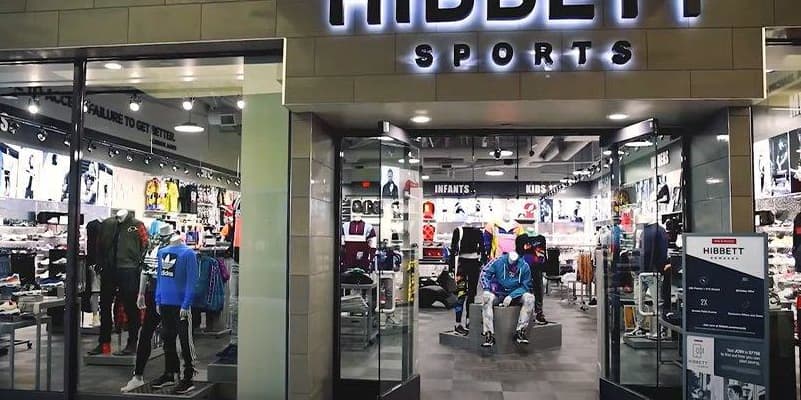 Hibbett Inc.'s stock fell 2% Friday after the sporting-apparel retailer's fiscal fourth-quarter earnings and its guidance for the current year fell short of estimates, weighed down by supply-chain issues and promotional activity.
It was the fourth consecutive quarter that the Birmingham, Alabama-based company HIBB, -2.54% has missed profit estimates, and the second straight quarter to miss on sales.
Hibbett posted net income of $38.4 million, or $2.91 a share, for its fiscal fourth quarter through Jan. 28, up from $17.7 million, or $1.25 a share, in the year-earlier period. Sales rose to $458.3 million from $383.3 million a year ago. The FactSet consensus was for earnings per share of $2.96 and sales of $480 million.
Same-store sales rose 15.5%, also below the 21.6% FactSet consensus.
"These results came from strong demand for popular footwear brands and a recovery in inventory levels," Chief Executive Mike Longo told analysts on the company's earnings call, according to a FactSet transcript. "Despite that, these results did not meet our high expectations for ourselves and fell short of our guidance."
Also read: Foot Locker cuts staff and another exec departs: 'Every executive from the 2019 analyst day is now gone,' analyst says
Apparel "was a bit of a disappointment not only in terms of units but in terms of price and the growth of it," Longo told analysts. The market was also "incredibly promotional," he said, and consumers grappling with high inflation were spending their dollars in other categories.
In late fiscal 2020, Hibbett had just completed a transformation from being a sporting-goods retailer to a fashion retailer focused on a narrower client base, selling "athletically inspired" footwear and apparel, he said. But fiscal 2021 became a year of pandemic chaos, followed by fiscal 2022, a year of reopening chaos, and fiscal 2023, a year of supply-chain chaos, he said.
"Now that we're operating in a somewhat more normal environment, it's time to address our SG&A [sales, general and administrative costs] and some areas where costs have increased," he added. "As a result, we are conducting a systematic review of our operating-expense structure with a particular focus on SG&A."
See also:Nike stock drops 10% as execs predict cheaper clothing for at least the rest of the year
Hibbett will also pursue its four growth pillars — category offense, increasing traffic, improving conversion and leveraging investments — Longo said.
Footwear sales were driven by new launches in the quarter and further boosted by lifestyle, basketball and casual categories, said Jared Briskin, executive vice president for merchandising, on the call.
Team-sports sales were driven by demand for cleats and cold-weather accessories. In footwear and apparel, men's, women's and kids' items all showed strong growth from the year-earlier period, with kids the standout area, growing in the high 20% range, while men's and women's footwear were up in the mid-teens, he said.
Compared with the fourth quarter of fiscal 2020, just before the outbreak of the pandemic, women's footwear was up in the mid-70% area, kids' in the low-50% area and men's in the mid-30% area, he said. This is the last period that Hibbett will include comparisons to prepandemic quarters, Briskin added.
"As we look ahead to fiscal 2024, we believe there are several headwinds including inflation, higher interest rates and a more promotional retail environment," Longo said in the earnings release. "We anticipate consumers will be more cautious in their discretionary spending and while we still feel our unique assortment of high demand footwear will drive traffic and sales, margins are expected to be negatively impacted."
The company is expecting fiscal 2024 sales to grow in the mid-single digits compared with fiscal 2023, and for EPS to range from $9.50 to $10. The FactSet consensus implies sales growth of 7.3% and expects EPS of $10.40.
The stock has gained 48% in the last 12 months, while the S&P 500 SPX, +1.61% has fallen 9%.
This article was originally published by Marketwatch.com. Read the original article here.