Inflation is likely to fall below the Federal Reserve's 2% annual target by late next year, according to David Kelly, chief global strategist at JP Morgan Asset Management.
Consumer prices rose again in August to reach a 3.7% yearly rate, based on Wednesday's release of the monthly consumer-price index. That marked its biggest jump in 14 months and a higher reading than the recent 3% low set in June (see chart) as the toll of the Fed's rate hikes kicked in.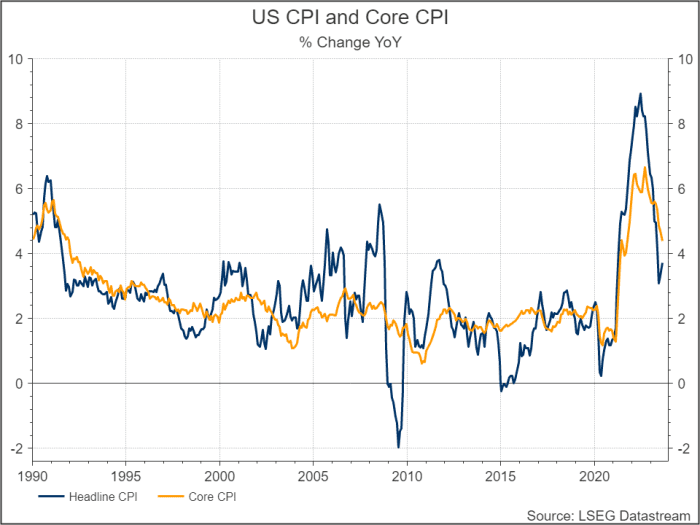 The catalyst for increased price pressures in August was a roughly 30% surge in energy prices CL00, -0.12% this quarter, according to Eric Winograd, director of developed market economic research at AllianceBernstein.
West Texas Intermediate Crude, the U.S. benchmark, was near $88.58 a barrel on Wednesday, with traders focused on supply concerns following decisions by Saudi Arabia and Russia to cut crude supplies through year-end. WTI was trading at a low for the year below $65 a barrel in May.
"I don't think that today's upside surprise is sufficient to trigger a rate hike next week and I continue to expect the Fed to stay on hold," Winograd said, in emailed commentary. "But with inflation sticky and growth resilient, the committee is likely to maintain a clear tightening bias—the dot plot may even continue to reflect expectations of an additional hike later this year."
Federal Reserve officials increased the central bank's policy rate to a 5.25%-5.5% range in July, the highest in 22 years.
Higher gasoline prices, however, also could act as a counterweight to inflation, according to JP Morgan's Kelly. "Indeed, to the extent that higher gasoline prices cool other consumer spending, the recent energy price surge could contribute to slower growth and lower inflation entering 2024," Kelly wrote in a Wednesday client note.
"We still believe that, barring some further shock, year-over-year headline consumption deflator inflation will be below the Fed's 2% target by the fourth quarter of 2024."
U.S. stocks were losing steam late Wednesday following the CPI update, with the Dow Jones Industrial Average DJIA down 0.3%, the S&P 500 index SPX flat and the Nasdaq Composite Index COMP up 0.2%, according to FactSet.
But with oil prices well off their lows for 2023, Winograd said further progress on cooling headline inflation is unlikely this year, even though he expects core inflation to gradually decelerate, a process that will "keep the Fed on high alert."
This article was originally published by Marketwatch.com. Read the original article here.