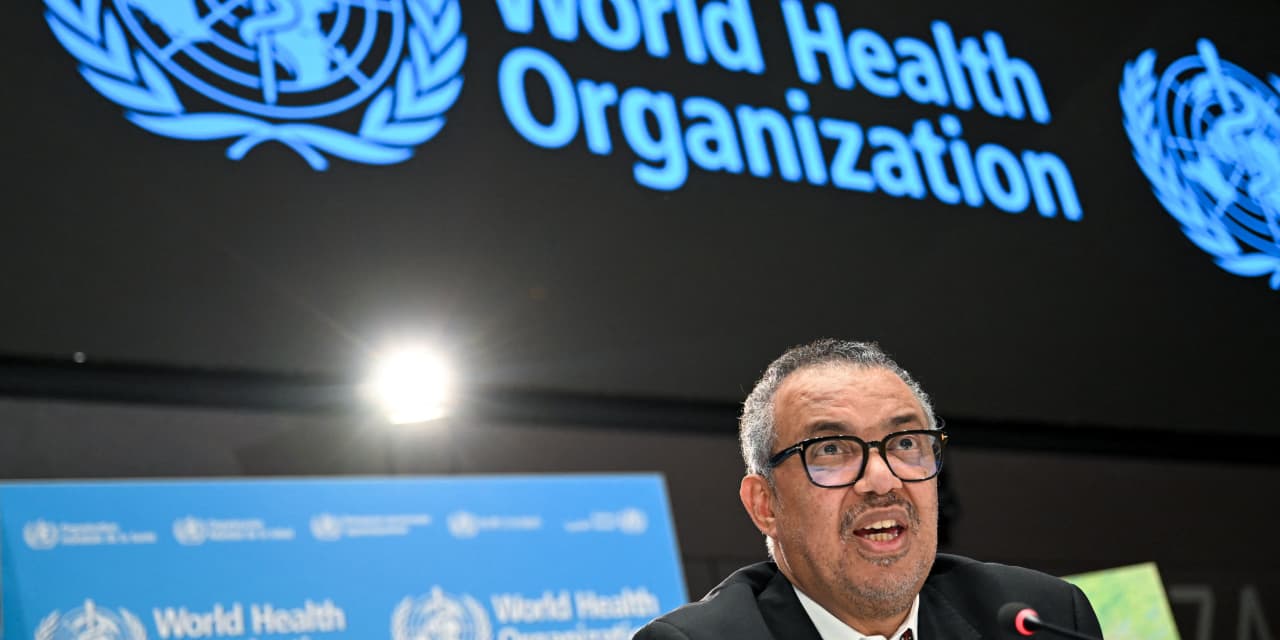 The World Health Organization has upgraded COVID-19 variant EG.5 to a variant of interest, or VOI, from a variant under monitoring, or VUM, as it continues to become more prevalent around the world.
The variant — which has been nicknamed Eris by some media, following the Greek-alphabet designation used for other variants — has been found in 51 countries, with most sequences, 30.6%, stemming from China, said the WHO.
Other countries that have submitted at least 100 sequences to a central database include the U.S., the Republic of Korea, Japan, Canada, Australia, Singapore, the United Kingdom, France, Portugal and Spain, the WHO said in a statement.
Eris is a descendent lineage of XBB.1.9.2, which is an omicron subvariant. It was first detected on Feb. 17 and designated as a VUM on July 19.
Its latest designation means it's more prevalent than it was, has a growth advantage over earlier variants and merits closer monitoring and tracking.
Here's what you need to know about Eris.
Eris is spreading around the world
The strain is increasing in global prevalence, accounting for 17.4% of cases sequenced in the week through July 23, up from 7.6% four weeks earlier. The WHO has been tracking COVID data on a 28-day basis, largely because countries have cut back on testing and surveillance as they emerge from the pandemic, meaning the agency has far less data than it did during the pandemic.
It's already dominant in the U.S.
Eris has become dominant in the U.S., according to projections made by the Centers for Disease Control and Prevention, although a shortage of data is hampering the agency's efforts to surveil the illness.
The CDC said last week it was unable to publish its "nowcast" projections, which it releases every two weeks, for where EG.5 and other variants are circulating for every region, because it did not have enough sequences to update the estimates.
"Because nowcast is modeled data, we need a certain number of sequences to accurately predict proportions in the present," CDC representative Kathleen Conley told MarketWatch.
"For some regions, we have limited numbers of sequences available and therefore are not displaying nowcast estimates in those regions, though those regions are still being used in the aggregated national nowcast," she said.
It is estimated that EG.5, an omicron subvariant, accounted for 17.3% of COVID cases in the U.S. in the two-week period through Aug. 5. That was up from an estimated 11.9% in the previous period and was more than any other variant.
For more, see: New Eris COVID variant is dominant in the U.S., but a shortage of data is making it hard to track
It's no riskier than earlier variants
The public-health risk is deemed to be low at the global level, lining up with the risk posed by XBB.1.16 and other currently circulating VOIs, according to the WHO statement. But it's likely more infectious.
"While EG.5 has shown increased prevalence, growth advantage, and immune escape properties, there have been no reported changes in disease severity to date," said the WHO.
That growth advantage and immune-escape properties mean Eris may cause a rise in case incidence over time and become dominant in some countries or even the world, according to the WHO.
It has the same symptoms as other strains
The Eris variant causes the same symptoms as seen with other strains of COVID, such as sore throat, runny nose, cough, congestion, fever, fatigue, body aches and a possible loss of taste or smell.
The best defense against Eris is vaccination
Like earlier strains of COVID, the best protection is to be vaccinated with any of the vaccines developed by Pfizer Inc. PFE, -0.45% and German partner BioNTech SE BNTX, -0.25%, Moderna Inc. MRNA, -1.62% or Novavax Inc. NVAX, +6.55%
The vaccines that will be made available in the fall will be designed to protect against all subvariants of XBB, including Eris.
This article was originally published by Marketwatch.com. Read the original article here.