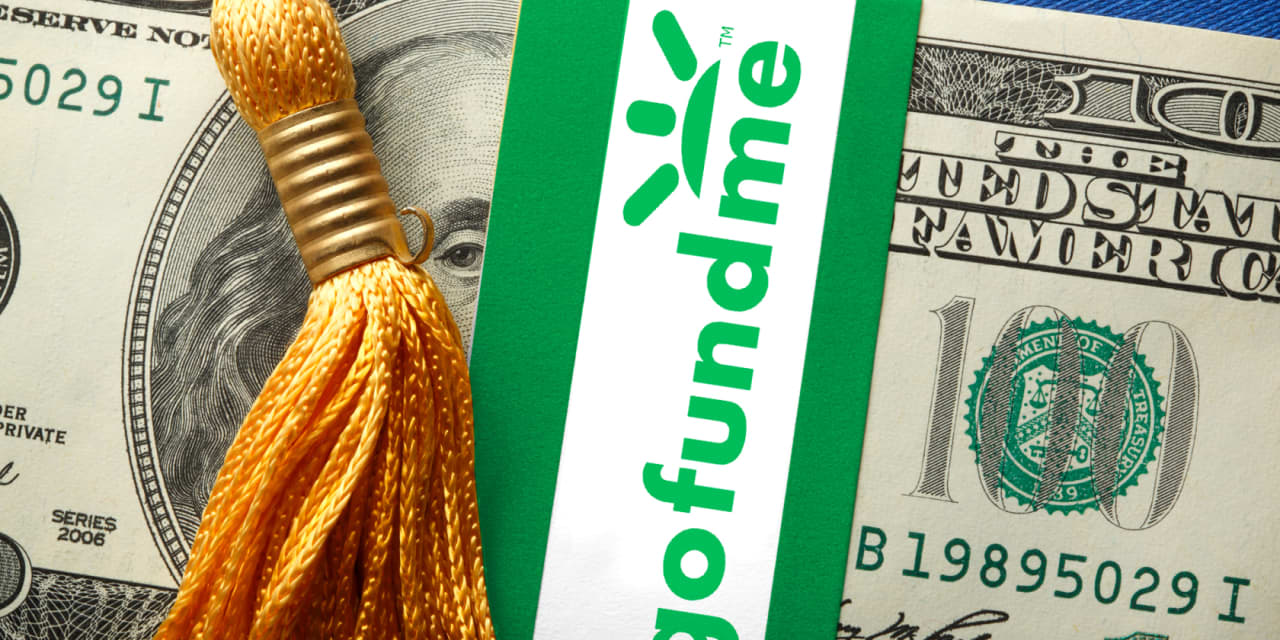 College students are increasingly turning to crowdfunding to help cover their education expenses, according to new data from the fundraising platform GoFundMe.
GoFundMe fundraisers for tuition money are up more than 50% compared to last year, and both college and trade school fundraising are up 30%, a GoFundMe spokesperson said.
The rise in students seeking donations comes as the cost of higher education is in the national spotlight. The U.S. Supreme Court this week heard arguments in two cases involving President Joe Biden's stalled student-loan cancellation plan, which could help an estimated 40 million borrowers erase up to $20,000 each in student-loan debt.
The average published price for tuition, fees, room and board at a four-year private college is $53,430 for the 2022-23 school year, up from $51,690 in 2021-22, according to the College Board's Trends in College Pricing and Student Aid report.
Tuition and fees at four-year private colleges are 4.5 times higher than they were in 1992-93. For in-state students at public four-year universities, the average published tuition, fees, room and board for 2022-23 is $23,520, up from $22,700 in the previous year.
Changes in the published price, or sticker price, "tend to garner the most media attention," the College Board said in its report. "However, it is important to note that the majority of undergraduate students do not pay the full sticker price."
College tuition hasn't risen as fast as other prices amid roaring inflation, but higher education remains unaffordable in the U.S., and has been for a long time, said Robert Kelchen, a higher education professor at the University of Tennessee, Knoxville. The uptick in tuition-related GoFundMe campaigns is another sign that concern about college affordability is now "front and center" in Americans' consciousness, more than it was five or 10 years ago, Kelchen said.
While schools have kept tuition increases relatively low over the past few years, other costs associated with college have shot up, especially living expenses, he noted. "Housing, dining, things like that, whether you're on campus or off, they've both gotten more expensive," Kelchen said.
Students use a combination of their own money, grants (which don't have to be repaid), and loans to cover their education bills. More than half (54%) of bachelor's degree recipients graduated with debt in 2020-21, and the average debt was $29,100, according to the College Board.
Reducing the financial burden
Reducing the financial burden created by higher education would require one or both of two major changes, Kelchen said. "You either have to give students more money to go to college, or you have to try to make providing an education less expensive, so spend less money per student on education." He added, "It's the same issue we run into with healthcare. The cost of providing it has gone up, and people don't want to pay it. It's expensive."
The parallel to healthcare costs is relevant in the context of GoFundMe: people often turn to the platform for help paying medical bills, often after a surprise diagnosis or accident. Similar to how GoFundMe campaigns serve as financial Band-Aids for systemic issues, canceling student-loan debt would be a "temporary fix" that would not solve the root causes of why students take out debt, Kelchen noted.
GoFundMe promotes itself as a solution for cash-strapped students, referring to itself as "the leader in online education fundraising" on its site. It says it hosts more than 100,000 education fundraisers per year, raising more than $70 million annually. GoFundMe offers tips on how to host a successful fundraiser for college costs, suggesting that students promote their fundraiser to alumni of their school and share their "hopes and aspirations" in their fundraiser story.
Students considering using crowdfunding for college costs should first make sure they understand how their school will treat the money when calculating their financial aid package, said Karen McCarthy, vice president for public policy and federal relations at the National Association of Student Financial Aid Administrators. Donations made to personal GoFundMe fundraisers are generally considered to be "personal gifts" which, for the most part, are not taxed as income in the United States, a GoFundMe spokesperson said. GoFundMe charges a transaction fee of 2.9% + $0.30 per donation.
Students who've sought donations on GoFundMe recently include a Sacramento nursing student who said she needed to pay off a $4,600 balance before she could take her exit exam and graduate from her program; a sophomore art student in Santa Fe who said an "unexpected circumstance" left him with a $3,176 fee bill; and a student looking for $3,800 to finish her culinary degree at a Virginia community college.
Several of the tuition-related campaigns on GoFundMe appear to be for students in financial straits because of unanticipated setbacks. One silver lining of the pandemic is that colleges and universities have become more equipped to help students cope with such financial emergencies, McCarthy said. That's because when federal pandemic relief money was flowing to college campuses, schools handed out emergency grants to students. In tracking how the money was spent, schools learned a lot about the types of surprise costs that can sometimes force students to drop out of college, McCarthy said.
Pandemic relief money is gone now, but some schools have set up their own emergency grant funds to help students bridge sudden financial gaps. "A lot of institutions really became aware of the emergency needs that their students have and how they might move forward in meeting those needs," McCarthy said. "The development of some of those emergency-aid programs may help students meet those needs so they don't have to resort to things like crowdfunding."
See also: This 72-year-old hopes to retire one day — as soon as she raises enough money on GoFundMe
This article was originally published by Marketwatch.com. Read the original article here.